Creating A Non-Toxic Baby Nursery
If you're expecting a baby (especially your first baby), you've probably thought a lot about their nursery. You've chosen a room, picked a theme, and started browsing baby stores for the perfect crib, rocker, bedding, changing table, and paint color. As you shop, you've probably noticed label claims like "organic," "green-guard certified," "BPA and phthalate-free," "low-VOC," or "flame resistant" on furniture, bedding, and other items. It is important to understand what this means so you can make good choices and ask the right questions. Despite what baby product companies may lead you to believe, the types of furnishing, bedding, decorative elements, and other items you choose for your baby's nursery matter a lot.
TOXIC RED FLAGS IN BABY PRODUCTS
A baby's nursery can be one of the most toxic rooms in your home. This is due to all the new furnishings, paint, and other items that emit a variety of harmful chemicals into the air. This creates an unhealthy environment for babies whose developing lungs, livers, brains, etc. are especially vulnerable to the effects of these invisible chemicals. The sad truth is there are very lax regulations on the types of chemicals allowed in baby products and labeling, which leaves well-meaning parents and gift-givers largely in the dark. The good news is you can easily create a safer nursery by becoming aware of which toxins to avoid and where they may be lurking.
Formaldehyde:

a carcinogen and lung irritant found in baby furniture made of pressboard or medium-density fiberboard (MDF), mattresses, and even wrinkle-free sheets and clothing.

Flame retardants:

Just say no to

flame retardants.

Babies are especially vulnerable as they affect neurological function, the developing brain, disrupt the endocrine system, and have been linked to cancer. They are found in most upholstered furnishings, mattresses, strollers, nursing covers, car seats, and even on baby clothes! If you have any doubts, ask for verification in writing that the product is completely free of any flame retardants.

BPA and

Phthalates:

The American Academy of Pediatrics (AAP) states that BPA (bisphenols) used in polycarbonate plastic containers, linings of aluminum cans and other products have been associated with obesity, attention-deficit/hyperactivity disorder, hormone disruption, behavioral disorders, reproductive health concerns, and diabetes.
Plasticizers or Phthalates are a group of chemicals used to make plastics more flexible and harder to break. They have been linked to brain, gender, reproductive and developmental issues in children. They are found in soft plastic-containing products like baby changing pads, mattresses, mattress covers, diapers, pliable plastic toys, etc.
The next step is to look at safer alternatives for creating a non-toxic haven for your precious baby.
Related Reading: How to Clean Your Baby's Toys
#1: CRIB MATTRESS
This may be the most important nursery item to buy non-toxic. First off, sleep is the time when the baby regenerates, rebuilds, restores, grows, and processes and stores information in the brain. And babies sleep a lot (up to 20+ hours a day for newborns) to facilitate their rapid growth. Thus, having a safe, chemical-free environment to sleep in is essential to support the healthiest possible growth and development.
Second, there is ample evidence that traditional crib mattresses with PVC covers increase the risk of infant suffocation. An Australian study also linked flame-retardant chemicals in traditional mattresses to sudden infant death syndrome. The scientist who discovered this, Dr. James Sprott, OBE, found the combination of fire-resistant chemicals added to mattresses in combination with a fungus that commonly grows in bedding can create poisonous gases 6, though experts say more research is needed to confirm these findings.
Bottom line: what goes into your crib mattress matters. We understand that these mattresses are expensive and may be unrealitic financially for some. For that reason, this is a perfect item for a baby shower registry, that multiple friends and family members could go in on together!
Here are our top picks for non-toxic and organic crib mattresses:
Co-sleeping? Don't forget about your mattress too…
Many parents co-sleep or bed-share with their babies for breastfeeding convenience, bonding, and/or just to get more sleep…and we support you! Just keep in mind that your baby will have a lot of contact with your mattress. Thus, it may be wise to upgrade to an organic mattress for safer co-sleeping. Discover our top picks for organic mattresses in How to Choose the Safest and Healthiest Mattress
#2: BEDDING
Bedding is nearly as important as a non-toxic mattress for the same reason: your baby is inhaling/absorbing what they sleep in as they grow. To make things easy, we recommend buying 100% organic cotton crib and bassinet sheets and organic sleep sacks. They're not expensive and can be found in nearly any store that carries baby items. If you can't do organic, at least go for 100% cotton.
Our favorite brands are: Pure Baby and Child, Aden & Anais and willaby. Target has a variety of organic cotton crib sheets for under $15.00, and even Halo carries organic cotton sleepsack swaddle options. We also love the baby blanket options from Coyuchi and Zest Organics, which can make a fantastic gift for new moms.
Learn more about the case for non-toxic bedding in our A Quick Guide to Natural, Non-Toxic Bedding.
#3: BABY-SAFE PAINT
It's a rare mama who can resist the urge to paint the nursery in dreamy pastels and adorable murals. If you're one of those mamas (or papas), be sure to choose paints that are 100% free of VOCs and the lesser-known SVOCs. Paints have biocides that are SVOCs (aka: chemical-based antimicrobials) that ride on dust.
Our top choice for the least toxic baby-safe paints is ECOS.
#4: BABY MONITOR
Baby monitors can produce varying levels of low-frequency EMF radiation which can negatively impact a baby's developing brain and sleep patterns. The best way to eliminate this problem is to take the precautionary approach and not use a monitor. If that's unrealistic (as it is for most busy households), you can reduce your baby's exposure. Use a webcam that is hard-wired to a computer, iPad, etc. with Category 5 or a Category 6 Ethernet cable.
Tech Wellness also has a great wired option!
#5: CHANGING PAD
Traditional changing pads are hotbeds for toxins like BPA, phthalates, PVC, and flame retardants. And given how often you'll be changing your baby, that's a lot of chemical exposure. To reduce this, we recommend the Naturpedic Organic Cotton Changing Pad. A less expensive option is the Green-Gaurd certified Oeuf Simple Contoured Changing Pad.
#6: RUGS/PLAYMATS
Before you splurge on an adorable rug or playmat, make sure it's made from 100% natural materials, like wool or cotton to avoid VOCs, PVC, foam, BPA, EVA and other plastic-based chemicals.
We love these brands for safe (and cute!) playmats:
#7: CRIB
Fortunately, it's not too difficult to avoid major toxins from cribs. All you need to do is look for solid wood cribs (vs. pressboard or MDF which contain formaldehyde), and if you choose to paint your crib be sure to use the non-toxic paints listed above. IKEA has great solid wood cribs for a bargain (which will leave you some extra cash to invest in that organic crib mattress). As with any piece of furniture, it's good practice to let it off-gas if possible until there is no smell before bringing it in the house.
Want more recommendations for baby gear, diapering, and more? Check out Healthy Baby Products Guides, SafeBaby, and Kelly and Allison's top picks for all-things baby in: Our Non-Toxic Baby Registry.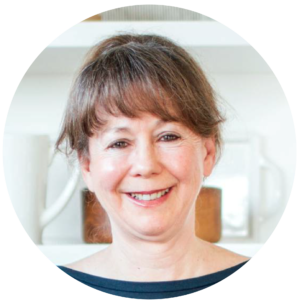 Marilee Nelson
Marilee Nelson is an Environmental Toxins expert who has spent nearly 30 years advocating for the chemically-sensitive and chronically-ill. She is a Board Certified Nutritionist, Certified Bau-Biologist and Bau-Biology Inspector and specializes in Food As Medicine. She has helped thousands of families and individuals identify, heal and recover from toxic exposures and is on a mission to revolutionize the way American families view their health.