How to Set Life-Changing Resolutions and Goals (that you'll actually keep)
It's FINALLY 2021, the new year we've all been pining away for amidst the uncertainty and difficulties of 2020. Which is why now is the perfect time to begin shaping the lives we truly want through the power of intentional goal setting or "resolutions."
However, our success in making these dreams a reality relies heavily on how we go about setting and sticking to our resolutions (emphasis on the latter). We have had some experience in this regard, both when it comes to setting and keeping business goals and achieving our own health goals. While we have a thriving business today, Branch Basics almost failed a few years ago, and picking ourselves back up after that took some real work. Likewise, we have had to overcome serious health problems that modern medicine couldn't solve.
I (Marilee) was told I would need to have a kidney transplant, which I avoided by removing food with harmful chemicals from my diet and using food as medicine. My son suffered a life-altering pesticide injury, and only recovered after we used nutrition and removed harmful chemicals from our home. And Allison, who in her sophomore year in college, was suddenly riddled with mysterious pain and neurological symptoms. She sought help from doctors all over the country for two years to no avail. After two months of living in our home without harmful chemicals and eating food as medicine she had resolution of symptoms and went on to heal her PCOS and fertility issues. Today she has two healthy babies!
The point is: incredible things can come out of seemingly disastrous circumstances if we're specific and intentional about how we set goals and resolutions. Here's what we've learned works for setting, maintaining, and achieving your most important goals, intentions, and resolutions.
Become truly inspired before committing to any big change
As a certified nutritionist and building materials specialist, I have counseled thousands of people on how to improve their health, overcome chronic disease, and create healthier homes. And if there's one thing I've learned about transforming your health it's this: if you aren't inspired, truly inspired about why you're making changes to your diet, lifestyle, home, etc. you will not continue with these changes long-term...and...no one else can be inspired for YOU.
How do you become truly inspired? Through on-going education, specific action, and the experience of real results which creates empowerment. For example, when we take people through the process of #TossTheToxins to create a healthier home, the first thing we do is provide education on why you'd want to throw out all your standard cleaning products. Then we provide the steps and tools to help you take action (empowerment), and the results happen quickly thereafter. It's really amazing! Same goes if you plan on changing your diet. First you need to know why you'd do this, then what steps you'd take (eliminating processed sugar, removing foods with harmful chemicals and inflammatory fats, drinking more water, etc.) to start seeing short-term and long-term results.
Bottom line: don't set a goal or intention unless you're thoroughly inspired by it. Everything else will follow.
Write down your goals daily
The world's best goal-setting experts will tell you a goal, dream, intention, etc. doesn't truly become real until you write it down. We'd recommend going a step further by writing it down every day using positive language and including your "why." For example, if you want to adopt a more positive outlook on life and stress less you may write that down as: "I want to start focusing on the positive side of life so I can feel stronger and more present in my mind, more confident in my body, and have more emotional freedom and energy." In other words, be specific and be kind to yourself...no put-downs!
This could mean writing the same thing over and over, or taking a few intentional minutes at the end of the day to journal about your progress, set-backs, realizations, etc. This way, you keep yourself accountable and actively immersed in creating the life, business, family, etc. you want.
Have a long-term goal? Break it up into manageable pieces
Big goals, like losing 50 pounds, starting a business, or transforming your health are very worthy and impressive pursuits...and they can get overwhelming very fast! That's when you want to break a goal into manageable pieces, or categories.
Again, we'll use #TossTheToxins as an example. Instead of having you round up every possible chemical-containing item in your home (a daunting task for anyone!), we recommend taking it category by category starting with pesticides, laundry and cleaning products. This approach takes the overwhelm out of the process and gives you the satisfaction of accomplishing a goal-within-your-goal which builds confidence and motivation.
When making health goals, focus on what you can have. This is super important when it comes to things like getting off of refined sugar or processed foods. If you only focus on what you can't have things can feel very negative and limited quickly. Instead, take the time to educate yourself on what you can have. Getting off sugar? Then be sure to have unrefined natural sweeteners, like coconut sugar or stevia, handy. Going gluten-free? Then be ready with a healthy gluten-free flour mix, bread alternatives, and other GF items to replace your typical favorites. Getting the kids off processed foods? Then check out our Ultimate Healthy Snacks Guide or 37 Real Food Snacks for At-Home Learning for a much smoother transition...you get the idea.
Have a plan for slip ups and setbacks
Thomas Edison may have said it best: "I have not failed, I have just found 10,000 ways that won't work." In other words: we can't expect to achieve anything meaningful in life if we aren't willing to try, to fail, and to try again. I mean, have you ever watched a baby teach itself to walk or to crawl? If we all gave up the first time we did a face plant the entire human race would be immobile! This example also serves as a great reminder that we are born to persevere. So, if and when you do have a slip up or setback it's a good idea to have a plan in place to get yourself back on track.
Let's say you make a resolution to reduce your family's screen time by turning off devices 5PM and taking a "digital sabbath" on Sundays. Everything is going relatively well when suddenly everyone comes down with the flu (including you!) and screens are back with a vengeance. A damage-control plan in this case could be giving yourself some grace and waiting until everyone is feeling better before re-implementing the new rules. Remember, keep your eye on the long-term goal and not the short-term set-backs.
Buddy up
It's tough to make big changes by yourself, especially if others aren't aligned with your goals and ideals. That's why it's so helpful to recruit a friend or relative as an accountability buddy. Research from Brown University has shown that people are far more successful losing weight, for example, when they partnered up with another like-minded individual.1 Social media is wonderful for this as there are endless support groups for nearly any type of goal, ambition, or intention you have in mind. Plus, with pandemic restrictions being what they are, online connections can be a God-send for keeping you accountable, connected, and inspired.
Our Instagram page (@BranchBasics) has grown into an excellent source of inspiration and education for thousands, and we ourselves are constantly learning new things about healthy living, cooking, cleaning, etc. from our creative and supportive community. Whatever groups you join or follow, just make sure the facilitators keep things as positive and uplifting as possible and enjoy the support.
Feed your inspiration...and inspire others!
Big goals take big effort, and even the most inspired person can become discouraged at times. The best remedy we've found for this is to feed your inspiration regularly. Here are three ways to accomplish this:
Continue your education---whatever you do, don't stop learning about the goal you're trying to achieve. Books, blogs, podcasts, success stories, documentaries, etc. are all excellent resources for this. Try to learn a little something new at least 3-5 times a week.

Engage in community---by staying in touch with your accountability partner, support group, etc.

And inspire others---by sharing your newfound knowledge, successes, and experience. As we inspire others we ourselves find renewed inspiration, endurance, and purpose.
Need some new year's resolution inspiration?
We're spearheading a couple initiatives this year to help people create healthier homes and families.
The first is our #TossTheToxins Online Course. In this free course, Marilee will personally walk you through her step-by-step process for creating a healthier home by eliminating the most common and most toxic chemicals found in nearly every American home. We even provide you with a box and instructions for how to get rid of them safely and legally, and tips on what to replace them with. The modules are super quick, the process is easy, and the results are no less than life-changing for your health.
We'll also be launching a #DigitalDetox community challenge with loads of helpful and inspiring education, tips and tools, and social support to help you reduce screen time even when working from home/learning virtually. So check out our Instagram page for updates on that.
You can do this!! Here's to a happier and healthier new year for all!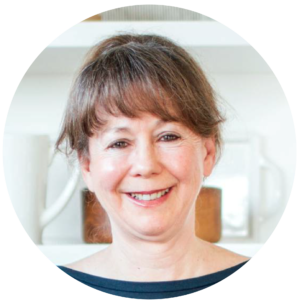 Marilee Nelson
Marilee Nelson is an Environmental Toxins expert who has spent nearly 30 years advocating for the chemically-sensitive and chronically-ill. She is a Board Certified Nutritionist, Certified Bau-Biologist and Bau-Biology Inspector and specializes in Food As Medicine. She has helped thousands of families and individuals identify, heal and recover from toxic exposures and is on a mission to revolutionize the way American families view their health.