How To Choose A CSA Or Farmers' Market
Summer is here and that means outdoor activities! One of our favorite weekend to-dos is heading to the farmers' market to stock up for the week ahead. It's made me so happy to see my local market in Jackson, MS bustling again, and I love getting to connect with the farmers and running into friends! No doubt weekly farmers' market trips can get tricky depending on weekend plans, so another great option is to support CSAs. CSA stands for community supported agriculture or community-shared agriculture. Typically, locals subscribe to a CSA program and receive a box or crate of local, seasonal harvest (whether it be produce, eggs, meat, bread, etc.) directly from a farmer on a regular basis.
Both farmers' markets and CSAs offer fresh, seasonal food from farmers near you – a win all around. Now more than ever, supporting local and small businesses is important. Both are wonderful opportunities to connect with your community and learn more about the food you have in your house. Here we'll break them down so you can decide what's right for you!
CSAs
CSA programs vary widely from the cost, regularity, size, time of year, etc. You do have to do your research ahead of time to ensure you understand what you are committing to.
There are plenty of reasons to join a CSA:
There's no need to make a grocery list

– produce and goods will be selected for you.

It's convenient!

Usually, the box is delivered directly to your door. Sometimes there is one pickup spot instead (think curbside)

Boxes come in regular intervals

, so you can plan your week accordingly.

The process removes grocery stores and all the negatives that come from shuttling food across the country

– like unsanitary conditions, toxic sprays for produce to hold up, shipping and handling.

CSAs support farmers directly.
You get the advantage of wholesale prices.
You get to be experimental with different foods!

Items like leeks and kohlrabi forces you to get creative with cooking which can be fun and rewarding.
Tips on how to get started:
Use these locators to help find a CSA in your area: USDA Database, Local Harvest

Vet carefully and determine if the CSA can get produce that is grown with no pesticides.

Once you have organic options, do your research to find a CSA that fits your budget and regularity. There may be different ways to pay such as all upfront (which could result in a discount) or weekly, biweekly, or monthly. Also, ensure you can put a box "on hold" if you'll be out of town – we don't want food to go to waste!

If you're lucky enough to have several to choose from, make a few calls to specific CSAs and ask the staff for an example of a typical week.
Farmers' Markets
There are countless reasons to support your local farmers' market. It's an interactive way to connect directly with your community. Here are some of the main reasons we enjoy venturing out each week:
It's a fun family outing.

If our schedule is light, we love to make a whole morning of going to the farmers' market. We shop around, get our produce and goods, eat a snack or lunch, walk in the sun and take in the fresh air. It's an experience! We feel a connection to our community and enjoy seeing vendors week after week or checking out new ones. A lot of markets even have live music or entertainment.

One-on-one interaction with the farmers growing your food is special.

You begin to find your favorite items from different farmers. It feels good to have this relationship, similar to the brand advocacy we all have with our favorite brands at the store, and it also provides the opportunity to learn about their farming methods and pest management practices.

Farmers can educate you on the best ways to cook and eat what you buy.

We've learned countless tips and tricks from vendors. They truly know their harvest best.

The food is SUPER local.

Most farmers' markets only allow vendors to sell food produced with 200 miles or so, which shows just how local the food you are getting really is.

Fruits and vegetables are picked at their most optimal state

, as they don't need to be shipped or travel far before they are sold, which means they will taste their best and be incredibly fresh.
Tips on how to get started:
Find farmers' markets near you with these helpful links:

National Farmers' Market Directory

,

Local Harvest

If you are in or close to a metropolitan area there will be a handful of farmers' markets. Check out those based around your neighborhood first and venture a bit if you feel you want something different.

Remember your reusable produce bags and it's always a good idea to have cash! While most vendors have ways for card transactions, there may be a few who only accept cash.
The Verdict
Whether you choose to join a CSA program or make regular trips to your farmers' market, you can feel good about supporting local, family-owned, small businesses. It is also one of the best ways to be an advocate for your health, as farmers' markets and CSA programs make buying fresh, organic food a much easier feat. It's one of the most eco-friendly ways to purchase food as it reduces food miles and keeps our rural, farm communities thriving!
And remember, once you get the goods… you can rinse with Branch Basics! See our quick and easy guide, The Perfect Produce Wash.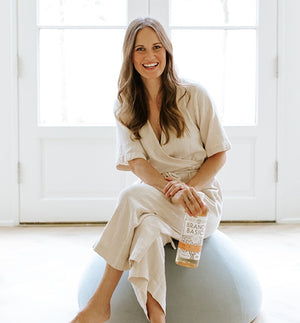 Kelly Love
Kelly is proof that switching to a pure, natural lifestyle is powerful even for those who consider themselves healthy. She's experienced how much our everyday choices impact our quality of life and is passionate about helping others see and feel the connection. She lives in Jackson, Mississippi with her husband and two daughters.