Chicken Soup with Bone Broth (the #1 Flu-Fighting Meal)
The Medicinal Properties of Chicken Soup with Bone Broth
What could be more inviting on a crisp fall day than a steaming bowl of chicken soup? Studies show that humble soup is more than just a tasty meal. Treasured by traditional cultures chicken soup has been documented to help clear nasal congestion, reduce upper respiratory congestion, increase hydration, and have a mild anti-inflammatory effect that can ease cold and flu symptoms. You can see why this tasty, healing dish has been nicknamed "Jewish penicillin". Chock full of nutrients, chicken soup made with bone broth or stock is an immune booster, soothing to the throat, easy-to-digest and hits the spot.1
Read more: How To Use Food As Medicine To Heal
Medicinal chicken soup starts out with either a stock or bone broth as the base. Bone stock and broth are necessities in cultures that do not consume milk because the bones provide calcium and minerals in a form that the body can easily assimilate. It is also helpful because the gelatin in properly made stock/broth helps the body use protein in an efficient way. Chicken soup made with stock or bone broth feeds, repairs, and calms the mucous lining in the small intestine. The bone broth used in this recipe is an excellent source of iodine, chloride, sodium, magnesium, and potassium. A nourished body is a protected body and chicken soup lives up to its reputation by helping support immunity and resistance to colds and flu.2

CHICKEN SOUP with Bone Broth
2-4 quarts chicken bone broth (try my favorite bone broth recipe)
cooked chicken meat, cut into bite-sized pieces (1 cup chicken pieces per 2 quarts broth)*
1 ½ cups carrots, diced
1 ½ cups green beans, cut in bite-sized pieces
1 large onion, diced
1 ½ cups celery, sliced
any additional vegetable(s) you have on hand
2 t. ghee
4 garlic cloves – grated into the soup
cilantro or parsley, chopped (for serving)
salt and pepper, to taste
To create a soup with vibrant vegetables that are not overcooked, I recommend cooking each vegetable separately to the stage of softness you desire. Check out our blog on how to
safely wash produce
before cooking.
Sauté the onion in 1 – 1 ½ t. ghee until soft - set aside.
Sauté the carrots in 1t. ghee until just fork tender.
Water sauté the celery until just fork tender.
Water sauté the green beans, until bright green and tender – do not overcook to the point where they turn a dull green.
Heat the bone broth in a large pot. Add the grated garlic, cooked vegetables and cooked chicken. Simmer a few minutes until hot.
Season with salt and pepper to taste. Ladle into bowls and serve with chopped cilantro or parsley.
*If you have leftover chicken from making bone broth or a previous recipe, use that. If you just have frozen bone broth and don't have cooked chicken prepared, you can use this simple recipe: Cover a whole chicken with water in a large pot, heat on the stove until boiling, then lower the heat. Skim foam off the top and cook, skimming occasionally, for 1-2 hours, or until the chicken is tender enough to pull easily from the bone. Use a pair of large tongs and a large ladle to remove the chicken from the pot, holding it over the pot for a few seconds to allow chicken cavity to drain. Remove skin and discard. Debone, chop, and set aside the meat. Add back the bones to start another delicious chicken stock or broth or save the bones for later.
NOTE: This soup can also be adapted to organic turkey, beef, or lamb soup. When possible, use pastured grass-fed meats.
Visit the Branch Basics blog post on protein-packed, nutrient dense snacks for more ideas on how to eat healthy, nourishing foods.
---
Do you have a favorite chicken soup recipe? How do you prepare yours? Leave us a comment below!
To get started with Branch Basics products and to learn more about all natural, human safe cleaning products, start here.
To invest in a healthy household, checkout the Branch Basics non-toxic Premium Starter Kit or the Trial Kit to have a clean home without the harsh chemicals.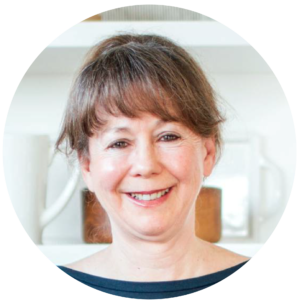 Marilee Nelson
Marilee Nelson is an Environmental Toxins expert who has spent nearly 30 years advocating for the chemically-sensitive and chronically-ill. She is a Board Certified Nutritionist, Certified Bau-Biologist and Bau-Biology Inspector and specializes in Food As Medicine. She has helped thousands of families and individuals identify, heal and recover from toxic exposures and is on a mission to revolutionize the way American families view their health.