Simple DIY Personal Care Product Recipes
Sunscreen and Deodorant: Convincing Myself to Try DIY Personal Care Products
We all know that doing things ourselves typically saves money. But let's face it, there's not enough time to do everything ourselves, and we can't always seem to make the project or product turn out as great as when left to the professionals. This was my mindset even when it came to simple "do it yourself" (DIY) personal care product recipes. Never mind that I've always been a lover of craft projects or the fact that I look for products at the store with only a handful of ingredients anyway (many of which are often in my pantry). It just seemed daunting to me to make my own. I have used nontoxic personal care products for seven years now, but I only started making my own this past summer. It turns out DIY skin care can be extremely simple and there's also a tremendous sense of comfort and satisfaction that comes with making the products that you put on your body every day! Did you know that on a daily basis the average woman applies 168 ingredients to her body and men apply 85 ingredients (on average)?1 The ingredients in personal care products (just like cleaning products) don't have to be tested and approved by anyone other than the manufacturer. According to the Environmental Working Group, the top seven carcinogenic impurities common to personal care product ingredients are hydroquinone, ethylene dioxide, 1,4-dioxane, formaldehyde, nitrosamines, PAHs, and acrylamide.2 If I had to bet, you probably haven't checked your products for those. Many of us are fooled by marketing without realizing it. If we see "No parabens or phthalates" or "Made with vitamin E, aloe vera and natural oils" on the front of the label then we think it's a healthy, safe, and really great product. Unfortunately, if you turn the package or bottle around, many times you'll find the harmful impurities hidden in the middle or at the end of the actual ingredient list. This is important because even when used in small amounts, ingredients can make their way into our bloodstreams via our skin. While the exact percentage of how much gets absorbed isn't definitive, many experts agree that absorption through the skin can be more dangerous than through the mouth. Dr. Samuel Epstein, MD, author of Toxic Beauty (BenBella Books, 2009) says, "Chemicals taken in by the mouth are absorbed by the intestines and pass into venous blood, which is taken to the liver. Carcinogens absorbed through the skin bypass the liver and enter blood circulation without this protection." When you make your own body products, you don't need to worry about the ingredients being carcinogens or hormone disruptors! You can confidently and proudly apply your homemade creations every day with a peace of mind. And, for the most part, you can use ingredients that you either already have in your kitchen at home or can pick up at the grocery store. The first DIY skincare projects I made in my own kitchen were deodorant and sunscreen. I was inspired by a friend who had given me a tube of her homemade sunscreen and by another friend who swore by a deodorant she made, claiming it worked better than anything else she had tried. Once I used up the sunscreen I decided to tackle this whole DIY thing myself because I was getting ready to go on a family vacation to Florida and wanted both sunscreen and deodorant. I ended up loving both products and in fact, four months later I'm still using the same deodorant stick! I probably wouldn't have needed to make more sunscreen either if I hadn't given some to my sister and friend who loved it so much.

Five Reasons to Make DIY Personal Care Products
As you can see, I'm now a fan of (easy) DIY recipes. There's really no reason not to if you can set aside anywhere from 15 minutes to an hour depending on how many products you're making at one time. Here are the main reasons why I decided I love DIY personal care products:
Safe - Know and trust each ingredient
Simple - No special equipment required and it's mostly just easy mixing
Economical - Although initial ingredient purchases can add up, you can save a lot over time
Long-Lasting - Recipes typically make a substantial amount of product and a little goes a long way
Customizable - Choose fragrance or fragrance-free, the type of packaging, replacement ingredients for any allergies, and the amount of SPF for the sunscreen

Homemade Sunscreen*
DIY Sunscreen Ingredients
½ cup almond or olive oil
¼ cup coconut oil (has a natural SPF 4)
¼ cup beeswax
2 Tablespoons non-nano Zinc Oxide (avoid inhalation)
Optional additions to boost the SPF: up to 1 teaspoon of Red Raspberry Seed Oil, Carrot Seed Oil, and Vitamin E Oil, and 2 tablespoons Shea Butter (natural SPF 4-5)**
Optional fragrance additions: Essential Oils (avoid citrus-based essential oils, which are photosensitive), Vanilla Extract (Not recommended for use on young children.)
**Although these are optional, I added all of these ingredients to my sunscreen. (I did not add any essential oils.)

DIY Sunscreen Instructions
Combine all ingredients in a glass jar (16 oz or larger). Add a lid loosely on the jar to cover.
Fill a medium saucepan with a couple inches of water. Put the glass jar in the middle of the pan and place over medium heat.
Shake or stir the contents of the jar as it heats and melts in the pan. When all ingredients are completely melted and incorporated, pour out the sunscreen into the jar, tube, or tin you will use for storage. Allow to cool and the sunscreen will firm into a creamy solid.
Use and store as you would regular sunscreen (in a cool, dry place). You can even store it in the fridge if you would like. Best if used within six months. This sunscreen is not waterproof, so be sure to reapply it after sweating or swimming, as needed. I like that the sunscreen can be used on my lips as well as face and body (instead of having to use a separate chapstick with SPF).
DIY Sunscreen Pro Tips:
Because the jar is hard to clean, I recommend keeping a dedicated mason jar just for making lotions and lotion bars. That way you can simply cover the empty jar and store until you make your next batch.
This recipe has an SPF of about 15, though adding more Zinc Oxide will increase the SPF. A cool thing about the sunscreen is that you could just do a batch using the 2 T. zinc oxide to make a few SPF 15 tubes or jars. Then later, you can stir in more zinc oxide to make the rest of it more like a 30 SPF. I didn't do this but I want to next time - just remember to label them! And if you leave out the zinc oxide, you can use this as an everyday lotion recipe.
Be careful to avoid inhaling the zinc oxide - you can even use a mask if necessary!
For a thicker sunscreen, use more beeswax. You can use less beeswax if you want a smoother application.
*adapted from a
Wellness Mama recipe

Homemade Deodorant*
Deodorant Ingredients
1 16 oz. mason jar
1 plastic or wooden T. measuring spoon
1 plastic or wooden utensil for stirring
2 T. bentonite clay
4 T. arrowroot powder
4 T. Baking Soda
6 T. Coconut Oil
Optional: 10 drops of Essential Oil
Note: Bentonite clay has negative ions, which absorb metal. I use a wooden spoon to avoid touching any metal to the clay, though plastic also works well in this case.
Deodorant Instructions
If your coconut oil is solid, then melt it using a double boiling method. Add the coconut oil to a bowl and put it over a pot of simmering water, which will gently melt into a liquid without destroying the structure of the oil.
Put the powdered (dry) ingredients into a 16 oz. jar. Add the melted oil to the clay, stirring with a plastic, wooden, or glass utensil.
Pour the deodorant into the containers you would like to store and use it. You can use either a glass jar or a traditional roll-up tube. Let the deodorant cool to room temperature and it will firm up.
To use, if you are using the glass jar method, warm a pea-sized amount on your fingertips, then apply by hand to your armpit until it dissolves onto your skin. If you are using a tube, apply as you normally would apply deodorant.
I don't apply the deodorant every day; I find that I don't need it that often. That's why I like to keep it in my purse in case I end up in a situation where I need to apply (usually it's if I'm wearing a shirt or dress made with synthetic material). I love that this recipe works well to neutralize odor. If you're interested in knowing more about the benefits of nontoxic deodorant (or how I get away with not applying it every day, check out
How to Detox Your Armpits and Switch to a Nontoxic Deodorant
. *adapted from an
Overthrow Martha recipe

Six Tips to Keep in Mind for DIY Personal Care Products
Choose fragrance-free especially if applying a skincare product before bedtime to allow your body the rest and repair it needs since even natural scents can trigger an immune response.
Apply sunscreen underneath makeup for a nice glow. Great year-round if outdoors or in the car for long periods of time.
If using plastic packaging, wait for product to cool (not harden) so the heat does not cause the plastic to melt or leach. I first used these plastic twist-up tubes for both recipes, which I love, but just got these glass jars from The Container Store to avoid plastic for new batches. I also recently found these Paperboard tubes and jars. I haven't tried them yet, but maybe next time.
Avoid keeping products in your car where the heat can shorten their shelf life and also turn them into liquid oil. (It will re-harden when cooled if melting does happen.)
Keep products like deodorant, sunscreen and lotion (or body oil) in your purse or at your desk if you need to reapply unexpectedly. Small container sizes are great for travel as well.
What DIY personal care product recipes do you love to make at home? I'd love to try more! Let me know by leaving a comment below.
---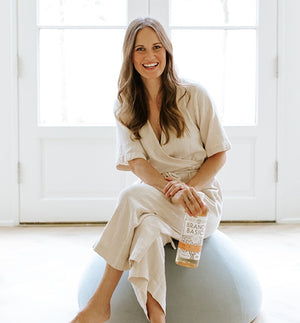 Kelly Love
Kelly is proof that switching to a pure, natural lifestyle is powerful even for those who consider themselves healthy. She's experienced how much our everyday choices impact our quality of life and is passionate about helping others see and feel the connection. She lives in Jackson, Mississippi with her husband and two daughters.