Our Favorite Non-Toxic Sunscreens to Protect Your Skin This Summer
Choosing a non-toxic sunscreen for yourself and your family should be easy. After all, if the label says "all natural", "organic", or "mineral-based", it should be safe…right? 
Unfortunately, this isn't always the case.
Ever since word got out about the dangerous chemicals in sunscreen, the non-toxic sunscreen industry has exploded. Which means, there are a lot more brands to choose from.
This, coupled with the price variations, can make choosing a truly non-toxic and chemical-free product confusing for even a seasoned shopper. 
If you've experienced natural sunscreen overwhelm, you've come to the right place! In this article, you'll learn everything you need to know to make the best decision for you and your family. 
Including: how non-toxic sunscreens work, ingredients to avoid, helpful vetting tools, the safest delivery systems, and a handy guide to our favorite sunscreens for every need and budget.
Non-Toxic Sunscreens: Chemical Vs. Mineral
A few years ago it was almost impossible to find a chemical-free sunscreen that actually worked. 
The reason the chemicals work so well is that they absorb UVA/UVB rays, which prevents them from penetrating the skin and causing burning. Unfortunately, sunscreen chemicals are not without their controversial side effects, which we'll discuss more in the next section.
However, thanks to the discovery of natural sun-blocking minerals, we now have dozens of mineral-based sunscreens to replace the chemical brands.
Thus, when shopping for a non-toxic sunscreen, you'll typically look for those labeled "mineral sunscreen" or "mineral-based" sunscreen. These products are typically made with zinc oxide and/or titanium oxide.
Bear in mind that the labels "organic", "natural", "made with natural ingredients", or even "mineral-based" doesn't necessarily mean the product is free from chemicals. So it's important to look carefully at the ingredient list to determine the product's purity.
What Is Considered A Non-Toxic Sunscreen?
So, how do you determine if a sunscreen is truly chemical-free? As we just covered, the first step is to look for mineral sunscreens. 
The next step, is to scrutinize the label for any of the following harmful chemicals:
Ingredients to avoid in sunscreen
Oxybenzone—the infamous endocrine-disruptor that sounded the alarm on chemical-based sunscreens. It's been linked to a variety of hormonal health issues, including shorter pregnancies, increased risk of endometriosis, and cancer. It is especially risky for babies, children, and pregnant women. It is readily absorbed by the skin and can be detected in bodily fluids for weeks after application.

Octinoxate—has been shown in animal studies to disrupt hormones, including thyroid hormone and the metabolic system. It's absorbed into the skin quickly and has been banned in many countries due to its negative effects on aquatic life.

Homosalate—is another potential endocrine-disruptor that also produces toxic by-products in the body.

Octisalate—has shown evidence of being an endocrine-disruptor and is also a skin allergen. 

Octocrylene—although there is limited evidence of endocrine-disruptive potential, this chemical is terrible for aquatic life, including coral reefs, and causes a high rate of skin allergies.

Avobenzone—another endocrine-disruptor that targets testosterone and produces potentially allergenic by-products.

Phthalates—are powerful endocrine-disruptors used extensively in plastics and fragranced products including: sunscreens, cosmetics, and personal care products. They have been associated with metabolic syndrome, cardiovascular disease, autoimmunity, chronic inflammation, and many other conditions. The best way to avoid them in sunscreen is to avoid fragranced products.

Learn more in: All About Phthalates + Why You Should Avoid Them.

Parabens—endocrine-disrupting preservatives ending in "paraben".
This isn't an exhaustive list of all the potential chemical ingredients found in sunscreens, but it does cover the basics.
For more in-depth information, we highly recommend checking out the Environmental Working Group's Free Guide to Safer Sunscreens.
What else should I look for in a non-toxic sunscreen?
An effective non-toxic sunscreen will contain the active ingredients:
Zinc Oxide and/or Titanium Dioxide - these are the only two sun blocking ingredients classified as safe and effective by the FDA.

If there are any other active ingredients, such as those chemicals listed above, move onto another brand fast.
In addition:
You want to ensure the sunscreen is formulated to offer broad-spectrum protection from UVA and UVB rays.

If you desire a water resistant sunscreen, make sure it says so on the label (not all mineral sunscreens have the same level of water resistance).

For babies and children, or anyone with sensitive skin, it's best to opt for a child- or baby-specific formula. Even some natural ingredients can irritate sensitive skin.
Need a little extra help with ingredients?
EWG has a wonderful database for that. Just visit ewg.org/sunscreen and type the brand of interest into the search box. From there, you'll receive a safety rating from 1-10 (1 being the most safe and 10 being the least safe) of each ingredient and an overall safety rating.
Their Skin Deep database is also an incredible resource for avoiding toxic skin and body care products.
Avoid Spray Sunscreens (Even the 100% Natural Versions)
You've probably heard about the environmental and health hazards of using spray-on chemical sunscreens. However, did you know this applies to natural, mineral sunscreens too?
The problem is, when zinc oxide or titanium dioxide are inhaled they can cause respiratory issues. This is because formulators must use nano-particle sized versions of the minerals in order to make them blend with the other ingredients.
Fortunately, numerous studies conducted on the safety of using these nano-sized minerals topically (not as a spray) show no evidence of harm. 
This makes sense as many natural minerals (such as silica, for example) when inhaled, can cause lung issues. As can most anything that exists in a very fine particulate state.
Bottom line: avoid any and all spray-on sunscreens. Sure, it takes a little more effort to apply a lotion, but your lungs (and especially those of your children) are worth it.
Our Top Picks for Healthy, Non-Toxic Sunscreen:
Even with all this information under your belt, it can be hard to know which non-toxic sunscreens are the best. 
And they do vary in terms of quality, how nicely they glide on, how emollient they are, which are best for kids, and whether or not they leave that signature mineral-sunscreen-white film.
To help, we've created a list for you of our favorites:
Are you a DIYer? Then check out our easy homemade sunscreen recipe in: Simple DIY Personal Care Product Recipes.
If this information has inspired you to look a little deeper at your clean beauty routine, we'd highly recommend checking out Our Favorite Non-Toxic Personal Care Products too.
Go out and enjoy the sun!
Sunshine and warmth is so essential for our physical, mental, and emotional well-being. Which is why we encourage you to get out there, relax, soak up some vitamin D, and enjoy the summertime in good health.
Want more tips and info on how to avoid common household chemicals and create a healthier life? Check out our free Toss the Toxins Online Course, or if you'd like to explore our non-toxic household supplies, check out our collection of non-toxic products.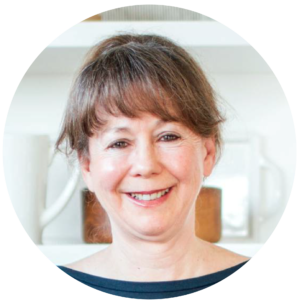 Marilee Nelson
Marilee Nelson is an Environmental Toxins expert who has spent nearly 30 years advocating for the chemically-sensitive and chronically-ill. She is a Board Certified Nutritionist, Certified Bau-Biologist and Bau-Biology Inspector and specializes in Food As Medicine. She has helped thousands of families and individuals identify, heal and recover from toxic exposures and is on a mission to revolutionize the way American families view their health.