The Non-Toxic, Sustainable Building Materials I Used in My Home Renovation
The prospect of home renovation is intimidating in and of itself, but when you are committed to using the healthiest building materials available, it takes the intimidation factor to a new level. I know because we recently completed a renovation on our new home—and even as a healthy home advocate I had my work cut out for me. As it turns out, many building materials marketed as "green", "eco friendly", or "sustainable"
may
be safer for the environment (often only marginally), but aren't necessarily safer for humans. And to make it even more confusing and difficult (especially when trying to get your partner and/or contractor on board), manufacturers are adding odor blocking chemicals to products just so they can make the newly popular claims like "low VOC" and "low odor."
How to know what's really in your building materials
There are two main reasons identifying toxic vs. non-toxic building materials is so cumbersome: #1: misleading "green" marketing claims (like the "low VOC" claim mentioned above), and #2: the lack of transparency in labeling required for building materials.
Unfortunately, the only ways to really know what's in the material, is to become familiar with reading Material Safety Data Sheets (aka: MSDS) and/or call up the manufacturer to inquire about the specifics of what actually goes into their products. Luckily, I had Marilee to guide me through the process. I would confidently argue her knowledge from years of experience, level of detail, and degree of scrutiny is unmatched—especially when it comes to building materials' impact on our health...and I'm excited to pass along what I learned to you.
How we completed a non-toxic home renovation
We were lucky that the interior of our home didn't require extensive renovation, and on the exterior, we wanted a front porch and back deck with a screened in porch (Fun fact: we bought the home from an interior designer on the show
Trading Spaces
who had made some fab updates).
Here's the list of non-toxic, eco-and human-friendly building materials we used
Non-Toxic Drywall—National Gypsum from Pyramid Interiors
Most drywall found east of the Mississippi River is made of synthetic gypsum, which may contain mercury and other heavy metals, biocides, and other contaminants that end up in the dust inside our homes. What you want is natural, untreated, non-synthetic gypsum. After calling a local drywall supplier to inquire, I found out that I would be able to get natural gypsum through National Gypsum. Pyramid Interiors in Jackson, MS was nice enough to truck in National Gypsum Board (drywall) from their Little Rock, AR location to their Memphis, TN location to their Jackson, MS location all without charging me or making me feel like I was asking too much (and my order was only $300.00). We used this for the fireplace project, where we replaced the 28 ft mirror with drywall and plaster.
Non-toxic Drywall Mud/Joint Compound—from Murco
Premixed conventional joint compounds typically contain harmful chemicals including VOCs (volatile organic compounds) and SVOCs (semi-volative organic compounds) that ride on household dust. (Continuously, not just when they're fresh.) Murco M-100 and Murco HA-100 contain none of these harmful chemicals, are affordable, and can be found at your local hardware store. We used this for the fireplace project as well on the drywall.
Non-toxic Plaster—Vasari
Synthetic plasters typically contain harmful ingredients including SVOCs which can outgas for the life of the product. Vasari lets you achieve an amazing venetian plaster-look, goes on like paint with a natural bonding agent, and is 100% natural. We used Vasari plaster to cover the drywall and finish out our fireplace wall and mantle.
Non-toxic Interior & Exterior Paint—ECOS Paints and Sherwin Williams Duration
ECOS is a non-toxic baby-safe paint that has no VOCs and no SVOCs. Nearly all no to low VOC conventional paints contain biocides which are SVOCS that ride on dust. Sherwin Williams Duration is a durable exterior conventional paint that cures to no odor very quickly. We used ECOS inside and Sherwin Williams on the outside addition.
Caulk—Titebond Weathermaster
A no VOC, no SVOC caulk for outdoor use that comes in many colors. It can bridge up to a one-inch gap and is easy to find at your local hardware store. Titebond Weathermaster also can be used as an indoor paintable caulk. We used this for the inside fireplace area project and for custom built-in bookshelves, as well as on the outdoor deck and porch additions.
Exterior Wood—Cedar and Pine
Natural untreated woods are best. Cedar is naturally rot and pest resistant which enables you to avoid pesticide-treated wood. We used cedar for all of the deck and porch flooring, wall and ceiling. We did use a copper (not arsenic) treated pine for the posts and joints, as pine is less expensive and we would not have direct contact, like walking on it barefoot. I believe we used the Preserve CA treated pine but I am confirming whether we did that one or the Preserve ACQ.
Wood Stain—Seal-Once
This is a non-toxic tintable exterior wood sealer and it creates a flexible breathable barrier that allows moisture to escape from the wood, prevents water ingress, warping, and cupping while allowing the wood to age naturally and evenly. We used Seal-Once Nano+Poly on all of the non-painted wood for our exterior additions. We also applied two coats of the clear Seal-Once Nano Guard to all six sides (front, back and four edges) of plywood used for our indoor bookshelves in order to help reduce formaldehyde emissions before painting. Additionally, we used their Nano-Guard for the brick ledge around our fireplace before priming and painting.
Non Toxic Vapor Barrier— Tu Tuff
If you plan to be at home during your renovation then the vapor barrier (plastic covering) used to cover your belongings should be Tu Tuff from Stocote. Tu Tuff is free of endocrine-disrupting plasticizers1 found in the typical poly brands. I actually did not know ahead of time to specify this and every time I came into the house, the plastic new-shower-curtain smell made me feel awful!
As someone who is sensitive and very much feels my body reacting to exposures, I am beyond grateful I took the time and effort to figure out what was healthiest and make special orders when necessary. That and the fact that we were planning to get pregnant after moving in! I know it can be difficult to get a partner or contractor on board, but I can't stress how worth it is in the end! I also can't stress enough how important it is to be up front with your contractor and have constant communication with him/her. Be sure to find someone that is willing to do what you request and not push what they're used to using on you just because they're familiar with it. Remember, this is your home where you live and sleep every day and night! Make it your safe haven!
BEFORE & AFTERS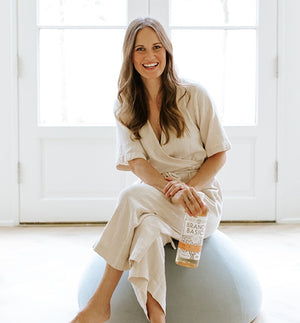 Kelly Love
Kelly is proof that switching to a pure, natural lifestyle is powerful even for those who consider themselves healthy. She's experienced how much our everyday choices impact our quality of life and is passionate about helping others see and feel the connection. She lives in Jackson, Mississippi with her husband and two daughters.