Our Favorite Natural Beauty Treatments

When it comes to achieving glowing and bright skin, consistency is key. Your everyday skincare routine - in particular using clean products, removing makeup before bed and hydrating the skin - will probably do more than any beauty treatment can do for you. I have to remind myself of this often because it's way too easy for me to crawl into bed after a long day without washing my face! Allison recently shared her full everyday skincare routine, so check out Allison's Non-Toxic Skincare And Beauty Routine if you want inspiration.
However, if you've got your skincare routine down, it can be fun and beneficial for your skin to mix it up and add in beauty treatments. Beauty treatments are typically relaxing and a great way to pamper yourself and relieve some stress.
In the craziness that is life, we can go a period of time without indulging in these treatments, but when we do - we sure love them. Below, we're sharing our favorite simple and non-toxic beauty treatments that are good for the health of your skin and your overall well being.
Gua Sha
What it is: Gua sha is an ancient Chinese method in which a smooth-edged tool is used to gently stroke against the skin. The pressure, range of motion and direction of the tool is all taken into account. While we use it on our face most often, people also use this method for treating chronic pain in other parts of the body, to get lymph and blood flowing and aid in inflammation.
Benefits: Gua sha increases blood flow by stimulating the microcirculation of the soft tissue 1. By stimulating circulation, the technique helps produce collagen (which we start to lose in our 20s 2 and is responsible for the elasticity of our skin that keeps wrinkle lines at bay), ultimately softening fine lines. It also decreases puffiness and relieves muscle tension, so many like to do it in the morning after a long night's sleep or when traveling.
What you need: If you're looking for a great Gua Sha tool, we love the Primally Pure Gua Sha Stone!
Red Light Therapy
What it is: Red light therapy (also known as RLT) is a treatment that uses low-level light wavelengths to improve skin - from wrinkles to uneven tone to dullness. Red light creates an effect on skin cells that strengthens mitochondria (the powerhouse of the cell), increases its function and ultimately it's ability to rejuvenate and repair itself. It is not a harsh laser treatment as it simply regenerates the skin versus damaging the skin's surface.
Benefits: Many studies have been conducted that show red light therapy is safe and produces the desired result of skin rejuvenation and collagen increase 3. The treatment helps in complexion improvement and building collagen (there it is again!). It is said to diminish wrinkles and sun damage.
Tools: We love The Self-Care Mask devices!
Dermaplaning
What it is: Each day, our skin is exposed to toxins and harsh environments, which can layer on the top of the skin. Dermaplaning is a treatment in which the skin is exfoliated by removing vellus hairs (also called peach fuzz) and the dead skin cells on the face with a sharp blade at an angle. It's almost like shaving the face - but needs to be approached with much more care than other parts of the body (aka legs!). The skin on our face is incredibly sensitive, and should be treated with that in consideration.
Benefits: The treatment aids in dull and dry skin, sun damage and fine lines 4 . Dermaplaning creates a smooth surface for your skin, which makes skin look more radiant and smooth. This makes skincare products penetrate the skin easier, soaking in more of the benefits. Makeup also goes on the skin smoother when it isn't blocked by dead skin and vellus hairs.
Tools: Typically, this is best done by a professional or esthetician. The blade used during the procedure is incredibly sharp and while there are tools to use at home, a professional will be sure to not cut, scrap or disrupt sensitive skin.
Facial Dry Brushing
What it is: You may have heard us talk about dry brushing the body, but with a softer dry brush you can actually use the technique on the face as well! Facial dry brushing consists of lightly brushing the face with a natural, stiff-bristled brush. Light pressure is key as dry brushing shouldn't feel painful on your face - you aren't looking to scrub off skin but instead get blood and lymph circulating. This is important as over-brushing or brushing too hard can leave the skin irritated.
Primally Pure recommends dry brushing a few minutes each day. It is always recommended to have completely dry skin. We love dry brushing right away in the morning to awaken the skin!
Benefits: The technique improves circulation, stimulates lymph flow (giving us energy, encouraging natural detoxification and much more - read more on the importance of lymph flow here!) and exfoliates the skin by unclogging pores 5 and getting rid of blackheads. Facial dry brushing can also help aid in congestion and buildup around the sinuses.
Tools: I recently started using the Primally Pure Facial Dry Brush and love it! Also, Primally Pure sends detailed instructions (see How to Dry Brush Face and Body) along with the product so you know exactly what to do with your brush.
Healthy Living = Healthy Complexion
There you have it! Our favorite natural beauty treatments. Truly, nothing can give you better skin (and better health) than eating a diet of nutritious whole foods, living in a toxic-free environment and being intentional about your mental and emotional wellbeing. All the skincare and beauty treatments in the world can't compete! When you're living a healthy lifestyle (mind, body and spirit) your complexion will improve as you are treating the whole self.
Also… Embrace Aging!
Beauty really does start from within, and while it's great to indulge in these treatments, we are also big advocates of not being scared of aging. We should all be content with growing older and getting laugh lines - they are a symbol of joy, they are natural and they are beautiful! Aging gracefully means we've lived a long, full life - and that's what really matters.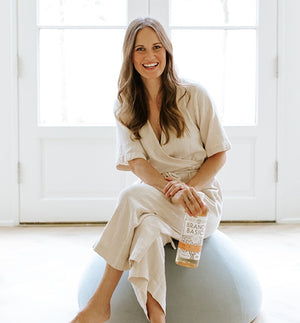 Kelly Love
Kelly is proof that switching to a pure, natural lifestyle is powerful even for those who consider themselves healthy. She's experienced how much our everyday choices impact our quality of life and is passionate about helping others see and feel the connection. She lives in Jackson, Mississippi with her husband and two daughters.