My Go-To Holiday Potluck Recipe: Roasted Root Veggies
This is my go-to recipe for any potluck gathering because it pairs well with most any dish served in the fall and winter. It's also versatile and can be easily tweaked to use any combination of root veggies that are fresh and readily available. The addition of pineapple juice truly sets it apart from any other root veggie dish, bringing out the unique flavors and natural sweetness in each bite. If you are looking for a no-fail holiday potluck recipe, this one's for you! Be ready for the kudos and compliments this dish will bring!
root Vegetables:
1 large beet, quartered or smaller

2 yams, chopped into 1" chunks

1 yellow onion, quartered

½ kabocha squash, chopped into 1" chunks

3 carrots, chopped into 2" sections

1 clove garlic, minced
(Feel free to use any combo of seasonal veggies - the more color the better!)
roasted root veggies Dressing:
2 T. sesame oil

1/2 cup olive oil

3 T. pineapple juice*

1 t. black sesame seeds

1 t. white sesame seeds

1/4 cup chopped parsley

Optional: 5-7 fresh rosemary twigs
*I buy a small can of crushed or sliced pineapples for this recipe and save the juice and pineapples that I don't use in the refrigerator. Then I toss the remaining fruit and juice in smoothies and/or other recipes until it's gone.

holiday potluck recipe Instructions
Mix the vegetables and garlic in a large bowl.

Toss the dressing with the vegetables in the large bowl until the veggies are covered.

Place the coated vegetables in a baking dish and lay fresh rosemary over vegetables (if using).

Bake at 350° F for 90 minutes.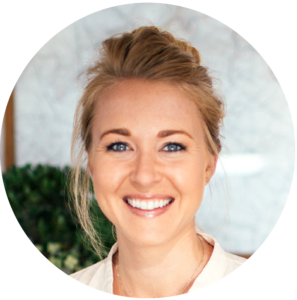 Allison Evans
Allison has dedicated herself to helping others reap the benefits of clean living. She, along with her husband and two daughters left Houston for the country life as she heals from a recent mold exposure and diagnosis of chronic Lyme disease. Follow her story on our Instagram and read more about her Journey to Fertility.