Our Favorite Healthy Thanksgiving Sides & Desserts

Eating healthy, delicious meals shouldn't feel overwhelming, especially around the holidays! Whether you are hosting family and friends this year or bringing a dish to share, these simple sides are sure to be crowd-pleasers. Make sure to use all organic ingredients!
EASY CRANBERRY RECIPE
What You'll Need:
2 packages 10 ounce frozen cranberries or fresh

1 cup maple syrup

1 cup orange juice

1 apple diced

Walnuts

– love this brand

Currants or raisins

pinch salt
Directions:
Add all except walnuts to saucepan

Bring to boil

Simmer for 10 minutes to an hour, but don't let it burn

Let cool. It will gel.

Add roasted walnuts and currants or raisins if desired

Good with a little maple syrup, lemon juice, and a pinch of salt – simmer 10 minutes.
KIMBERLY'S SWEET POTATOES
What You'll Need:
5 large sweet potatoes peeled and diced

½ cup coconut milk

¼ cup maple syrup

4 T. ghee - optional

1 pinch sea salt

2 t. vanilla

2 large eggs
Directions:
Preheat oven to 350 degrees

Cook sweet potatoes in water until soft

Drain to cool

Add all ingredients to a blender or processor. Pulse to combine.

Bake 30 minutes or until done
GREEN PEA SALAD
What You'll Need:
Two bags petite green peas

Approximately 6 oz of Avocado Oil Mayonnaise

1 red onion finely chopped

2 teaspoons wasabi
Directions:
Mix wasabi as directed on package

Add all to bowl and mix
GREEN Bean Casserole
What You'll Need:
1 lb fresh green beans, trimmed and halved

8 oz mushrooms, roughly chopped (cremini or baby bella)

6 oz pastured turkey bacon

¼ cup shallots, finely chopped

6 garlic cloves, minced

½ cup organic almond meal

½ cup organic unsweetened almond milk

1 tsp himalayan or sea salt

1 tsp black pepper

1 tbsp extra virgin olive oil

½ tbsp arrowroot powder (optional)
What You'll Need for the Crispy Onions:
2 yellow onions, halved and thinly sliced

½ cup arrowroot powder

½ teaspoon sea salt

Dash of black pepper

Avocado oil
Directions for the Crispy Onions:
Toss onions with flour, salt and pepper. Heat on skillet on medium low, add avocado oil. Add onions, being careful not to crowd the pan. Fry until a light golden brown. Do not overcook. Remove with a slotted spoon, and let onions drain on a towel. Repeat with remaining onions. This process will take a while, so it's a good step to start early.
Directions:
Preheat oven to 350

Bring a large pot of water to boil

When the water starts boiling, add the chopped green beans. Boil the green beans for 5 minutes, drain and blanche in ice water.

Heat a large saute pan to medium, and add chopped bacon. Lightly crisp bacon (careful not to burn), then add the chopped shallots. Once the shallots are opaque, add the minced garlic. After a few minutes, add the chopped mushrooms and continue to stir on medium heat. When the mushrooms have cooked down and have a golden color (5-6 min), remove the entire mixture and put aside in a separate bowl.

With the heat in the saute pan on medium low, add 1 tsp EVOO and half the almond milk. Whisk thoroughly. Add half of the almond meal and whisk until it dissolves. Add the rest of the almond milk and almond meal, and whisk over a medium simmer.

Add salt and pepper

Whisk until the gravy thickens and resembles the texture of heavy cream

If your gravy is not thickening, slowly sprinkle in 1 tbsp of arrowroot powder

Drain excess liquid from the bacon and mushroom mixture

Reduce the heat on the gravy, and add the bacon/mushroom mixture

In a large casserole or baking dish with cover pour in the green beans, then pour over the gravy mixture and stir to combine

Cover and bake at 350F for 30 minutes

Remove the cover and sprinkle the crispy onions on top

Place back in oven for 5 minutes at 350 uncovered
Mashed Cauliflower Potatoes Recipe
What You'll Need:
1-2 heads fresh cauliflower roughly chopped into uniform, large pieces OR 1-2 bags frozen
4 TBSP butter or ghee
2 TBSP cream cheese or sour cream optional
2 TBSP or more Parmesan grated (optional)
salt pepper, garlic powder, and other spices to taste
Directions:
In a large pot, bring a couple quarts of water to a boil
Add cauliflower and cook until tender
Drain well
Transfer cooked cauliflower to large bowl, and add butter and optional cream cheese or sour cream and Parmesan
Use immersion blender or hand mixer to blend until smooth and creamy. This is the most important step ... chunks of cauliflower are a giveaway!
Sprinkle with extra cheese if desired and serve warm
Top with fresh chopped parsley or chives for a nice garnish
Option for Instant Pot:
Wash and quarter cauliflower, removing leaves and stem
Add steamer/trivet basket to Instant Pot along with 1 cup water
Add cauliflower pieces
Set to manual high pressure for 4 minutes
Manually vent/release pressure
Open, drain, and remove inner basket
Gently squeeze any remaining liquid out of cauliflower and return to pot
Add other ingredients and whip until creamy
GLUTEN FREE CORNBREAD FOR CORNBREAD STUFFING
What You'll Need:
3 c. organic yellow corn meal (not coarsely ground). Arrowhead Mills is a good brand.

1 t. sea salt

4 T. ghee

2 c. boiling water

1 c. organic kefir or milk of choice

4 organic eggs beaten

1 T. Rumford (no aluminum) baking powder
Directions:
Preheat oven to 425 degrees

Heat the ghee to liquid state

Mix the cornmeal and ghee together

Pour boiling water (with salt) over the cornmeal mixture and stir until well mixed

Add the milk to the mixture and set aside to cool, about 40 minutes

When cool, put eggs and baking powder into blender and mix thoroughly

Stir in beaten eggs and baking powder

Grease 8 x 8 inch baking dish liberally with ghee and place in oven for 2-3 minutes

Pour batter into the hot, well-greased baking dish

Place in hot oven and bake for 30 – 40 minutes. Try not to open the oven and check until cornbread has fully risen and is almost done. Turn down oven if necessary to finish cooking.

Check with knife for doneness.
CORNBREAD DRESSING
Cool and crumble cornbread above.
What You'll Need:
1 – 2 onions – 1 ½ cup or more
½ - 1 cup celery
10 eggs beaten
2 T tablespoons dried sage
1 t. salt
Salt and pepper
2 T ghee
4 cups homemade chicken broth/stock or ready made (most Chicken Broths have excitotoxins – read labels carefully)
Shelton's Organic Chicken Broth – Original Recipe
Shelton's Organic Fat Free Chicken Broth
Directions:
Preheat oven to 425 degrees

Saute onion, and celery until soft

In a large bowl, combine cooled celery, onions, crumbled cornbread, eggs, chicken stock, sage, and salt and pepper to taste

Mix very well

The consistency of the cornbread batter should be soupy. This is the secret of good dressing; it will cook dry.

Pour cornbread batter into greased 13 x 9 baking dish and bake at 425 for 15 minutes, then turn down to 350 degrees F. and bake for 45 minutes or until done.

Serves 10-12 or more
PECAN PIE
This is soooo good and easy!
What You'll Need for Egg Filling:
4 eggs

3 cups pecans

2 t. Vanilla

1 cup Maple Syrup

pinch salt

Preheat Oven – 325 degrees and oil pie plate
What You'll Need for Oatmeal Cookie Crust:
1 ½ cup rolled oats

¼ cup sesame seeds

½ cup spelt

½ salt

½ t. cinnamon

¼ cup walnuts

½ t. vanilla

½ cup ghee or coconut oil

3 T. honey (melt honey and ghee together)
Directions for Pie Crust:
Mix crust ingredients and press into pie plate

Bake 10 minutes

Set aside
Directions for Pie Filling:
Toast pecans in a 350 oven for 10 minutes

Reduce oven temperature to 325

Whisk eggs, vanilla, maple syrup, and salt in a bowl

Stir in nuts

Pour into baked pie shell

Bake 325 for 30 minute or until set – cool before serving
PUMPKIN MUFFINS or CAKE
What You'll Need:
All ingredients should be at room temperature

4 organic eggs

4 cups cooked pumpkin or (2 cans of 15 oz. Pumpkin)

¾ cup organic butter or ghee, or coconut oil

1 cup maple syrup

¾ teaspoon salt

3 cups spelt flour

2 t. baking soda

2 t. baking powder

1 T. cinnamon

1 t. ginger

1 t. cloves

1 t. nutmeg

1 t. Allspice
Directions:
Preheat oven – 350 degrees

Beat maple syrup and oil together, and then add eggs. Beat thoroughly.

Add pumpkin and salt

Sift dry ingredients together and then add to wet ingredients

Mix in 1 cup raisins and 1 cup walnuts

Bake at 300 degrees for 25 minutes for muffins or 45-60 minutes for cake

Makes 21 muffins or 1 - 8 inch round cake
What sides and desserts do you love sharing over the holiday? Share in the comments below!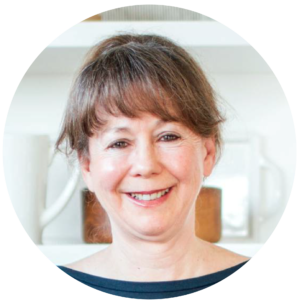 Marilee Nelson
Marilee Nelson is an Environmental Toxins expert who has spent nearly 30 years advocating for the chemically-sensitive and chronically-ill. She is a Board Certified Nutritionist, Certified Bau-Biologist and Bau-Biology Inspector and specializes in Food As Medicine. She has helped thousands of families and individuals identify, heal and recover from toxic exposures and is on a mission to revolutionize the way American families view their health.