Spring into Cleaning: Your Non-Toxic Home Cleaning Guide

Spring is finally upon us (or very close at hand for those of you up North – hang in there!). With the warmer weather, cheerful blossoms, and chirping birds comes a natural surge in energy and motivation to clear out the old and welcome the new. 
This is true for our homes, minds, and bodies. For example, in Traditional Chinese Medicine, spring is the season for cleansing the liver and gallbladder from winter's burdens. We can see this philosophy manifest in nature, as liver-supportive herbs pop up in the form of dandelions and chickweed, and our own natural inclination to eat fresher, lighter foods. 
For our minds, spring inspires us to come out of our winter shell, start socializing, and get rid of old clutter that's been clouding our brains and sapping our energy. And for our homes, there is no better time to get motivated to declutter and clean. 
Unfortunately, this often means breaking out the hard-core conventional cleaning products, which leave our indoor air quality in much worse shape than it was before we cleaned. The good news is, you can still give your home an incredible deep clean and declutter without using a single harmful chemical or toxic product. 
Today's article will walk you through our non-toxic spring cleaning routine room-by-room list-style, PLUS easy decluttering tips...let's get started!
To Begin Your Spring Cleaning, Open Up Your Windows
There's a wonderful European tradition in which people open the windows for 10 minutes in their home every morning and evening to clear and refresh the air. And this makes common sense, doesn't it? After all, studies have proven indoor air quality is often much worse than outdoor air quality, so what better way to fix that than opening a window a couple times a day? Plus, new research has shown an open window can boost your immunity by helping diversify your gut microbiome.
Now, It's Time to Detox Your Cleaning Caddy
The average American home is filled with highly toxic, poisonous cleaning products and pesticides. What most people don't realize is these products permeate the air we breathe during cleaning and when stored in pantries and cupboards. Therefore, if you want to make a big impact on your indoor air quality and health, it's time to purge these poisons.
How to Get Rid of Toxic Cleaning Products
To clean up your cleaning products, declutter and remove all conventional cleaning products, laundry products, fragrances, and products containing harmful ingredients.

Next, use Earth911 or call your local department of works to inquire about safe disposal of hazardous chemicals, or put them in an airtight storage bin in your garage or shed.

Finally, replace ALL those products with our versatile non-toxic cleaning Concentrate, some distilled white vinegar and hydrogen peroxide. These products will save you so much time and money while simplifying your spring cleaning.

Want more information on how to toss the toxins from your home? Check out our detailed home cleanse tutorial. Then come on back to continue your room-by-room spring cleaning tips.
Next, Tackle the Kitchen with Non-Toxic All Purpose Cleaner
Here you'll want to focus on deep cleaning your large and small appliances, plus areas you don't clean daily or weekly.
How to Deep Clean Your Appliances
To start, move large appliances away from the wall and use a sealed HEPA vacuum, microfiber, or unscented swiffer to remove dust and debris.Then, use microfibers and Branch Basics Concentrate All-Purpose to wipe down small appliances, vent hoods, etc.
For ovens, heat until just slightly warm (not over 100℉) then spray a light film of water before liberally spraying Concentrate, using the All-Purpose Bottle or the Bathroom Bottle.
Let sit a minimum of 15 minutes (up to overnight). Apply a second time if needed. Scrub the racks with a stiff brush and wipe clean with a wet cloth and dry with a paper towel or dry rag.

Next, Clean Your Cabinets and Other Kitchen Surfaces
Did you know that dust has been proven to harbor a variety of toxic air pollutants including phthalates, biocides, phenols, flame retardants, and heavy metals like lead, arsenic and mercury? So, it's essential to remove it from places both seen and unseen.
To deep clean cabinets, dilute 2 tablespoons Branch Basics Concentrate with 1 gallon of water, wipe cabinets then wipe dry with a cloth. Be sure to wipe down your countertops, sinks, window sills, and any other surfaces.
Tackling the kitchen is a huge part of spring cleaning. Check out our non-toxic kitchen cleaning guide for more tips.
Now, Move onto the Laundry Room
Laundry rooms are a prime spot for toxic dust build-up (especially if you've been using conventional laundry products or storing cleaning products here). Spring cleaning is a good time to tackle this often-neglected room.
Here's our list of spring cleaning tips for your laundry room:
Remove

mold and mildew

from front loading/HE washers.

Get rid of scale and detergent build-up with

white vinegar

.

Clean dryer interior by spraying Concentrate on dryer interior, and spray the same solution on a towel and run through a drying cycle.

Deep clean dryer vent using a

special dryer vent brush

, or hire a chemical-free vent-cleaning service.

Vacuum or use microfibers to remove dust behind and on top of your washer and dryer.

Detoxify and declutter your laundry room by replacing those toxic, scented laundry products and stain removers with our Concentrate,

Oxygen Boost

, and

Wool Dryer Balls

(Just three products will take care of all your laundry and stain-fighting needs).
For a detailed tutorial on laundry room cleansing, check out: Detoxifying Your Laundry Room
Next, Tackle the Common Spaces
This means your living room, den, dining room, office, foyer, etc. Here's our spring cleaning guide for your common spaces:
How to Clean Your Furniture (and the Areas Around It)
First, move your furniture. Then, use a HEPA vacuum to suck up the dust and debris behind and beneath furniture and within sofas and chairs.
To remove stains from upholstery or fabrics, use Branch Basics Concentrate.
To clean wood furniture, dilute 1/8th - 1/4th teaspoon Concentrate concentrate in 2 cups of water and test a hidden area first to ensure the finish is not affected. Spray on a dampened cloth, wipe on minimally and wipe off.
Cleaning Your Floors the Non-Toxic Way
Use Concentrate at proper dilution to mop hard-surface floors. For baseboards, spray non-toxic all purpose cleaner and wipe clean with a microfiber cloth. This will also help break down any residual pesticides that may have been sprayed on the baseboards.
Related Read: Branch Basics Ultimate Guide to Nontoxic Floor Cleaning: It's Easier Than You Think!
Don't Forget the Finishing Touches
Dust everything including electronics, shelving, window sills, and door frames using microfibers, your vacuum, or unscented Swiffers.
Remember to clean your vents, and return with your vacuum and Concentrate. Now is also a great time to replace your home's air filters. For the best 1-inch filter replacement, we recommend Filtrete.
Next, Take the Cleaning to the Bedroom
Follow the advice above to dust and clean furniture, baseboards, floors, vents, returns, etc. Then, get ready to detoxify your bedroom.
Start with Cleaning Your Bedding
Wash all of your sheets, blankets, mattress covers, comforters, pillow cases, shams, pillows, pillow covers, and decorative pillows using the Branch Basics Laundry Kit. Make sure all are washable and use cold water for any material that may shrink. Test fabrics in inconspicuous areas for compatibility.
Next, vacuum your entire bed (and underneath) including headboards, mattress, box spring, platform frame, etc.
Important Spring Cleaning Tip: Don't Forget to Clean Out Your Closet
Cleaning out your closet may seem daunting. To start, remove any clothing on shelves. and vacuum thoroughly. Declutter by going through your closet and purging any clothing, shoes, or accessories you haven't worn in the last year. Then donate them or re-sell them at a consignment store.
Replace toxic moth repellents with non-toxic solutions like natural cedar or Stay Away Moths by Earthkind. Get more tips on non-toxic moth removal here.
For more tips on deep cleaning, check out: Home Cleanse Guide: How to Detox Your Home

Finally, Blitz Your Bathrooms
The using Concentrate in the Branch Basics Bathroom Bottle and Streak-Free Bottle, along with some Oxygen Boost, will take care of your entire bathroom.
To begin, wash any bathroom curtains, towels, bath mats, bathrobes, etc. using the Laundry Kit. Clean all surfaces, tubs, showers, and toilets by spraying Bathroom solution and let sit for 1-5 minutes. Then scrub.
Remove mold and mildew from the bath or shower using an all purpose cleaner with a sprinkle of Oxygen Boost. 
Clean grout by spraying Concentrate directly in the grooves, and let it sit for 1-5 minutes, then scrub. If necessary, repeat and/or add Oxygen Boost. 
For stubborn soap scum, include a sprinkle of Oxygen Boost with Concentrate and scrub. If your tub or shower has stubborn mold embedded in the seal, it's time to replace it with new seal/caulk. 
Declutter the bathroom by purging old personal care products, razors, hair ties, sponges, back scrubbers, broken hair styling tools, makeup, applicators, medications, etc. Take it a step further by detoxifying your bathroom of harmful, chemical-laden personal care products. Removing all products with synthetic fragrances is a great first step. Dive deeper and remove products with carcinogens. 
Read Also: Fragrance Is The New Secondhand Smoke | Eliminate Synthetic Fragrance To Improve Your Health
5 Tips to Help You Make Spring Cleaning Manageable and Fun
Yes, spring cleaning definitely takes a little time and effort BUT it doesn't have to mean spending a fortune on dozens of cleaning products or taking a week off work – Concentrate + Oxygen Boost and/or distilled white vinegar and hydrogen peroxide will do the entire job fast. Here are some spring cleaning tips to make the process efficient, painless, and enjoyable:
Take it a room at a time. If this means a room per weekend, that's perfectly fine.

Get the whole family involved! There is no reason for one person to do this alone, plus you'll teach your children the value of non-toxic cleaning and taking pride in their home.

Invite your friends over to help, then return the favor by helping them clean their home. This works great for singles or those with spouses who travel a lot, serve some great wine and snacks, crank up the tunes or your favorite podcast, order some healthy takeout, and make a fun weekend of it.

No time? Hire a cleaning crew and print this post as their checklist. Any cleaning company worth their salt will follow your instructions and use the products you ask them to use. Also, look for a company that uses a HEPA vacuum, or have them use yours.

Above all, take it one step at a time. The surest way to fail is to try and tackle your entire home in one day. Even if this means doing three little spring cleaning chores every day for weeks, that's fantastic!
Branch Basics Can Help You Achieve Your Spring Cleaning Goals
Toxin-free spring cleaning can be easy. Try the Branch Basics Premium Starter Kit to invest in your non-toxic cleaning journey – or start small with the Trial Kit.
Remember, deep cleaning your home with non-toxic products not only detoxifies your body by removing harmful air pollutants, it also helps unburden your mind as you clear away the clutter. Try it, you'll be amazed at how much better you feel.

References:
1: https://www.ncbi.nlm.nih.gov/pubmed/22278670
2: https://www.scientificamerican.com/article/chemicals-linked-to-health-hazards-are-common-in-household-dust/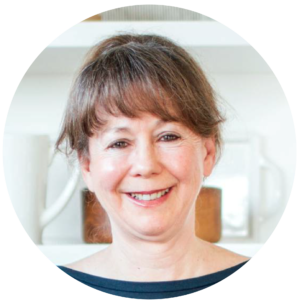 Marilee Nelson
Marilee Nelson is an Environmental Toxins expert who has spent nearly 30 years advocating for the chemically-sensitive and chronically-ill. She is a Board Certified Nutritionist, Certified Bau-Biologist and Bau-Biology Inspector and specializes in Food As Medicine. She has helped thousands of families and individuals identify, heal and recover from toxic exposures and is on a mission to revolutionize the way American families view their health.