The Cleaning Power of Branch Basics Concentrate and Oxygen Boost

Let us introduce you to the dream team of non-toxic cleaning: Branch Basics' Concentrate and Oxygen Boost! 
When these two join forces, you won't believe the magic they can get done. While The Concentrate and Oxygen Boost are two separate cleaners -- when combined they create a dynamic duo in the realm of non-toxic cleaning. 
In this article, we'll dive into how these powerhouses work together to take on the toughest cleaning jobs. 
The Concentrate
Branch Basics Concentrate is our #1 bestselling non-toxic cleaning solution. It's primary role is to be a human-safe, non-toxic cleaner that tackles dirt, grime, and stains without the use of any harmful chemicals or toxins. We created this product as the bread and butter of Branch Basics - a cleaner that is safe and toxin-free for everyone.
It's a versatile, plant and mineral-based formula that can replace dozen of toxic cleaning products in your home. It serves as the foundation for a wide range of cleaning applications, as when diluted with water it can be a bathroom cleaner, carpet cleaner, glass cleaner, dish soap and so much more.
It is highly effective yet gentle, making it also suitable for body wash and even makeup remover. You heard us... it won't even irritate your eyes and is good for the skin! 
Oxygen Boost
Secondly, Oxygen Boost is a non-toxic powder that contains no bleach, ammonia, fragrances or dyes. Inside Oxygen Boost, sodium percarbonate is combined with sodium bicarbonate (aka baking soda) to create a powerful stain remover, non-toxic bleach alternative, deodorizer, and laundry booster. 
When Oxygen Boost is mixed with water and the Concentrate, it releases oxygen ions that act as a gentle yet formidable cleaning agent, breaking down organic matter and penetrating deep into fabrics or surfaces. It does some reallll deep cleaning. 
The Synergy Between The Concentrate & Oxygen Boost
The synergy between Branch Basics Concentrate and Oxygen Boost is what makes them a powerhouse non-toxic cleaner.
The Concentrate's all-purpose cleaning properties, combined with the stain-fighting capabilities of the Oxygen Boost, create a formidable force against even the most stubborn dirt and grime. 
Whether you're tackling baked-on grease on your pots and pans, bathroom mildew on your grout and tile, or laundry stains from your toddler's lunch, this  duo offers a human-safe and effective solution. No need to go reaching for harmful products like bleach to get those tough cleaning jobs done.
Below are just a few before and afters from Branch Basics customers! For more, check out our Concentrate and Oxygen Boost product pages with reviews from customers just like you. 
Plus, They're Eco-Friendly!
As a bonus, both The Concentrate and Oxygen Boost are eco-friendly alternatives to conventional cleaning products:
All Branch Basics products are biodegradable, meaning that are good for the earth and not hard on it, They break down naturally and decompose into smaller components that are good for the earth. When a material is biodegradable, it can undergo this natural process of degradation without causing harm to the environment. Biodegradability lessens the impact on our ecosystems.
Our products also minimize harmful emissions as they are formulated without harmful chemicals and pollutants. Traditional cleaning and household products often contain volatile organic compounds (VOCs) and other toxic substances that can contribute to indoor and outdoor air pollution. By using non-toxic alternatives, these harmful emissions can be significantly reduced, leading to cleaner air.
Ways To Use The Concentrate and Oxygen Boost Together
Laundry:
Team our Laundry solution with Oxygen Boost to whiten and brighten white and/or color fabrics. Just add 1/2-1 scoop of Oxygen Boost to the drum before adding clothes. 
What customers have to say: 
⭐️⭐️⭐️⭐️⭐️ "My favorite way to use Oxygen Boost is with the Laundry solution for my bedding! I have white bedding but I have a small dog that likes to jump on the bed every now and then. This combination takes any scuffs or stains out of my white bedding every time, and it's non-toxic so I can still sleep in a chemical-free sanctuary!" - Annie 
Clothing Stain Remover:
Pre-treat or pre-soak stains with All-Purpose and Oxygen Boost before washing for extra stain removal power. 
Pre-treat: Spray stain with All-Purpose, sprinkle Oxygen Boost over the stain, and wet again with All-Purpose to activate. Agitate the stain softly if needed.
Pre-soak the items in a capful of Concentrate and a scoop of Oxygen Boost in a bucket full of water for 1 hour (up to 24 hours) if more treatment is needed. 
What customers have to say:
⭐️⭐️⭐️⭐️⭐️ "The OB & Concentrate combo is NEEDED If you have a toddler! It doesn't matter what he gets into... these two can get stains out of any of his clothing." - Charmian
Tile & Grout:
Spray area with Bathroom Cleaner and sprinkle Oxygen Boost on grout. Agitate with a brush until soapy and let sit 15-20 minutes. Scrub clean and rinse.
What customers have to say:
⭐️⭐️⭐️⭐️⭐️ "Branch Basics to the rescue!!! I honestly thought I was going to have to replace the bathroom tile and grout in the house we just bought, because of the years it wasn't maintained well. A little Oxygen Boost scrub and viola! It's good as new!" - Tanya 
Pots & Pans:
For burnt pots and pans, spray with All-Purpose, sprinkle Oxygen Boost and fill with water. Let it sit and soak for a few hours or overnight, then scrub burnt and baked-on reside off.
Repeat if necessary. 
What customers have to say:
⭐️⭐️⭐️⭐️⭐️ "I was pretty hesitant to try Branch Basics until my son-in-law made his stainless steel burnt pot look good as new again. Now we have it at my house too." - David 
Soap Scum & Showers:
Sprinkle Oxygen Boost on the area, spray liberally with Bathroom solution, and let it sit 5-10 minutes before scrubbing clean. 
What customers have to say:
⭐️⭐️⭐️⭐️⭐️ "I clean my shower weekly with Branch Basics Bathroom Solution and Oxygen Boost... it's so easy, looks so sparkly clean after and only takes 10 minutes!" - Julianne  
Carpets:
For colored fabric, always test in a hidden spot first! Spray with All-Purpose, sprinkle stain with Oxygen Boost, and agitate with a damp cloth. Let sit 5-10 minutes. Scrub clean and vacuum excess OB.
What customers have to say:
⭐️⭐️⭐️⭐️⭐️ "We hosted a new year's party and someone split wine on our beige carpet. We were so scared as it wasn't in a hidden spot. But we used OB and it lifted the stain and took it right out! PHEW!" - Jessica   
Learn even more ways to use Concentrate and Oxygen Boost together in our User Guide. 
Happy Cleaning!
In summary, our Concentrate and Oxygen Boost work hand-in-hand to provide a powerful and non-toxic cleaning solution. 
Whether you're striving for a sparkling clean kitchen, a pristine bathroom, or spotless laundry... these two solutions will help you achieve your cleaning goals while making sure you have safe, sustainable products in your household.
Cheers to non-toxic cleaning!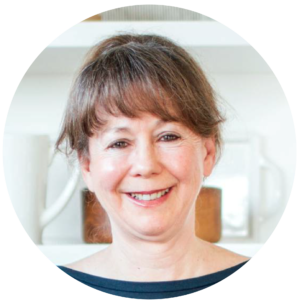 Marilee Nelson
Marilee Nelson is an Environmental Toxins expert who has spent nearly 30 years advocating for the chemically-sensitive and chronically-ill. She is a Board Certified Nutritionist, Certified Bau-Biologist and Bau-Biology Inspector and specializes in Food As Medicine. She has helped thousands of families and individuals identify, heal and recover from toxic exposures and is on a mission to revolutionize the way American families view their health.