20+ Best Non-Toxic Cleaning Products (That Actually Work)
Until recently, a handful of non-toxic cleaning brands dominated the market. 
This made it relatively easy to choose a non-toxic brand but challenging to gauge effectiveness.
Fast-forward to 2023, and there are dozens of non-toxic cleaning and laundry products to choose from, with many brands now owned by chemical cleaning companies.
This explosion of interest in non-toxic cleaning has made it difficult to decipher which brands are truly free from harmful chemicals while being human - and environmentally safe and effective.
In this article, we share everything you need to know about the best non-toxic cleaning products, including:
What makes a cleaning product non-toxic (and how to spot greenwashed brands)

The benefits of non-toxic cleaners

The best non-toxic cleaners and DIY options for your home, including:

Bathroom

Glass

Multi-purpose

Stain and odor removers

Floor Cleaners

Dish Soap 

Dishwasher Detergents

And answers to your non-toxic cleaning FAQs
Ready to lose the overwhelm and get on with your non-toxic cleaning routine? Let's get started.
What Makes a Cleaning Product Non-Toxic? 
We get asked this question all the time.
But the answer isn't as simple as: "Non-toxic cleaning products don't contain chemicals", because even water or baking soda are considered chemicals.
So here's the deal.
More than 85,000 chemicals in the United States are used in common household and personal care products. The problem is few of these have been tested for human and/or environmental safety. 
This means a product containing one or more ingredients can cause health and/or environmental harm.
Many chemicals in cleaning products are considered toxic because they've been shown to cause ill health effects such as cancers, endocrine disruption, obesity, developmental problems, respiratory disease, skin conditions, burns, vomiting, nervous system disorders, and much more. Some can even be fatal. 
Unfortunately, deciphering which products contain which chemicals is difficult because cleaning products are not regulated, which means companies aren't required to list all their ingredients. 
However, the EPA does require signal words or warnings on labels of poisonous products such as "danger," "warning," caution," "corrosive," and "dispose of as hazardous waste." 
You can look for these "red flags" to help navigate the safety of conventional and "green," "eco-friendly," "natural," and "non-toxic" cleaning products.
That's right. Even products labeled and branded as safe, eco-friendly, and natural can and do often contain harmful chemicals.
We've covered the science behind the harms of several cleaning and laundry chemicals, such as bleach, dioxins, Quats, ammonia, SLS, SLES, phthalates, formaldehyde, formaldehyde-releasing products or by-products, synthetic surfactants, and others in various articles.
To learn more about how to spot toxic vs. non-toxic products, check out the links above at: 
Benefits of Using Non-Toxic Cleaners
It's a toxic world out there, and we cannot control everything that we inhale, ingest, or absorb.
The biggest benefit of using non-toxic cleaners is you reduce your and your family's exposure to harmful and potentially harmful chemicals.
The pay-off is immeasurable in terms of short- and long-term preservation of health, well-being, and peace of mind.
Best Non-Toxic Cleaners for Your Home
Now that you're fired up about the benefits of switching to non-toxic cleaning products, let's look at some of the best options for your home.
Bathroom Cleaner
Branch Basics Bathroom dilution is a concentrated, sudsy cleaning spray designed to remove germs, dissolve dirt, grime, and soap scum, and polish up your tub, shower, sink, toilet, tile, and bathroom surfaces in no time.
Branch Basics non-toxic cleaning line was created to replace every cleaning and laundry product in your home with one all-natural, non-toxic Concentrate.
Our Concentrate is designed to be diluted with water to create All-Purpose, Bathroom, Streak-Free, Foaming Wash, Laundry, Floor Cleaner, and more.
Check out our Starter Kits to learn more about Branch Basics all-in-one non-toxic cleaning system.
Learn more in: Non-Toxic Bathroom Cleaning With Branch Basics.
Other natural DIY options for non-toxic bathroom cleaning:
For more non-toxic bathroom cleaner inspiration, check out: The Best Bathroom Cleaners Without Bleach.
Glass Cleaner
Branch Basics Streak-Free is our #1 recommendation for a non-toxic glass cleaner.
Not only is it incredibly effective, but it only takes one drop of Branch Basics Concentrate to make! 
One drop of Branch Basics Concentrate + Water makes enough non-toxic glass cleaner to last for months and months. 
Streak-Free can be used to clean:
Mirrors

Windows

Glass stovetops

Glass coffee tables

Car windows

Shower doors

And any type of glass in your home
Other natural options for streak-free glass cleaning:
Hydrogen peroxide

Rubbing alcohol

Vinegar

Vinegar + Natural Dish Soap (such as EWG-verified Fragrance-Free

AspenClean

or Fragrance-Free

Attitude

)
Get more tips on non-toxic, streak-free glass cleaning in: 6 Best Glass Cleaners Without Ammonia.
Multi-Purpose Cleaner
Branch Basics All-Purpose is our multi-purpose dilution designed for surfaces, dishes, stain removal, pet messes, certain types of flooring, as a produce wash, and more.
To make Branch Basics All-Purpose, use the All-Purpose Bottle included in the Starter Kit or Trial Kit, combine Concentrate with water per instructions, shake, and you're done. It's so easy!
To learn more about multi-purpose cleaning with Branch Basics, check out our Starter Kits.
Other natural options for non-toxic all-purpose cleaner: 
Vinegar + Water

Lemon juice + water

Baking Soda

DIY All-Purpose Cleaners
For instructions on the DIY options listed above, including recipes for DIY All-Purpose cleaners, see: 5 Best Natural All-Purpose Cleaners.
Stain & Odor Remover
Chemical-based stain removers can be tough to give up, especially if you've relied on them for years.
However, our grandmothers and great-grandmothers got along just fine without harsh chemical stain removers, and so can you (especially with a little help from these modern non-toxic stain and odor removers).
Branch Basics All-Purpose, Bathroom, Laundry, and Oxygen Boost can be used to eliminate just about any type of stain.
All-Purpose works best as a spot treatment on fresh stains.

Bathroom or Laundry are ideal for more significant, more complex stains.

Laundry and

Oxygen Boost

—a combination of

powdered peroxide/sodium percarbonate

and baking soda—can also be used to soak larger stains or pre-treated stains.
For odor removal of garments and fabrics, we recommend Oxygen Boost, which combines the natural odor-fighting power of baking soda with bacteria-busting sodium percarbonate (aka: powdered peroxide or oxygen bleach). 
Note: Since Oxygen Boost contains natural bleaching ingredients, always do a patch test on an inconspicuous area first. Do not use on wool or silk.
Other natural options for non-toxic stain removal: 
For specific stain-removal instructions, see: Branch Basics Stainmaster Guide: How to Treat Any Stain Quickly and Easily. 
Other natural options for non-toxic odor removal:
For more tips on non-toxic odor removal, check out: 7 Non-Toxic Air Fresheners: Remove Odors Naturally.
Floor Cleaner 
Branch Basics All-Purpose and Concentrate can be used to clean nearly any type of flooring.
The key is to get the correct dilution and method dialed in.
For example, most tile and vinyl flooring can be cleaned using All-Purpose spray and a microfiber mop.
However, vinyl plank flooring and hardwood typically respond better to a higher water dilution to Concentrate.
Get specific instructions for your flooring in: Branch Basics Ultimate Guide to Non-Toxic Floor Cleaning.
Other natural options for non-toxic floor cleaning: 
For more details on non-toxic DIY floor cleaning, see: 
Dish Soap
Many people overlook dish soap when switching to non-toxic products.
However, conventional chemical-based dish soap contains various harmful chemicals which can be absorbed into the skin daily.
Instead, we love using Branch Basics All-Purpose, Bathroom, or Foaming Wash as dish soap alternatives.
Either spray dishes directly with All-Purpose, scrub as needed and rinse under warm water. 
Or choose Bathroom spray for tougher, cooked-on messes. 
Foaming Wash Soap can also be squirted directly onto a dish sponge or brush if you prefer to see more foaming action. 
Oxygen Boost is also an excellent dishwashing aid for burnt-on food and cleaning up stained blenders or coffee pots.
Other non-toxic dish soap alternatives:
Get more tips in: 8 Effective Natural Alternatives to Dish Soap & Dishwasher Detergent.
Dishwasher Detergent
Few people realize the dangers of using chemical-based dishwashing detergents.
The reason is they contain alkaline chemicals, which are corrosive in nature, making them highly caustic to skin, tissue, and internal organs. 
Liquid dish detergents are the worst and can have an alkalinity as high as 13, making them extremely dangerous. 
The more "concentrated" the detergent, the more toxic it's likely to be.
Concerns surrounding toxic dishwashing detergents, especially colorful dish detergent pods, inspired the creation of EWG-verified Branch Basics Dishwasher Tablets.
These plastic-free tablets do not contain harmful caustic chemicals, fragrances, VOCs, formaldehyde-releasing agents, phthalates, antimicrobial agents, and other harmful ingredients and leave your dishes squeaky clean.
For more details on the harmful chemicals in dish detergents, see: Why Non-Toxic Dishwashing Is So Important.
Non-Toxic Cleaning FAQs 
Switching to non-toxic cleaners can raise many questions. 
Here, we answer some of the more frequently asked questions we get about non-toxic cleaning.
Is Branch Basics a Sanitizer or Disinfectant? 
Great question! The answer is neither, but it does a great job at removing germs.
To be classified as a sanitizer or disinfectant, a product must contain an EPA-registered pesticide or a high percentage of alcohol – at least 62%. 
The use of sanitizers with EPA-registered pesticides has been shown to contribute to the growing problem of antibacterial resistance. 
Hence why we weren't interested in creating a sanitizer or disinfectant.
Instead, Branch Basics' non-toxic surfactants work to break up and remove germs, just like soap and water.
This method of germ removal vs. germ killing is typically more effective at getting rid of all germs while not leaving behind any germs to mutate into superbugs.
Per the CDC: "to date, studies have shown that there is no added health benefit for consumers using soaps containing antibacterial ingredients compared with using plain soap.*"
To learn more, check out: Is Branch Basics a Sanitizer or a Disinfectant?
Note: Sometimes sanitizing or disinfecting is appropriate when used in addition to germ removal techniques.
See: 8 Best Natural Disinfectants for Everyday Use for more information.
Are DIY Cleaning Products Effective? 
Yes, DIY cleaning products can be as effective or more effective than chemical-based brands.
The most important thing is to have the right tool for the job.
Vinegar, for example, is a wonderful DIY ingredient because its natural acetic acid breaks up grease, dirt, and grime without damaging surfaces. 
It is also a natural fabric softener, weed killer, and descaler.
Plus, vinegar has some natural antibacterial properties, making it great for kitchen cleaning and produce washing.
Baking soda is a wonderful gentle abrasive, natural odor absorber, stain remover, grout cleaner, drain cleaner, laundry booster, and has natural bleaching power.
3% hydrogen peroxide (in the brown bottle) has been shown as effective as chemical-based sanitizers and disinfectants at killing germs, without the toxicity concerns.
It's also a natural bleaching agent and is safe to use on most surfaces.
The links above provide more information and tips on these ingredients (and more) for making your own non-toxic cleaners.
Toss the Toxins With Branch Basics 
As you can now see, non-toxic cleaning doesn't have to be complicated or expensive.
With just a few common household ingredients or one cleaning system, like Branch Basics, you can replace every chemical-based cleaning and laundry product in no time flat.
Interested in trying Branch Basics as a non-toxic cleaner? Click here to learn more about Branch Basics starter kits which contain everything you need to create your own non-toxic cleaning and laundry arsenal.
For more non-toxic cleaning tips, check out our Wellness Center for articles, Podcasts, Guides, and more.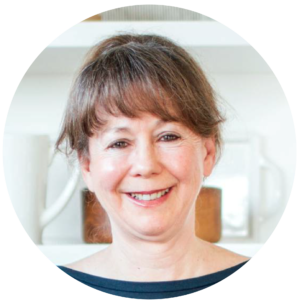 Marilee Nelson
Marilee Nelson is an Environmental Toxins expert who has spent nearly 30 years advocating for the chemically-sensitive and chronically-ill. She is a Board Certified Nutritionist, Certified Bau-Biologist and Bau-Biology Inspector and specializes in Food As Medicine. She has helped thousands of families and individuals identify, heal and recover from toxic exposures and is on a mission to revolutionize the way American families view their health.