How To Navigate Personal Care Products: Ingredients to Use & Avoid

You've spent years curating the perfect collection of personal care products to keep around your house. Cleaning supplies, laundry detergent, makeup, skincare, it's all there and it's all important, right? Most of us choose our go-to products based on online reviews, word of mouth or a strict set of quality standards that we adhere to across the board. But when you break it down, what does quality really mean? Perhaps it's time you sifted through the ingredient list on the personal care items you use daily and see if they fit into what you consider to be the ideal health standard.
Some of the most harmful ingredients are found in common, daily-use items like cleaning and beauty products – a disconcerting realization for many as they assume the companies they buy from have their wellness in mind during formulation. Don't worry, there is some good news. There are hundreds of natural and completely safe ingredients that you can seek out in your personal wellness products that are just as effective but skip the negative, long-term effects.
What To Avoid
Starting to vet new products for your household lineup doesn't have to be a chore. Just start by simplifying the contents of your cabinets. Get educated and get rid of anything that can cause harm to you, your family or your home. Look closely at the ingredient labels of your preferred cleaning supplies and laundry detergent. Then, get a little more personal and examine the things you use on or for your body every day, like skincare, candles and even in diffusers. Any ingredient that you can't easily pronounce should signal a red flag.
Alcohol – Most ingredients that end with "ite", "ate" or "ide" are alcohols sneakily disguised as thickeners or emollients that give off harsh emissions when you breathe them in and can dry out your skin significantly when used as a topical solution. Keep a close eye out for these ingredients in your cleaning sprays, laundry soap, face wash, toner, shampoos and even lip balms.
Parabens – Paraben is a word that many have heard tossed around, but few actually understand. A paraben is a classification of chemical that is used to extend a product's shelf life. The problem is that they can interfere with your endocrine system. Parabens are largely found in cosmetics, lotions, deodorant, haircare and baby products.
Synthetics – In 2019, it's all about getting real. That means ditching harmful synthetic ingredients for something purer and more authentic. Unfortunately, synthetics are found in almost every commercial air freshener, fabric softener, dryer sheet and cleaning products. In most cases, synthetic ingredients are made from crude oil sources, which are known carcinogens.
Preservatives – Would you eat a can of tomatoes from 2005? If your answer is no, why would you use a jar of moisturizer that was made over a decade ago? Preservatives like formaldehyde are common practice in commercial skincare and beauty products and can wreak havoc on your hormonal balance. When you really think about it, using fresh ingredients just makes more sense. You wouldn't cook for your family with anything that's been sitting around for too long, so why would you use it on your body?
Synthetic Dyes & Fragrances – Sure, a jar of cotton candy-pink face cream or scented laundry soap looks trendy and fun on Instagram, but the reality is less chic. Products that use dyes and fragrances come with a price that your internal ecosystem will ultimately have to pay. Synthetic colors and fragrances can make allergies and respiratory issues significantly worse, and if they're applied directly to your skin, you'll likely notice premature aging and dryness that you didn't see before. Luckily, there is innovative science called fractional distillation that allows us to render the natural scent from things like flowers and fruit without adding any of the fake stuff.
What To Seek Out
For every chemical or toxic ingredient in your home, there's a natural alternative that will provide you with the results you're looking for. When considering a new product for your home, be diligent about reading through the ingredient list. Look for ingredients that you recognize, and even still, take it one step further. Check with each particular company about where they source their ingredients. Sure, an organic flower farm might seem like a great place to get healthy extracts, but if that farm is downstream from a commercial factory, chances are the water has been polluted and flowers have been compromised. The right products will have ingredients that are thoughtfully sourced.
Oils & Seeds – Wonderful for use on your face and body as well as a natural and gentle way to clean pots and pans. Make sure that the oils you use are completely pure and undiluted. Some healthy oils include avocado, kukui nut, borage, rosehip and sunflower seed. Essential oils, when pure and sourced correctly, can be used as a natural cleaning solution, a safe way to scent your laundry and even a healing tonic for certain skin ailments. Just be sure to do your homework, because essential oils are extremely potent and should be used mindfully, never directly on the skin.
Floral and Herbal Extractions – Extractions from organic flowers and herbs, like chamomile, are completely healthy for your skin and they help to make natural cleaning solutions and laundry detergents gentler without taking away from their effectiveness.
Natural Sugars – There are a number of natural sugars, like coconut sugar or decyl glucoside, that make very safe, all-natural cleaning and laundry solutions. Try to steer clear of sugars in your exfoliating skincare or body products, because they can irritate the top layer of your skin, seep into your internal systems and disrupt your normal chemical balance.
Natural Compounds – Yes, there are some chemicals that are technically unharmful when used correctly. Baking soda, for example, is a natural compound that helps to kill viruses in your dirty laundry, deodorize, brighten and cut through greasy or grimy dishes.
Bringing products of any kind into your house shouldn't be a mindless chore, it should be a careful curation process. Once you find what you like, you can keep your lineup consistent without any worry of health upsets or undesirable reactions. There are plenty of ethical, safe and completely conflict-free companies that create new products every day to help you reach your personal wellness goals without sacrificing any of the quality or effectiveness.
If you've already got your clean household cleaning solutions from Branch Basics and you're interested in learning more about the ingredients that you should avoid in your skincare routine, check out Luminance Skincare, a line of simple, handcrafted and completely non-toxic facial and body products. Emily Bartz writes and edits the content for Luminance's website, blog, socials and newsletters. Based in Benicia, CA, Luminance Skincare offers a line of handcrafted, nontoxic, synthetic and cruelty-free line of face and body products.
Also, be your own product expert using EWG Skin Deep! EWG's Skin Deep Cosmetics Database – search the ingredients. The ingredients are rated 1 – 10 – with 1 being the safest to 10 being the most toxic. Look for safe ingredients rated a 1 or 2. We recommend removing all products that have any ingredient rated a 3 or more.
To dig in more, read Our Favorite Non-Toxic Personal Care Products, Feminine Care 101: Toss The Toxins For A Happier, Healthier Period and What You Wipe With Matters.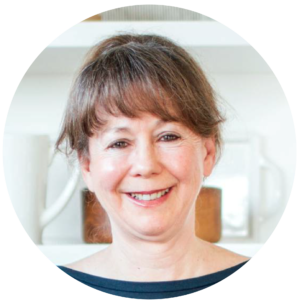 Marilee Nelson
Marilee Nelson is an Environmental Toxins expert who has spent nearly 30 years advocating for the chemically-sensitive and chronically-ill. She is a Board Certified Nutritionist, Certified Bau-Biologist and Bau-Biology Inspector and specializes in Food As Medicine. She has helped thousands of families and individuals identify, heal and recover from toxic exposures and is on a mission to revolutionize the way American families view their health.