Our Favorite Non-Toxic Baby Toys for Development & Growth

As a mother, the journey of childhood development is fascinating to see first-hand in your child. 
From the very moment my first little girl entered this world, I became acutely aware of the rapid growth and transformation happening right before my eyes – and it truly happens so quickly! It was during these early months that I grasped the significance of developmental baby toys and their role in nurturing our baby's minds and bodies.
Developmental toys are not just for fun; they are powerful tools that aid in the crucial process of early childhood development. 
These toys are specifically designed to stimulate and engage a baby's senses, encouraging them to explore, learn, and develop vital skills that will shape their future. From their tactile senses to their budding cognitive abilities, these toys play a pivotal role in fostering physical, intellectual, and emotional growth.
That's why it's important to choose your toys wisely – from what they are to what they are made with. This way, you can ensure your child's toys are helping their growth AND are safe for them to use!
Our Favorite Developmental Toys
We love Lalo as they go the extra mile to make sure quality (and therefore, safety) is where it needs to be. Similar to our origin story, Lalo searched far and wide for a toy manufacturing partner that really understood what they were committed to, and they've never faltered! 
In fact, Lalo's toy manufacturing partners have the most ethical rubberwood farming practices and they've figured out how to remove all waste from their production line – to even turn sawdust from waste into a new material for beautiful toys. 
All Lalo products are non-toxic, meet and exceed ASTM safety standards and are prop 65 compliant.  Their mealtime products are also made of FDA approved non-toxic silicone and are BPA free. 
Lalo recently launched The Play Boxes - research-backed toys are delivered to your doorstep every few months, taking the guesswork out of parent-led learning, and providing parents with a product made to hold up for years. 
Every toy has guidance on how it can be used across stages of growth so that it lasts longer. We've found that these Play Boxes are the best toys to match each child's stage of development. 
We got a promo code from Lalo just for you! For a limited time, you can get 40% off your first Play Box with a subscription! Use the code BRANCHPLAY at checkout. Offer expires 10/31/23. 
Caring For Your Child's Toys
Using a non-toxic and safe cleaner for your child's toys is paramount for their well-being and development. Children explore the world through tactile interactions, putting toys in their mouth and touching surfaces – and that's a good thing!
However, traditional cleaners laden with harmful chemicals can pose a risk to their growth and wellbeing. These chemicals can irritate skin, induce allergies, asthma and more. Opting for non-toxic cleaners ensures that the toys remain free from harmful chemicals and safeguards your child from potential health hazards.
Promoting a clean and safe play environment supports healthy growth, fosters sensory learning, and cultivates good hygiene habits from an early age! 
The Safe Way To Clean Toys 
Cleaning toys is so easy (and safe!) with Branch Basics' non-toxic Concentrate. 
Wooden toys: Spot clean by spraying Branch Basics All-Purpose on cloth, then wipe down. Do not directly clean with water.

Fabric toys: Hand wash in Branch Basics with cold water, and lay flat to dry.

Silicone toys: Soak toys in water with a few drops of Branch Basics

Concentrate

for 15 minutes or longer. Rinse and set out to dry.
Note: If more cleaning is needed, soak toys and then gently scrub with a natural scrub brush.
As parents, we only want the healthiest, happiest, and safest for our babies. It may seem like a small thing, but replacing chemical cleaners with non-toxic products gives our babies a head-start to healthier development, immunity, and more. Plus, the entire household will benefit from better indoor air quality as the result of less chemical usage!
Branch Basics is a truly all-purpose cleaner, so you can also use it to clean baby bottles, pacifiers, cribs, high-chairs and more! Check out their article How To Clean Your Baby's Toys And Bottles Naturally for more information.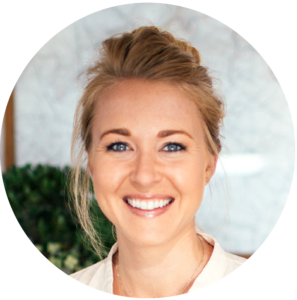 Allison Evans
Allison has dedicated herself to helping others reap the benefits of clean living. She, along with her husband and two daughters left Houston for the country life as she heals from a recent mold exposure and diagnosis of chronic Lyme disease. Follow her story on our Instagram and read more about her Journey to Fertility.