5 Simple & Healthy 4th of July Recipes

We love a 4th of July celebration! 🇺🇸 
As we prep for this family-fun holiday, we want to make sure we are continuing to nourish our bodies with delicious, real food... that is also celebratory! 
In this article, we put together our 5 favorite recipes we've made over the years that not only capture the spirit of Independence Day but also prioritize using real food and healthy ingredients.
From refreshing lemonade to delicious cake with summertime fruits, these recipes will satisfy your cravings! Let's dive in.
1. Healthy Flag Cake with Cream Cheese Icing 
Our tried-and-true favorite! 
STEP 1: Make a basic, delicious cake
Ingredients
2 ¼ cup organic spelt flour (sifted) (avoid white spelt)
1 cup organic maple syrup
3 ½ teaspoons baking powder (non-aluminum)
1 teaspoon sea salt ½ cup organic coconut oil (or organic ghee or organic cold (expeller) pressed grapeseed oil*)
1 cup organic unsweetened almond milk or rice milk (Sadly most almond milks on the shelves these days have inflammatory gums or excitotoxins. We suggest making your own!)
1 teaspoon organic vanilla 4 organic eggs (separated)
Directions
Preheat oven to 350 degrees.
Blend and sift all dry ingredients, then mix together wet (oil, milk, vanilla, maple syrup, egg yolks).
Combine wet and dry ingredients, mixing well.
Beat egg whites with an electric blender until they're stiff (on high speed).

 

Fold egg whites

 

into batter.
Pour into a 9x13 inch baking dish and bake for 35-40 minutes, until toothpick comes out clean and your kitchen permeates with the smell of deliciousness!
Set aside to cool.
STEP 2: Whip up some cream cheese icing 
Ingredients
16 ounces organic cream cheese (can use reduced fat, but the "full" version is hard to beat!)
9 tablespoons organic maple syrup
1 teaspoon organic vanilla

 

Optional: Add 1-3 tsp organic lemon juice as desired for a refreshing taste.
Directions
Mix the cream cheese, maple syrup and vanilla with mixer until smooth.
STEP 3: Assemble the flag cake! 
The picture says it all! To assemble the flag cake, pile the cream cheese icing in gobs atop the cake (which I flipped upside down onto a glass serving tray) and smooth with a knife/spatula.
Add the fresh, organic berries and enjoy! You can even stick this in the fridge (as I'm doing) overnight, as this flag cake is even more delicious the next day.
Serve atop your most patriotic tablecloth
*Although there are positive points about grapeseed oil, we don't typically suggest it unless it is very high quality. Most grapeseed oils contain solvents typically used in processing and has a high ratio of Omega 6 oils. 
Some people like it because it has virtually no taste and less expensive. On a positive note - studies have shown that although grapeseed oil has one of the highest ratios for Omega 6 oils, the result on the body is less inflammatory than canola, sunflower, or safflower oil for various reasons. However, it still should only be used occasionally!
We find the taste of using coconut oil, ghee, or even a combination of coconut oil and ghee doesn't affect the taste of the cake in a negative way.
2. Refreshing Blue Lemonade 
Ingredients
Fresh lemon juice

Stevia (or sweetener of choice)

Water 
Directions
In the past we have not measured so we recommend following a

basic lemonade recipe

.

Then add about ¼-½ teaspoon of spirulina to the lemonade to make it blue! 

Add some ice or keep it chilled in the fridge until ready to serve. Ta-da! 
3. Detoxinista's Red, White and Blue Popsicles 
Over the years, we've followed Detoxinista's popsicle recipe and have made a few minor adjustments to ingredients, which we've included below.  
Red Layer Ingredients
1 cup strawberries, chopped

1 Medjool date, pitted (or 1 tablespoon maple syrup)

2 tablespoons water

1 tablespoon greek yogurt (to make it creamier + less icy)
White Layer Ingredients
1 cup organic greek yogurt

2 tablespoons maple syrup
Blue Layer Ingredients
1/4 teaspoon spirulina powder  

1-2 bananas - (the blueberries made it too purple for us)
Directions
Find full recipe and directions here
We love using silicone molds for popsicles. One of our favorite brands is Zoku!
4. Gluten-Free Berry Fruit Tart 
We love this gluten free recipe from The Real Food Dietitians!
5. Vanilla Ice Cream with Spirulina & Strawberries
Our co-founder Kelly uses her Cuisinart to make homemade vanilla ice cream - and it's delicous! Here is a recipe you can follow. 
Our simple notes:
We use organic milk and cream, and switch out the granulated sugar for maple sugar or maple syrup.

Add spirulina to some of the ice cream before freezing to make it blue! 

Then top of the blue and white ice cream with strawberries to make it 4th of July themed. 
That's all for now - happy Independence Day!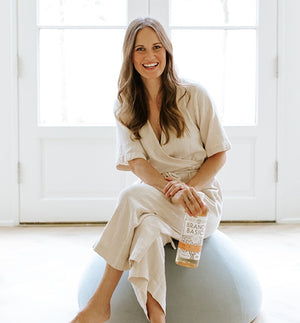 Kelly Love
Kelly is proof that switching to a pure, natural lifestyle is powerful even for those who consider themselves healthy. She's experienced how much our everyday choices impact our quality of life and is passionate about helping others see and feel the connection. She lives in Jackson, Mississippi with her husband and two daughters.