5 Best Natural All-Purpose Cleaners

No matter if you live by yourself, with your pets and a partner or roommate, or a brood of messy children or teens, every home needs a reliable all-purpose cleaner to power through dirt, grime, stuck-on food, stains, fingerprints, paw prints, and more.
Since all-purpose cleaners are typically the most frequently-used cleaners, choosing a non-toxic, earth-friendly, and human-friendly cleaner is essential.
Truly natural and non-toxic cleaners do not contain harmful chemicals that pollute indoor air, harm the environment, and cause health problems for children, adults, and pets.
But not all natural all-purpose cleaners are created equal in terms of quality, ingredients, efficacy, functionality, and price.
In this article, we break down the five best natural all-purpose cleaners, many of which you can make yourself using just a few inexpensive ingredients.
What Does 'Natural' Mean When It Comes To Cleaners? 
This may seem like an obvious question, as "natural" should mean from nature.
Unfortunately, the terms "natural," "from nature," "green," "eco-friendly," "a blend of science and nature," "organic," and "made with natural ingredients" are often taken out of context—especially with cleaning products.
As discussed in, Are They Greenwashing? How To Decipher A Brand's Sustainability Claims the cleaning product industry is loosely regulated regarding how products are marketed and what must be disclosed on labels.
This means a product can be made to look "natural" or even labeled as such when it still contains questionable or downright harmful ingredients.
A good example is popular green cleaning brands that still use synthetic fragrance, surfactants, or disinfectant chemicals in their products.
Many of these household brands have garnered a reputation for being clean and non-toxic (and some of them used to be!), yet they do not live up to their perceived standards of safety or sustainability.
This means we, as consumers, must learn how to vet products for safety, purity, and environmental stewardship.
Cleaning Products & Ingredients to Avoid 
Although it may appear a tall task, the truth is you do not have to be a chemist to decipher which cleaning products or ingredients may be harmful.
In fact, with technology at your fingertips, all it takes is a little bit of knowledge and a few clicks or swipes.
Here are some helpful tips:
#1: If a cleaner has the words: "Hazardous," "Warning," or "Danger," that product is not safe for human use.
#2: Avoid these common chemicals found in all-purpose cleaners:
Ammonia: Ammonia isn't just found in window cleaners. This popular cleaning ingredient is also used in all-purpose cleaners, and has been linked to respiratory damage, organ damage and failure, skin and eye damage, and even death.
Antibacterial chemicals like triclosan, chlorine bleach, or high concentrations of alcohol disrupt the microbiome and contribute to superbug proliferation.
Bleach is one of the top causes of childhood poisonings worldwide. It's also an EPA-registered pesticide and passive exposure has been linked to childhood illnesses, including asthma, and an increased risk of miscarriage and preterm birth.
Fragrance/Phthalates:

Fragrance has been called "the new second-hand smoke" and contains powerful endocrine-disrupting chemicals, like phthalates.

Learn all about the dangers of fragrance and phthalates in:

Fragrance is The New Secondhand Smoke

and

All About Phthalates + Why You Should Avoid Them

. 
Parabens are controversial preservatives used in cleaning and personal care products. They have been linked to various forms of endocrine disruption, including impaired development of infant reproductive health. 

Because of this, several types of parabens have been banned in the EU, but not the United States.

Synthetic Surfactants and foaming chemicals such as Nonylphenol (NP) and nonylphenol ethoxylates (NPEs)---surfactant endocrine-disruptors linked to breast cancer; and foaming agents SLS or SLES, which are linked to skin and eye irritation and toxic to aquatic life.

 

Quats also known as Quaternary Ammonium Compounds, or QACs, are ammonia-based disinfectants and EPA-registered pesticides linked to various health issues, including congenital disabilities, neurodevelopmental issues, and inflammation. 
This is not an exhaustive list of all the ingredients you should watch out for in chemical-based all-purpose cleaners. 
However, it does cover some of the most common chemicals to watch out for in all-purpose cleaners.
#3: Use the Environmental Working Group's App and Database
The Environmental Working Group's SkinDeep Database is our favorite tool to rate cleaning, skin, beauty, and personal care products. 
Just type in an ingredient or scan the cleaning product of interest, and EWG will return a score on a scale of "1" (safest) to "10" (most toxic).
Learn more about ingredients and products to avoid in: The Most Toxic Cleaning Products To Avoid & Non-Toxic Swaps. 
Natural All-Purpose Cleaners
A reliable and natural all-purpose cleaner should contain only non-toxic ingredients and work on most surfaces and everyday messes.
The following are our top picks for natural all-purpose cleaners you can buy or make at home.
1. Branch Basics All Purpose Spray
Branch Basics was designed to replace all household cleaning and laundry products (including all-purpose cleaners)) with just Concentrate diluted with water.
To make your own All-Purpose cleaner using Branch Basics, grab the All-Purpose Bottle included in the Starter Kit or Trial Kit, combine Concentrate with water per instructions, shake, and you're done. It's so easy!
Branch Basics All-Purpose can be used on surfaces, dishes, hand-washing, as a stain-remover for clothes and carpeting, as a product wash, for floors, and more.
To learn more about all-purpose cleaning with Branch Basics, check out our Starter Kits.
2.
Vinegar And Water
Plain distilled white vinegar is a favorite among DIYers and the chemically-sensitive for good reason.
The natural acetic acid in vinegar is non-toxic yet effective in removing dirt, grime, and eliminating certain germs such as:
E. Coli

Salmonella

Listeria monocytogenes
To use vinegar as an all-purpose cleaner, mixed equal parts distilled white vinegar with water in a spray bottle to use on surfaces, sinks, cooktops, stainless steel, certain types of flooring, garbage cans, cutting boards, and more.
Can I use vinegar on all types of surfaces? Maybe.
Check with the manufacturer if you have stone, wood, or marble. Do not use vinegar on unsealed grout or screens.
Note: Vinegar has acetic acid, a lung irritant when sprayed.  
Use in a ventilated area and make a conscious effort not to inhale the freshly sprayed vinegar. 
Do not spray vinegar in the presence of children, older people, and those with lung or chronic health conditions.
Learn more in: 12 Ways To Use Vinegar In Your Home.
3. Baking Soda 
Baking soda is one of the most economical and effective non-toxic cleaning agents on the planet.
It brightens and whitens, acts as a gentle abrasive, and deodorizes, making it an ideal all-purpose cleaner—on its own or as an ingredient in DIY cleaners.
Some of our favorite ways to use it include:
As a produce wash

Cleaning the stovetop

(Concentrate  + Oxygen Boost works excellent for this too)

Cleaning the coffee maker

Deep cleaning burnt pots and pans

Deodorizing fridges, trash cans, garbage disposal, and compost bins

Scouring sinks

Remove stuck-on or burnt-on food from pots and pans (boil water with baking soda directly in the pot for a few minutes, scrub and rinse)

Unclogging drains
There are many ways to use baking soda on surfaces, including:
Making a simple scouring paste with water and baking soda

Dissolving baking soda in vinegar to make an all-purpose spray

Or using a DIY cleaner recipe (which we'll share coming up)
Is baking soda safe to use on all surfaces? No!
Although baking soda is safe to use on most surfaces, it is not recommended for marble, quartz, or wood because repeated use could wear away the finish.
Etched, cracked, or carved surfaces aren't ideal for baking soda as it can settle into cracks and crevices.
Baking soda may also be too abrasive for glass surfaces. Vinegar or Branch Basics Streak-Free dilution would be excellent alternatives in this case.
Do not use baking soda on screens.
Discover more wonderful ways to use non-toxic baking soda to clean in:  Cleaning With Baking Soda (Sodium Bicarbonate): 12 Surprising Uses.
4. DIY All-Purpose Cleaners
It is so easy to make a DIY all-purpose cleaner with just a few ingredients. 
Here are three recipes to try:
Vinegar-Based DIY All-Purpose Cleaner
Combine equal parts distilled white vinegar and water. Shake and spray.
Pure Castile Soap DIY All-Purpose Cleaner
1 cup distilled white vinegar or lemon juice

1 tablespoon unscented, liquid castile soap (see safe options above)

1/2 to 1 cup water (depending on the strength you want)

10-20 drops pure essential oils (if desired)  
Mix everything in a spray bottle (use glass or stainless steel if using essential oils), and use it as an all-purpose cleaner.
Lemon Juice DIY All-Purpose Cleaner
Like vinegar, lemon juice contains acetic acid, which acts as a degreaser, whitener, and brightener.
Combine equal parts lemon juice with water. Shake and spray.
*Some recipes recommend infusing your lemon water cleaner with slices of lemon. This is a great way to incorporate natural lemon oil from the citrus peel into your cleaner. Just add a few slices of lemon, and let sit for 3-5 days.
5. DIY All-Purpose Non-Scratch Scouring Cleaner
If you're looking for a non-scratch, all-purpose, all-natural DIY scouring cleaner, this is a great basic recipe:
1 cup baking soda

1/4 cup pure, unscented, liquid castile soap such as Dr. Bronner's Baby

1 tablespoon water

Pure essential oils (Optional)
Mix everything in a bowl to desired consistency. You can always add more baking soda if too watery or more water if too dry.
Store in a clean container and use on sinks, tubs, surfaces, stove tops, and more.
How to Add Natural Fragrance to All Purpose Cleaners
As we've discussed, synthetic fragrance is highly toxic and has no place in a healthy home.
However, if you crave a fresh, citrus, floral, or woodsy scent when cleaning, you can add pure essential oils, citrus peel, or herbs to your all-purpose cleaners.
When using pure essential oils, look for organic or wild-crafted essential oils that are steam-distilled with no fillers. You typically add 10-20 drops per spray bottle of DIY all-purpose cleaner.
Note: Essential oils containing terpenes, such as pine and citrus oils, can react with ozone in the surrounding air to create secondary pollutants such as formaldehyde, acetaldehyde, acetone, and ultrafine particles.
If you live in an area with ozone issues, we suggest avoiding pine and citrus essential oils in favor of non-terpene-containing oils such as floral or herbal oils.
You can also infuse your cleaners with fresh slices of orange, lime, lemon, or fresh herbs like rosemary or lavender. Place them in the cleaner and let them infuse for 3-5 days.
Get Started With Branch Basics
Doesn't it feel wonderful to know you don't need harmful chemicals or expensive cleaners to keep your home clean and safe?
With what you've learned today, you have all the tools you need to stay stocked up on natural all-purpose cleaners for every room in your home.
If you want to try Branch Basics as an All-Purpose cleaner, click here to check out our $5.00  trial kit.
Our Starter Kits, available in glass or plastic, contain everything you need to make several bottles of All-Purpose, Bathroom, Laundry, Foaming Wash, and Streak-Free with just Concentrate and water. 
What could be simpler than that?
For more tips on natural cleaning, personal care, nutrition, and more, check out our
blog library
,
cleaning tips and tricks
,
podcast
, and
Toss The Toxins Online Course.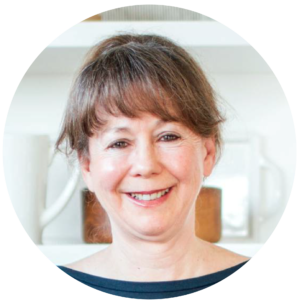 Marilee Nelson
Marilee Nelson is an Environmental Toxins expert who has spent nearly 30 years advocating for the chemically-sensitive and chronically-ill. She is a Board Certified Nutritionist, Certified Bau-Biologist and Bau-Biology Inspector and specializes in Food As Medicine. She has helped thousands of families and individuals identify, heal and recover from toxic exposures and is on a mission to revolutionize the way American families view their health.