The Best Fragrance-Free Cleaning Products & Alternatives

Going fragrance-free is one of the most essential components of tossing the toxins and creating a healthier home. This is especially important if anyone in the family is chronically ill or is on over the counter and/or prescription medications.
The fragrance industry has taken advantage of  our human instinct is to seek out pleasant smells and take steps to make our homes smell nice
However, synthetic fragrances are one of the world's top allergens for a reason.
These chemical-based scents contain a toxic soup of harmful ingredients, that are endocrine disruptors (impact our hormones),, asthmagens (cause asthma), obesogens (cause metabolic syndrome and cause us to gain weight regardless of diet and exercise),  neurotoxins (disrupt the brain), and even carcinogens (cause cancer).
The word "fragrance" on a bottle can indicate hundreds of synthetic ingredients drawn from a pool of over 5000 fragrance chemicals. None of which are required to be listed on labels or tested for safety.
Fortunately, you can create a healthy, clean, and pleasant-smelling home without the risks of synthetic fragrance.
In this article, we show you how with the best products and tips for fragrance-free cleaning every room of your home.
Table of Contents:
Fragrance-Free all-purpose Sprays & Cleaners

Fragrance-Free Bathroom & Toilet Cleaners 

Fragrance-Free Laundry Detergents

Fragrance-Free Dishwasher Tablets 

Fragrance-Free Floor Cleaners
Why Switch to Scent Free  Products? 
We covered this briefly in the introduction, but in case you skimmed it, here are several reasons to switch to scent-free products:
Fragrance is one of the world's top allergens. 
According to research, over 34% of the US population has a fragrance sensitivity

 and over 50% of the population would prefer fragrance-free workplaces and public spaces.

Just one fragrance can contain dozens or hundreds of chemicals not tested for safety.

5

 

Again, these fragrance chemicals are known

asthmagens

(cause asthma),

carcinogens

(cause cancer),

obesogens

(cause metabolic disorders and weight gain regardless of diet or exercise),

neurotoxins

(impact the brain) and

endocrine disruptors

(impact our hormones), 

Fragrance is also known as "The New Secondhand Smoke" because its side effects can be so dire. Removing fragrance from the home is essential for recovery from chronic illness. 

Fragrance exposure has been linked to various symptoms, including:

Contact dermatitis

Headaches

Respiratory issues

Worsening asthma

Digestive health issues

Neurological problems

Health problems among autistic adults

And more

Per the Environmental Working Group, 72% of the fragranced products tested contained phthalates. Phthalate exposure has been linked to:

ADD/ADHD & Autism

Asthma

Breast cancer

Diabetes

Hormone disruption

Obesity

Liver cancer

Up to 95% of the chemicals used to make fragrance are derived from petrochemicals (not exactly eco- or human-friendly) and may include formaldehyde-producing chemicals which are carcinogenic and neurotoxic 
In other words, fragranced cleaning products, personal care products, candles, dryer sheets, air freshener, etc. have no place in a healthy home.
For more detailed information, see: 
Fragrance Free all-purpose Sprays & Cleaners 
Every home needs a hard-working all-purpose cleaner for surfaces, stains, and general cleaning.
There are many options for fragrance-free all-purpose cleaners. However, many of these may still contain harmful chemicals or additional chemicals added to mask the scent. 
Unfortunately, many commercial and even some non-toxic products use scent-neutralizing chemicals to create fragrance-free products. This means you may wind up with a product that's just as potentially harmful.
The solution? Look for safe all-natural, non-toxic, fragrance-free all-purpose cleaners like Branch Basics, or make your own DIY cleaner
Branch Basics All-Purpose Spray 
Branch Basics All-Purpose Spray is made by adding water to our Concentrate to create a powerful all-purpose spray for the kitchen, bathroom, stains, dishes, and more.
To use:
Spray all-purpose on surfaces (such as countertops, sinks, ovens, stove tops, vanities, etc.) and wipe clean with a microfiber to remove spills and messes and leave your surfaces shining clean.
Use all-purpose as a stain remover, alone or with Oxygen Boost, on clothing and carpeting. Just a small squirt, agitation, and dwell time are usually enough to remove stains. For more information,

check out our Branch Basics Stain Master Guide

.
All-purpose can also be used when hand washing dishes. Just spray directly onto the dishes or in a soapy basin and use like dish soap.
There are two ways to try out Branch Basics All-Purpose:
Our

$5.00 Trail Kit

contains a mini Branch Basics Concentrate and a full-size All-Purpose Spray Bottle.

Our

Premium Starter Kit

has everything you need to make your own Branch Basics All-Purpose, Bathroom, Streak-Free, Laundry, Foaming Wash, and more, plus Oxygen Boost mineral-based brightener and stain remover.
Discover more ways to use all-purpose in our User's Guide.
Use the following recommendations to assist in tackling your cleaning challenges! 
Hydrogen Peroxide or Hydrogen Peroxide + Water
Hydrogen peroxide plus water is an inexpensive  fragrance free option that can be used to enhance cleaning!.
Hydrogen peroxide can be used after cleaning with Branch Basics All Purpose spray or DIY cleaner to  help eliminate germs on frequently used surfaces.  Its natural bleaching action can do wonders on surfaces, stains, toilets, and cutting boards and even  helps tackle mold and mildew stains in baths and showers. 
It also works great on mirrors and stainless steel.
Hydrogen peroxide can be used undiluted  or alternatively, you can combine half a cup of hydrogen peroxide and one cup of water in a spray bottle. 
Hydrogen peroxide can also be used as a natural disinfectant with distilled white vinegar (sprayed separately and stored in separate bottles).
Learn more in: 
Vinegar + Water
The degreasing, cleaning, deodorizing and mild disinfecting power of distilled white vinegar make it a popular option for DIY cleaning.* ..
From surfaces to flooring, ovens, and bathrooms to skin and hair care, there's not much this simple ingredient can't do.
To use vinegar as a fragrance-free all-purpose cleaner:
Combine equal parts distilled white vinegar and water in a spray bottle*.

Spray on surfaces and wipe clean.
*Note:  Caution should be used when using vinegar (especially if sprayed) as it contains acetic acid which is an eye and lung irritant. Make sure to avoid breathing the fumes and provide good ventilation to clear acetic acid from the air. Babies, children, and people with chronic illness should not be present when vinegar is being sprayed. , Many people use a vinegar/water mixture in a non-spray form, such as a peri bottle or dip a cloth into the mixture.
Discover more ingenious ways to use non-toxic vinegar at home in: 12 Ways To Use Vinegar In Your Home.
Fragrance-Free Bathroom & Toilet Cleaners
Cleaning bathrooms is a chore often made worse by the suffocating smells of toxic cleaners.
Yet, many people believe these harsh scents are necessary for a clean and germ-free bathroom.
Thankfully, this is not the case!
Here are some fragrance-free bathroom and toilet cleaners options for the non-toxic home:
Branch Basics Bathroom Cleaner + Oxygen Boost 
Branch Basics Bathroom is the most concentrated dilution in our line, making it perfect for tackling bathrooms.
It's made the same way as the All-Purpose. Just add the recommended amount of water to the recommended amount of Concentrate in the Bathroom bottle, shake, spray, and clean.
Bathroom can be used on tubs, showers, grout, sinks, surfaces, grout, drains, soap scum, hard water deposits, or anywhere you need a powerful cleaner.
It can also be combined with Oxygen Boost for extra cleaning, mildew removal, and stain-fighting power.
Get all the details and how-tos in: Non-Toxic Bathroom Cleaning With Branch Basics.
Citric Acid or Lemon Juice 
The natural citric acid in lemon juice makes it an effective  stain fighter, deodorizer, natural bleach alternative, and brightener.
There are endless DIY recipes for lemon-based all-purpose sprays.
Here is a basic recipe for a lemon DIY cleaner all-purpose cleaner:
Ingredients:
The juice of 2 lemons (about a quarter cup/4 tablespoons)
1 cup distilled white vinegar
1 cup water
Add all the ingredients in a spray bottle and shake to combine.

Use everywhere you'd use an all-purpose cleaner.
Lemon juice can also be used undiluted on cutting boards, sinks, stains, soap scum, and limescale.
Fragrance-Free Laundry Detergents 
Fragrance-free laundry detergents are popular among people with allergies and new parents.
However, as mentioned previously, beware that many of these fragrance-free products contain added chemicals designed to mask or neutralize their fragrance.
What we wash our clothes with is so very important!!! Consider that we wear our clothes 24/7. We also sleep with our nose right next to sheets and pillowcases, and we use towels and wash rags when we bathe. Without a doubt, choosing non-toxic, natural, fragrance-free laundry products is essentialto creating a healthy home.
Here are some simple and truly fragrance-free and non-toxic laundry detergents.
Branch Basics Laundry Kit 
Branch Basics Laundry dilution is so popular it got its own kit!
Our Laundry is made the same way as Bathroom and All-Purpose, with a designated amount of Branch Basics Concentrate mixed with water. That's it—and one bottle cleans at least 64 loads of clothing.
You can also use our Concentrate undiluted for squeaky clean cloth diapers.
Branch Basics laundry is suitable for HE and traditional washing machines, is free from harmful chemicals and fragrances, can be used for handwashing, is effective in soft or hard water, and is entirely biodegradable and perfect for sensitive skin.
It also works great combined with Oxygen Boost for extra whitening and brightening and doubles as a stain remover.
Check out our Laundry Kit (available in plastic or glass bottles) or our Premium Starter Kit to learn more.
Wool Dryer Balls 
Chemicals in dryer sheets and fabric softeners are among most American homes' most toxic household products.
Case in point, the Environmental Working Group, an independent industry watchdog that tests ingredients for safety, found that over 70% of fabric softeners have a D or F rating. 1
Plus, most fabric softeners contain a signature synthetic scent that's designed to impregnate materials. This means you're exposed to that scent 24/7 in clothing, sheets, towels, etc.
We discuss the details of the most harmful chemicals in fabric softeners and dryer sheets in: Ditch The Fabric Softener: 7 Natural Alternatives.
One of the simplest natural alternatives fabric softener is wool dryer balls.
Simply pop a few of these in your dryer, and they naturally reduce static, absorb moisture from clothing (cutting down on drying time), reduce wrinkles, fluff up quilts and jackets, grab pet hair, and soften your clothes.
Plus, with proper care, they can be reused for years without replacement.
Check out our sustainably made and sourced wool dryer balls here. 
For more information on how wool dryer balls work, see: Wool Dryer Balls: Gift From the Happiest Sheep To You.
Fragrance-Free Dishwasher Tablets 
Fragrance-free products haven't permeated the dish detergent aisle quite like the laundry aisle. 
Perhaps that's because dish detergent is a fairly hands-off product. Put it in the dishwasher, turn it on, and walk away.
However, scented dish detergents usually leave a fragrance residue on your dishes. Which means you could be eating those chemicals (yuck!). 
Plus, the steam from the dishwasher will release those chemicals into your air.
Instead, consider fragrance-free, plastic-free dishwasher tabs and detergents. 
The Environmental Working Group is an excellent resource for researching your favorite brands.
We've also written some helpful content on why non-toxic, fragrance-free dishwashing is important.
Here are a few good options for fragrance-free dishwasher tablets and detergents.
Branch Basics Dishwasher Tablets 
Branch Basics Dishwasher Tablets are our newest product designed to work with your dishwasher to power through dirt, grease, and stuck-on food without the toxins.
Like our other products, they are free from harmful chemicals, all-natural, and do not contain any plastic casing, making them 100% biodegradable and super environmentally friendly.
Get more tips on non-toxic dishwashing, including DIY options, in: 8 Effective Natural Alternatives To Dish Soap And Dish Detergent.
DIY Dishwasher Tablets 
For all you DIYers, here is a basic recipe for making your own non-toxic, fragrance-free dishwasher tablets. Note: If you have especially hard water, a rinse aid may be necessary.
Note, unlike our dishwasher tablets, which have been scientifically formulated and rigorously tested, we cannot vouch for how these will work in every dishwasher. 
However, many people make them and use them with excellent results.
You'll need a silicone mold with square sections or an ice cube tray, a measuring cup, and a bowl for all these recipes.
This recipe from the From Scratch Farmhouse uses washing soda, baking soda, lemon juice, and salt.
A quick search for DIY dishwashing tablets will yield several similar recipes.
Fragrance-Free Floor Cleaners
Instead of that old-fashioned pine-fresh scent, choose fragrance-free floor cleaners for a cleaner and healthier home.
The great thing about floor cleaners is they are easy to make yourself for most types of flooring.
Here are a few to try:
Branch Basics all-purpose + Oxygen Boost 
Branch Basics can be used at various dilutions to clean nearly any type of flooring.
All-Purpose works great for ceramic and porcelain tile and natural stone floors. 
A more diluted version is better for vinyl, linoleum, and wood floors.
Another cool trick is to combine Branch Basics all-purpose with Oxygen Boost to clean grout on tile floors.
Sprinkle

Branch Basics Oxygen Boost

onto the area and then spray liberally with All-Purpose. 

Alternatively, mix one scoop of Oxygen Boost with one tablespoon of warm water (add more water if needed). 

Let sit for 15 minutes to an hour (make sure it stays damp), then scrub with a brush. Wipe clean. Repeat as needed.
Get detailed instructions for cleaning all floor types (including carpets) with Branch Basics in: Branch Basics Ultimate Guide to Non-Toxic Floor Cleaning.
White Vinegar + Dish Soap + Hot Water 
For hard floors, a combination of distilled white vinegar, natural dish soap, and hot water makes an ideal mopping solution.
These ingredients are not harsh enough to harm floor finishes, and the combination cleans and disinfects without creating a sticky residue.
Note not every hard floor will benefit from the addition of dish soap. 
A living room floor, for example, will likely clean up fine with just hot water and vinegar. However, a kitchen floor or mudroom floor would benefit from the addition of dish soap. 
Here's how to make a DIY floor cleaner using vinegar, dish soap, and hot water: (only to be used on porcelain or ceramic tile)
Sweep or

HEPA vacuum

to remove loose dirt and debris.

In a large mopping bucket, combine a gallon of warm water with half a cup of distilled white vinegar. Add a few drops or a small squirt of natural dish soap if needed. 

Dip your mop into the solution, squeeze to remove excess, and start mopping. 
A rinse-mopping should not be necessary. However, if you add too much dish soap (the floor will feel sticky in this case), you may wish to go over the floor with plain hot water afterward.
Distilled white vinegar can also be combined with water and used in a spray mop on the tile.
Get Started With a Branch Basics Trial Kit 
We've covered a lot of territory on fragrance-free cleaning products for your home.
Here are some key takeaways:
Fragrance should be avoided in cleaning and laundry products!. There are better alternatives out there!

Fragrance-free products may contain chemical additives designed to mask fragrance and, therefore, may not be genuinely fragrance-free.

The best way to protect yourself from the harms of synthetic fragrance is to look for non-toxic, fragrance-free, all-natural cleaning and laundry products.Branch Basics, hydrogen peroxide, distilled white vinegar,, and non-toxic natural dish soap are incredible tools for fragrance-free cleaning, laundry, and DIY cleaners. 

Be your

own product expert

! Use the Environmental Working Group's Skin Deep database to check the ingredients  of your favorite  fragrance-free cleaning and laundry products
Ready to get started with non-toxic, fragrance-free cleaning and laundry?
Check out our $5.00 trial kit to test-drive Branch Basics for yourself and/or take a few minutes to whip up one of these DIY alternatives.
Your home and your family will be healthier for it.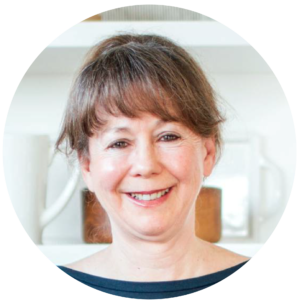 Marilee Nelson
Marilee Nelson is an Environmental Toxins expert who has spent nearly 30 years advocating for the chemically-sensitive and chronically-ill. She is a Board Certified Nutritionist, Certified Bau-Biologist and Bau-Biology Inspector and specializes in Food As Medicine. She has helped thousands of families and individuals identify, heal and recover from toxic exposures and is on a mission to revolutionize the way American families view their health.