#NewYearHomeCleanse: A 3-Day Series

With 2017 behind us and 360 new, beautiful days ahead, we wanted to take the time to refocus on our health and well-being. Here at Branch Basics, we believe that having a healthy home is foundational to overall health.
Often we find that even after making changes to your diet and exercising more, there may be a missing link in your health efforts…and it's usually lingering within your home. Overwhelming scientific evidence indicates that the air within our homes is polluted and that illness caused by exposure to these pollutants is a serious threat to our health. In fact, scientific studies from around the world are directly linking the exponential rise of degenerative disease in our country to exposure to harmful chemicals in our air, workplaces, water, food, and homes. A home free of toxins enables our body to use its energy for rejuvenation and healing instead of detoxifying harmful chemicals. Removing this immune stress gives us the power – and literally the breathing room – to maintain health or to recover and heal.
We're so passionate about helping you create a healthy home because it was the transforming power of pure that Allison and Kelly both experienced after spending a summer under Marilee's care. After living in a healthy home and eating real food – that is what drove and motivated them both to shift careers. Our story didn't start with a cleaning product, but rather at the end of an exasperated journey to find healing.
We totally get how change can feel overwhelming. So we are taking out the guesswork with a step-by-step protocol for creating a healthy home. Start the new year with this first call to action in our #NewYearHomeCleanse, which can be accomplished in three easy steps. We invite you to join us starting Monday, January 8th for three days to start the creation of your own healthy home.
WHAT DOES IT MEAN TO HAVE A TRULY HEALTHY HOME?
Our homes should be safe havens: places of refuge and regeneration that are free from contaminants and products that harm our health. Creating a healthy home by eliminating these toxins can save money that might otherwise be spent on doctor visits, medication, and missed workdays. We just don't realize how having harmful chemicals in our homes undermine our health. At its core, we're talking preventative health care.
HOW DO YOU CREATE A HEALTHY HOME?
START WITH OUR #NEWYEARHOMECLEANSE
By taking the first steps, you can immediately (and often dramatically) improve the air quality of your home. Follow along as we teach you how we combine our "Clean Sweep" method of creating a healthy home with "Branch Basics 3 Rs of Clean" to revolutionize your home and create a healthy living environment for all its inhabitants (pets included!). Just think of the last time you walked down the grocery store aisle where the pesticides and cleaning products are. The lids are not only closed, but sealed, and yet the whole aisle smells of chemicals. What you smell are the VOCs (volatile organic compounds) from the products and they escape from their containers in parts per million (ppm), billion (ppb), or even trillion (ppt). All products with VOCs in a home under sinks and in cabinets do the same, their emissions creating a low-level chemical soup that spreads throughout your home, requiring your body to constantly detoxify. The complete removal of these products dramatically improves your home's air quality and reduces immune stress on all those that live under your roof. (Think: whole-family liver cleanse!)
CAN'T WAIT UNTIL MONDAY?
To make an immediate difference in home air quality and to save time, box up all your pesticides and cleaning products (unless you are sure they are safe), and make a "Clean Sweep" of them from the home until you are ready to sort through each one using the "Branch Basics 3Rs of Clean" and determine their safety.
FROM SKEPTIC TO BELIEVER!
"When helping a friend create a clean home environment to prepare for her baby's arrival, we gathered dozens of products from cabinets and drawers - everything from shaving cream, lotion and soap bars to candles, detergent and mosquito spray. While many products were unused, tightly shut, and/or gathering dust, I stressed the importance of getting them out of the home and we filled up a big garbage bag. But when it was time to throw it away, my friend was hesitant to "waste", so despite my warning, she decided to keep it in a closet next to her bedroom. She called me the next morning saying she had actually gotten sick that night, vomiting and all. Upon removal of the trash bag, her symptoms vanished. She was more convinced than ever that these products, especially concentrated in one spot, were harmful and needed to be removed in order to create a truly healthy home for her family." - Allison Evans, co-founder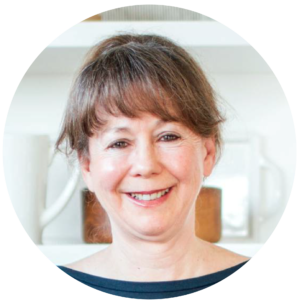 Marilee Nelson
Marilee Nelson is an Environmental Toxins expert who has spent nearly 30 years advocating for the chemically-sensitive and chronically-ill. She is a Board Certified Nutritionist, Certified Bau-Biologist and Bau-Biology Inspector and specializes in Food As Medicine. She has helped thousands of families and individuals identify, heal and recover from toxic exposures and is on a mission to revolutionize the way American families view their health.