Our Favorite Gifts for New Moms

Having your first child is like entering a whole new world. Although 2 billion other woman inhabit this new-mom planet, it feels completely foreign until you yourself walk its surface. At least that's how I felt. For me personally, it was never lonely or scary - just so new, and thus the biggest learning curve of my life. More than ever, I appreciated the little things that allowed my days (and nights!) to run a bit smoother, so I could spend as much of my time as possible holding and meeting the needs of my precious baby.
In looking back on the past year and a half, I wanted to share some of these "little things" that for me were actually
huge
and life-giving. Whether you're shopping for your sister, daughter, friend, aunt, co-worker, or YOU, I hope you'll find some ideas amongst some of my personal mama-must-haves!
Healthy Home
Branch Basics

- From cleaning Baby's sheets, clothes and towels to getting out poop and spit-up stains, it's simply the safest and the most effective cleaner for a new family!

Salt lamps

- A fabulous gift because not only do salt lamps emit health-giving negative ions, but they make the perfect soft light for night nursing. (And who doesn't love the look and glow of a salt lamp?)
Healthy Mama
Healthy Baby
NaturalMat Organic Mattress

- I can't emphasize enough the importance of Baby sleeping on a mattress free of flame retardants, biocides and other toxic materials. This is a great gift to split as a group and will last for many years! This is our favorite brand.

Burt's Bees Baby

- I was thrilled to find a line of organic, inexpensive pajamas, and stocked up on zipper onesies because, well, who has time for snaps!? They also have organic crib sheets, changing table covers and washcloths.

Wild Bird Sling

- I'm a huge fan of wearing Baby as often and as long as possible, and I love this company, what they stand for...and their fabrics are sooo beautiful.
Nourish the New Family
Hu Chocolate Bars

- Super healthy and delicious chocolate...the perfect way to satisfy cravings and combat those sleep deprived early days!

Bulletproof Coffee

- The only one that's truly mold-free, Bulletproof coffee is the perfect way to start the day. Decaf is great, too, if Mom is breastfeeding and Baby is sensitive, and emulsified with their high-quality MCT Oil is the only way I drink mine!

Green Chef Delivery

- Organic, easy-to-make and truly delicious, who wouldn't appreciate their dinner ingredients arriving fresh at the doorstep!?
Little Labors of Love
Bone Broth

- If you have the time, make Mama some bone broth! The healing and restorative benefits are out the roof, and if she's breastfeeding, Baby reaps them, too.

Lactation Balls

- These easy-to-make treats can boost milk supply, but even if Mom isn't able to breastfeed, they are delicious! I like rolling mine in coconut flakes and gifting them in a glass ball jar with a ribbon.
New Mama Reads
The First Forty Days

- This book exemplifies the best way to nourish and love on Mom through food, honoring her body with healing recipes to enjoy during this all-important "fourth trimester".

The Attachment Parenting Book

- I loved referring to this book when I felt unsure about meeting my daughter's needs. It reaffirmed my instincts to put aside schedules and training, and take this time to focus in, attend to and nurture my baby day and night.
What are your favorite gifts for new mamas? Tell us below!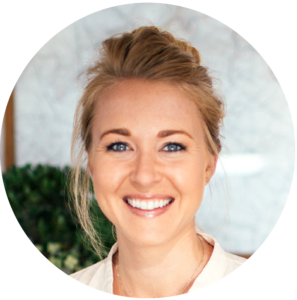 Allison Evans
Allison has dedicated herself to helping others reap the benefits of clean living. She, along with her husband and two daughters left Houston for the country life as she heals from a recent mold exposure and diagnosis of chronic Lyme disease. Follow her story on our Instagram and read more about her Journey to Fertility.