How to Clean & Care For Vinyl Plank Flooring Naturally

Vinyl plank flooring, also known as luxury vinyl plank flooring, has become a popular flooring option due to its low price-point, durability, and near-endless section of styles and colors.
It's also easy to clean and maintain and is typically lower in VOCs than flexible vinyl flooring (although it wouldn't be our top choice for human and environmental health).
But how do you clean and care for vinyl plank flooring naturally?
In this article, we'll share our best tips on cleaning and maintaining your vinyl plank flooring without harmful chemicals.
What is Vinyl Plank Flooring?
Vinyl flooring was created initially as an inexpensive alternative to linoleum (although linoleum is making a comeback in the natural building space).
Vinyl has since evolved from its original sheet-like form to vinyl plank flooring. 
Also known as luxury vinyl tile (LVT), luxury vinyl floor (LVF), or luxury vinyl plank (LVP), this style of vinyl floor comes in interlocking thick tiles or planks. 
Unlike sheet vinyl, vinyl plank flooring consists of several layers of materials designed to create the thick appearance, texture, durability, and finish of wood, stone, etc., while minimizing scratching and maintenance.
The natural look, durability, and more affordable price point have made it a favorite among homeowners for the last several years.
However, this article isn't about the history or pros and cons of vinyl plank flooring! So let's get on with tips on how to clean it naturally.
Vinyl Plank Essential Cleaning Tools & Supplies
Vinyl plank flooring isn't just popular for its price point; it's also simple to clean.
Here's what you'll need to keep your vinyl plank flooring looking like new for years to come.
A vacuum (

HEPA vacuum recommended

)

A broom

A reusable microfiber mop, or spray mop

Microfiber cloths

Distilled White Vinegar

A bucket
Regular Cleaning Routine for Vinyl Plank Flooring
Just like wood, tile, or natural stone vinyl plank flooring requires regular cleaning to maximize its lifespan.
Generally, aim to vacuum or sweep and mop your vinyl plank flooring at least once per week.
It's also important to remove spills promptly as even vinyl planks can become stained.
Sweeping, Microfiber Mopping, Or Vacuuming 
As previously mentioned, vinyl plank flooring should generally be vacuumed, microfiber mopped, or swept at least once per week.  We only recommend sweeping if you don't have a HEPA vacuum or a microfiber mop. HEPA vacuums and microfiber mops work well on dry floors to pick up dust and dirt rather than moving and stirring up dust like a broom.  
Consider vacuuming with a HEPA vacuum more often to help reduce the chemicals that ride on dust (SVOCs) from the vinyl flooring. 
Although vinyl planks are scratch-resistant, they're not scratch- or scuff-proof. 
Therefore, it's a good idea to put soft pads on furniture and avoid dragging objects across the floor.
If your flooring does become scratched, use a little olive, jojoba or coconut oil on a microfiber cloth to try and buff out the scratch. 
Scuffs can be removed using a microfiber, a tennis ball, or a wool dryer balls.
Deeper scratches may require a resealing kit or replacement of the tile or plank.
Mopping 
Vinyl plank flooring can be mopped like regular vinyl, tile, or stone flooring using a spray and mop, microfiber mop, or bucket mopping method.
Mopping once per week is generally recommended for maintenance and overall cleanliness.
Removing Spills & Stains From Vinyl Plank Flooring Naturally: 5 Methods
Now that you have an idea of your floor cleaning schedule, let's look at the best natural cleaners to use on vinyl plank floors.
Method #1: Branch Basics
Branch Basics works wonders on vinyl plank flooring as a custom spray or for bucket mopping. Branch Basics should be compatible with all vinyl plank flooring!
Here's how to dilute it and use it on your floors.
Dilute 1 teaspoon to 1 tablespoon

Branch Basics Concentrate

to 1 gallon of water. 

The exact amount will vary based on the finish of your floors. If it feels sticky when dry, use less Concentrate.

Can you use Branch Basics All Purpose on vinyl plank floors? You can try, but it will likely be too concentrated and result in stickiness. This is why we recommend this custom dilution for vinyl and vinyl plank.

Add solution to a spray bottle, spray mop, or bucket.
1. Spray-as-you-go method 
With a clean, damp mop, rag, or dish towel, wipe each area as you spray it until you've cleaned the entire room. 

Allow to dry or follow with a dry towel to soak up extra moisture.
2. Bucket & Mop method
Fill a bucket with the diluted mixture above.

Wet the mop with the soapy water and wring out well. 

Mop the floor, then allow it to air-dry.

Wipe dry any wet spots.
Method #2: Diluted Distilled White Vinegar or Apple Cider Vinegar
Although highly acidic spills can damage vinyl if not cleaned up promptly, diluted vinegar makes an excellent floor cleaner.
Its natural acetic acid is tough enough to dissolve dirt, grime, and certain germs without harming the floor's finish.
To use:
Dilute 1 cup distilled white vinegar or apple cider vinegar with 1 gallon of water.

Please check solution in an inconspicuous area to ensure compatibility with the flooring.

Add to a spray bottle, spray mop, or bucket and mop floors.
Note: Vinegar has acetic acid, which is a lung irritant when sprayed.  
Use in a ventilated area and make a conscious effort not to inhale the freshly sprayed vinegar. 
Do not spray vinegar in the presence of children, older people, and those with lung or chronic health conditions.
Get more tips on using vinegar to clean in: 12 Ways To Use Vinegar In Your Home.
Method #4: Baking Soda + Water To Remove Stains
If a spill goes unnoticed and hardens or stains your vinyl plank floors, reach for baking soda.
This non-toxic household product is mildly abrasive and lightening, making it excellent for scrubbing neglected spills and stains.
To use:
Mix some water with baking soda to form a thick paste.

Please check paste in an inconspicuous area to ensure compatibility with the flooring.

Using a natural bristle brush, scrub the paste onto the stain until it's removed.

If this isn't enough to remove the stain, move on to the next recommendation.
Method #5: Hydrogen Peroxide To Remove Stains
If the baking soda paste isn't enough to remove the stain, peroxide may do the trick.
Grab a bottle of 3% hydrogen peroxide* (the kind in the brown bottle) and rub it onto the stain. Repeat as needed. 
*Please test the hydrogen peroxide on an inconspicuous area to ensure compatibility with the flooring.
If this doesn't work, you may need to replace the plank but check with the manufacturer for additional tips.
Preventative Care & Maintenance for Vinyl Flooring 
With the proper care, vinyl plank flooring should last 10-20 years or more.
Here's how to keep your flooring looking like new.
Furniture Pads & Area Rugs
As previously discussed, vinyl plank flooring is designed to be scratch-resistant. 
However, it is not scratch-proof, which means you'll need to take steps to protect it.
The best ways to do this are by putting soft pads on furniture legs and placing rugs in high-traffic areas.
Keeping a no-shoes-indoor policy also helps prevent scratches and scuffs while keeping various germs and toxins out.
Avoid Harsh Chemicals & Abrasives
There are certain things you should never use on vinyl plank flooring, including:
Ammonia—is highly toxic

and can eat away at vinyl plank's finish.

Harsh abrasives—including steel wool, rough sponges, and highly abrasive cleaners can scratch and remove vinyl's protective coating.

Floor wax and polishes—vinyl plank comes with a protective coating and does not benefit from floor wax. In fact, floor wax can damage its coating.

Always test products used on a floor in an inconspicuous area to ensure compatibility.
For more natural stain remover tips, see Branch Basics Stainmaster Guide: How To Treat Any Stain Quickly And Easily.
Vacuum With Care
Although vacuuming vinyl plank flooring is recommended (especially with a HEPA vacuum), be sure not to use the beater bar, which could damage floors.
Vinyl Plank Flooring FAQs
Have more questions about cleaning and caring for your vinyl floors naturally? Check out these FAQs.
How do I prevent discoloration and fading on my vinyl plank floors? 
Discoloration and fading of vinyl plank can usually be prevented by:
Cleaning up spills promptly, 

And avoiding using the wrong cleaning products.   If in doubt, test a small inconspicuous area to ensure compatibility 
This will preserve the integrity of the coating, which will naturally prevent discoloration and fading.
How Often Should I Deep Clean My Vinyl Plank Floors? 
With regular vacuuming and mopping, deep cleaning shouldn't be required more than once per month or two.
Does Vinyl Flooring Need Wax?
No. As previously discussed, the finish of vinyl plank flooring can be damaged by waxes or floor polishes. Regular cleaning will be enough to maintain its shine.
Get Pristine Floors Naturally With Branch Basics
Vinyl plank flooring is easy to clean naturally using Branch Basics or simple household products.
To learn more about natural floor cleaning, check out: Branch Basics Ultimate Guide To Non-Toxic Floor Cleaning: It's Easier Than You Think.
Are you interested in trying Branch Basics on your vinyl plank floors?
Click here to check out our
Starter Kits
, available in
plastic
or
glass
. Or, try our
$5.00 trial kit
for a sample size Concentrate you can test on your floors.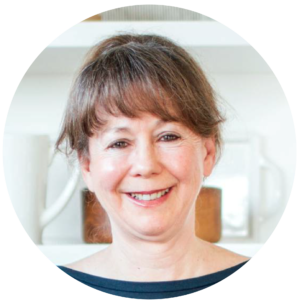 Marilee Nelson
Marilee Nelson is an Environmental Toxins expert who has spent nearly 30 years advocating for the chemically-sensitive and chronically-ill. She is a Board Certified Nutritionist, Certified Bau-Biologist and Bau-Biology Inspector and specializes in Food As Medicine. She has helped thousands of families and individuals identify, heal and recover from toxic exposures and is on a mission to revolutionize the way American families view their health.