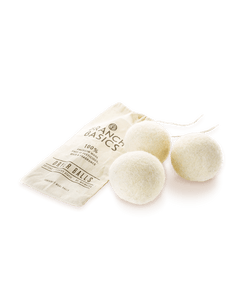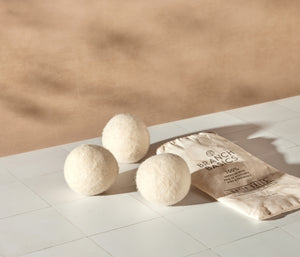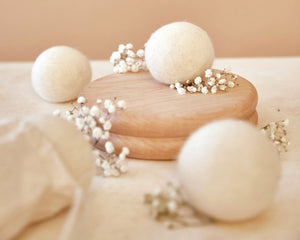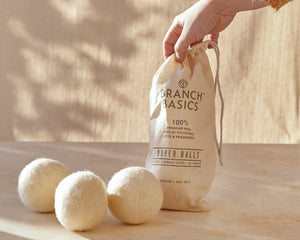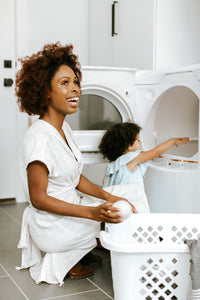 Why Use Dryer Balls?
Softens clothes, linens etc.
Saves time and money
Reduces your carbon footprint
Cuts down on wrinkles + static
Decreases your energy bill
Decreases your exposure to chemicals
What are they made of?
100% Wool Handmade in the U.S.
This special type of wool comes from sheep that live on an organic farm, where no pesticides or harmful chemicals are ever used.
Learn More
Where do they come from?
A Sustainable, Family Farm
We are so proud to source our wool dryer balls from Stoney Mountain Farm in North Carolina, where their owner Olga shows the utmost respect to the land and animals.
Learn More
"We care for the earth with every decision we make, from our sheep and our land ..we do it not because it's trending but because we believe it is our responsibility...to the planet and the consumer."
- Olga, stoney mountain farm
Looking for more?
Dryer Ball Tips 
& Tricks
Visit our Blog for more specific Dryer Ball uses and directions.
Learn More
{"super_text_p":"WHAT PEOPLE ARE SAYING","super_text_c":"Tens of thousands of happy customers","heading":"Safe \u0026 Effective"}
WHAT PEOPLE ARE SAYING
Safe & Effective
Nothing worked until we used BB All-Purpose spray and then added Oxygen Boost.

"My parents got several giant unknown dark stains on their huge, valuable 1920's white porcelain sink. We tried everything to get the stain out. Nothing worked on it until we used Branch Basics All-Purpose spray and then added Branch Basics Oxygen Boost. Your product cleaned it immediately!! I have never seen anything like it. We will only use your products from now on. Thanks so much for your products! They saved us."

Hannah

BB never ceases to amaze me!

"I had a stain on a sweater I forgot about and hung up the other day I was getting rid of clothes to donate and came across the sweater. I figured I would at least try to get this one year old stain out of my shirt. I put some Oxygen Boost on it and threw it in the hamper and did laundry the next day and bam brand new! BB never ceases to amaze me!!"

Jocelyn

Honestly, it prompted me to go on auto ship because BB is worth its weight in gold.

"Okay, I just have to say that over the weekend, my dad spilled a VERY full glass of red wine all over my mom's brand new couch and rug. I gifted them BB for Christmas and immediately started spraying All-Purpose and then dusted with Oxygen Boost. Wine is GONE! They are in disbelief. I wish I had a before and after...but honestly, it prompted me to go on auto ship because BB is worth its weight in gold and then some!!!"

Lauren

It makes my home feel clean without feeling guilty about harsh toxic chemicals.

"This stuff really works! I've been able to clean everything from the kitchen sink to the grout on my tile floor to the bathtub to an old pair of dirty white shoes. I even use it to clean my fruit & veggies! I love Branch Basics because it makes my home feel clean without feeling guilty about using harsh toxic chemicals that other cleaning products contain."

Maria

It took out 10 years worth of stains!

"So I decided to try soaking my sofa pillow covers in the Oxygen Boost. WOW!!! It took out 10 years worth of stains!!! I was already impressed, but now I am just AMAZED!!!"

Lilli

I use them every day and I have never been so motivated to clean!

"Love everything about these products! The ingredients, the fact that it's safe for kids and pets, the spray bottles, everything! I use them every day and I have never been so motivated to clean!"

Emily

What kind of hippy witchcraft is this?!

"Last week my boyfriend spent forever scrubbing his bathtub, but still couldn't get the soap scum/dirt off of it. I went in, sprayed the All-Purpose and used a scoop of the Oxygen Boost, let it sit for 5 min, scrubbed for 5 min, and it was completely clean + sparkling! He said "what kind of hippy witchcraft is this?!"

Anonymous

After washing my clothes with BB Laundry, my back has stopped itching.

"I have very sensitive skin and have had these little bumps on my back that itch. I've had them for as long as I can remember and never thought it could be our laundry soap. I had switched to a no fragrance soap and it didn't help. After washing my clothes with the Branch Basic Laundry Soap and Oxygen Boost, my back has stopped itching and the bumps are going away. I have used all the other mixtures around the house and just love them!"

Dina