Our Favorite Fragrance-Free Personal Care Products
At Branch Basics, our products are fragrance-free… and always will be! Sadly, the term "fragrance" can be a cocktail of hormone-disrupting chemicals. We have a lot of resources in our Wellness Center on the harmful effects of fragrance, and we encourage you to dig in more to learn about these everyday toxins. Some of our favorite articles include The Emotional Attachment To Fragrance, Fragrance Is The New Secondhand Smoke and Stop Using The F Word.
Fragrance on an ingredient list is a glaring toxic red flag. In fact, fragrance as an ingredient has a very toxic score of 8 on EWG Skin Deep!
Therefore, there is no need to waste time looking at any other ingredients in a product if there is fragrance. Toss that product!
But what about vetting products that do not have fragrance? Thankfully, it's become easier to be your own product advocate and non-toxic expert using EWG Skin Deep as a tool. Simply, search the ingredient you're looking to evaluate, and EWG Skin Deep will give it a rating of 1-10; 1 being the safest to 10 being the most toxic.
To create your healthy home, opt for products with all ingredients rated a 1 or 2 on EWG, and toss all products with any ingredient rated 3 or higher.
Note: People trying to heal inflammatory conditions, hormone disruption, or chronic illness should also avoid products used on the skin with the following ingredients that can be inflammatory (citric acid, sodium benzoate, potassium sorbate, and phenoxyethanol) even though they are rated a 1 or 2 on EWG Skin Deep.  
Here is a roundup of our favorite fragrance-free personal care products.
Skincare
Cleanser:
Facial Oils:
Toners:
Eye Creams:
Serums
Moisturizer:
Mask:
Sampler:
Castile Soap
Hair Care
Shampoo and Conditioner:
Hairspray:
Body
Body Wash:
Body Lotion:
Body Balms, Oils and Butters
Bar Soap:
Shaving Cream:
Deodorant:
Baby
To learn more about tossing the toxins in your home, personal care and beyond, check out our Toss The Toxins course where we can help you get started category by category!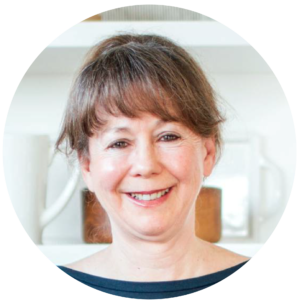 Marilee Nelson
Marilee Nelson is an Environmental Toxins expert who has spent nearly 30 years advocating for the chemically-sensitive and chronically-ill. She is a Board Certified Nutritionist, Certified Bau-Biologist and Bau-Biology Inspector and specializes in Food As Medicine. She has helped thousands of families and individuals identify, heal and recover from toxic exposures and is on a mission to revolutionize the way American families view their health.