Our Favorite Non-Toxic Personal Care Products

We've had a lot of you ask us what our favorite personal care products are, so we thought compiling a list of what we use (along with some other great options) would be helpful! Ensuring that the products you bring into your home are free of harmful chemicals (ex. synthetic fragrance) is crucial to creating a healthy home*, and that's especially true for the products you put onto your body! With a market that has (thankfully!) grown rapidly over the past few years, it can be hard to sort through all of the "safe", "natural" and "non-toxic" claims. This is by no means an exhaustive list, but we hope this makes your search for the really clean stuff a lot easier! And we are big believers in the saying "variety is the spice of life" even when it comes to personal care products. Just like you wouldn't eat the same foods everyday for years, your skin and hair like when you mix it up a bit!
Important Note: Initially we recommend Tossing the Toxins to Create a Healthy Home by removing all products with harmful ingredients from the home. This removal includes all synthetic fragrance and non-organic essential oils processed with solvents. And, temporarily, even wildcrafted and organic essential oils processed without solvents are removed because essential oils are so concentrated, can cause inflammatory response, and have been shown to hijack the healing process.  Also, if not processed carefully, it has been found that some products with organic essential oils are contaminated with phthalates. Then, after at least a month to six weeks of avoidance of all fragranced products (after all people in the family are healthy), then quality products with wildcrafted or organic essential oils processed without solvents can be introduced to see if they are tolerated.
Quick and Easy Ways to Vet Products
You don't have to be a chemist or have a scientific background to read labels and evaluate ingredients. You can vet products very quickly and feel confident about your decisions because we have some great tools at our fingertips.
Toxic Red Flags: Sometimes a quick scan of the label for toxic red flags can determine right away if the product is safe or not. Toss products with toxic red flag ingredients such as synthetic fragrance, parfum, perfume, phenoxyethanol, parabens, phthalates, BHA, BHT, formaldehyde releasing preservatives, MIT – isothiazolinone family, benzalkonium chloride , petrolatum, mineral oil, propylene glycol, sodium laurel/laureth sulfate, artificial colorants, retinol, retinyl palmitate, hydroquinone, PEG ingredients, PEG ingredients, polysorbate 60 and 80, and polyethylene glycol.
Be Your Own Expert: If there are no familiar toxic red flags investigate the ingredients one by one. Go to EWG's Skin Deep Cosmetics Database. Type in each ingredient into the search bar. The ingredients are rated from 1 - 10 - with 1 being the safest to 10 being the most toxic. Typically*, the safest ingredients to put on the skin will be rated 1 or 2. Toss products that contain an ingredient that rates 3 or more.
Tip: Start with the last ingredient to save time. You will find preservatives here, many of which have high ratings. Toss the product as soon as you find an ingredient rated 3 or more.
*Note: People trying to heal inflammatory skin conditions, hormone disruption, or chronic illness should also avoid products used on the skin with the following ingredients that can be inflammatory (citric acid, sodium benzoate, potassium sorbate, and phenoxyethanol) even though they are rated a 1 or 2 on EWG Skin Deep.  
We also love the Think Dirty app for checking particular products. We recommend only using products rated 0.
New to Toss the Toxins? - Go Fragrance Free
Establish a baseline of using fragrance free products in your home to encourage the strongest immune system for your family. Synthetic fragrances can trigger allergic, immune, stress and hormonal responses that can lower immune system function.
If anyone in your family suffers from allergies, headaches, digestive difficulties, asthma, or any chronic illness going fragrance free (this includes essential oils) is essential when creating a healthy home and body.
And now for our favorites...
Skin Care/Face Care
Just because we list a brand, check the ingredients of each individual product.
Face Wash:
Face Moisturizers:
Toners/Mists:
Acne Treatments/Masks
Body Care
Body Wash/Soap:
Moisturizer:
Body Scrubs:
Hair Care
Shampoo:
Helpful Hint for Dry Hair: Every three washes or so, try adding 1 drop (from a dropper) of organic argan oil into shampoo before lathering to help prevent hair from getting too dried out. Fun Fact: We've decided we're going to try out our Concentrate as a shampoo. If you want to try it too, let us know what you think!
Conditioner:
Hair Spray:
Dry Shampoo:
Baby
Shampoo & Body Wash:
Moisturizer:
Keys Avo Jel - Petroleum jelly alternative
Keys Vapor Jel - So great during colds and runny noses! Has menthol & eucalyptus.
Organic coconut oil, sesame oil, jojoba oil, etc.
Deodorant
Insect Repellent
Because this can be an everyday problem in the South!
Sun Protection
Sunscreen (Tinted and Untinted)
Oral Care
Toothpaste & Teeth Whitening:
Mouthwash:
Nails
There really aren't any perfect nail polishes, but these are the best options we know of if you don't like to go bare nails.
Make-Up
For a list of products, see Our Makeup Routine. Also, our co-founder Allison shared her Non-Toxic Skincare and Beauty Routine with even more products!
Always Double Check Products
Lastly, as you browse and buy products, it's good practice to always vet the ingredients in your products on EWG's Skin Deep database AND periodically double check that your favorite products are made from ingredients that are still safe! From time to time, companies change switch formulas or change up ingredients, and what was once safe is no longer.
What are your favorite clean personal care products? Comment below to let us know!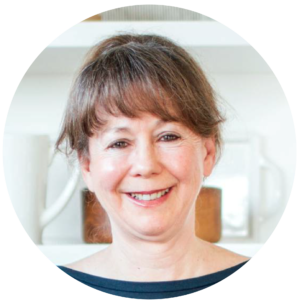 Marilee Nelson
Marilee Nelson is an Environmental Toxins expert who has spent nearly 30 years advocating for the chemically-sensitive and chronically-ill. She is a Board Certified Nutritionist, Certified Bau-Biologist and Bau-Biology Inspector and specializes in Food As Medicine. She has helped thousands of families and individuals identify, heal and recover from toxic exposures and is on a mission to revolutionize the way American families view their health.