Ditch the Fabric Softener: 7 Natural Alternatives
Ditch the fabric softener? Heck yes! 
Not only is it possible to have fresh, soft, and static-free laundry without costly fabric softener, it's much healthier for you and the environment.
In this article, we'll share all about the health and environmental implications of ditching conventional fabric softeners and what to use instead. 
What Is Fabric Softener?
Fabric softeners are either wash-in liquids or powders or heat-activated dryer sheets. They aim to soften clothes, reduce pilling, remove wrinkles, eliminate static, and make your clothes smell great.
Some laundry detergents also include fabric softeners in their formulas.
How Does Fabric Softener Work?
Fabric softeners work a lot like hair conditioners. They contain chemicals that lubricate clothing fibers to create a softer feel and wrinkle-free finish. 
Most fabric softeners also contain a signature scent that makes clothing smell extra fresh…
…but this freshness comes at a hefty cost.
Why Shouldn't You Use Fabric Softener?
Of all the household products we use regularly, the chemicals in dryer sheets and fabric softeners are among the most toxic.
They're also terrible for the environment, can harm the integrity of your clothing, make clothes more flammable, clog up your washer and dryer, and are completely unnecessary.
The Toxic Chemicals In Fabric Softener
The Environmental Working Group, an independent industry watchdog that tests ingredients for safety, found that over 70% of fabric softeners have a D or F rating. 1 
Per EWG, the big chemicals of concern in fabric softeners are:
Quaternary Ammonium Compounds (aka: Quacs) are known to trigger asthma, increase the risk of antibiotic resistance, are toxic to aquatic life and other organisms, and may be toxic to the reproductive system. 2,3

 These may be listed as: 

Distearyldimonium chloride and others ending in "monium chloride" 
Biodegradable fabric softening agent 
Cationic surfactant

Fragrance

is one of the world's top allergens and can contain hundreds of chemicals, including:
And that's just a short list of the potent chemicals commonly used in laundry products.
We list several more chemicals of concern in The Toxic Chemicals Hidden In Dryer Sheets & Fabric Softeners.
Related Read: The Best Fragrance-Free Cleaning Products & Alternatives
Synthetic Fabric Softener Weakens Clothing Over Time
Like many chemical-based products, fabric softeners provide a short-term gain (softer clothes) in exchange for a long-term loss.
For instance, research has shown the conditioning agents in various fabric softeners can build up in clothing fibers over time.7
This causes two problems:
It reduces the absorbency, air permeability, and moisture-wicking ability of fabrics.
Over time, these conditioning agents build up and create a film on your clothing, which prevents laundry detergent from working properly. 
The end result: less clean clothes loaded with fabric softener chemical residue.
Chemical-Based Rinse-Cycle Fabric Softeners Can Make Clothes More Flammable 
You read right. Here we've been told never to leave our dryers unattended for fear of fire, yet we are sold fabric softeners that increase the flammability of our clothing.
In a peer-reviewed study conducted by Virginia Tech, titled: "Effects of Household Fabric Softeners on
Flammability of Cotton and Polyester Fabrics," scientists found that rinse cycle fabric softeners significantly increased the flammability of 100% cotton and 100% polyester fabrics. 
Researchers believe this is due to the lubricants in fabric softeners which are derived from tallow. Tallow's fatty composition could increase the flammability of the fabrics.
You can read the entire research paper here, which also contains a fascinating history of fabric softener, its chemical composition, and a scientific breakdown of how it works.
Fabric Softener Can Build Up On Your Washer And Dryer
Over time, fabric softener can build up on your washer and dryer (those pesky tallow-derived chemicals again), reducing efficiency and leading to costly repairs.
Fortunately, you can get these harmful residues off your washer and dryer by following our washer and dryer detox tips.
It's Completely Unnecessary 
Although chemical fabric softeners do provide some benefits to clothing (not your health!), you can achieve the same results using completely non-toxic and inexpensive alternatives.
These alternatives are not only chemical-free, but they're super-affordable, are environmentally friendly, and some are reusable.
Top 7 Natural Fabric Softener Alternatives 
Are you ready to say goodbye to chemical fabric softener and improve your home's air quality? Fantastic! Here are 7 natural fabric softener alternatives that really work.
1. Wool Dryer Balls
Wool dryer balls are our favorite natural fabric softener because they:
Save time, energy, and money - absorb moisture from clothing and shorten drying time 10-25% with a reduced heat setting.

Reduce damage to clothes through lower temperature settings and shorter drying time.

Cut down on static.

Reduce wrinkles.

Soften clothes, linens, and bedsheets.

Help to fluff down feather quilts and jackets.

Help bed sheets stay untangled during the drying process.

Reduce lint on clothes.

Grab pet hair from clothes.

Freshen clothes.

Work well with towels and cloth diapers by not diminishing towel or cloth diaper absorbency like chemical fabric softeners.

Are chemical-free, fragrance-free, and don't damage your clothes or increase their flammability.
To learn more about the benefits of dryer balls, how to choose a quality brand (like ours!), and the nuances of using them, check out: Wool Dryer Balls: Gift From the Happiest Sheep To You.
2. Vinegar
Distilled white vinegar is one of nature's best and most inexpensive non-toxic cleaners. It also works wonders as a natural fabric softener.
To use, add 1/2 a cup to your washer's fabric softener dispenser, to a fabric softener ball, or directly to the final rinse cycle.
For more tips on cleaning with vinegar, check out: 12 Ways To Use Vinegar In Your Home.
3. Sodium Bicarbonate (Baking Soda!)
Baking soda is right up there with vinegar as one of the most effective and economical all-natural cleaners.
To use as a fabric softener, add 1 cup directly to the rinse cycle (you can even add it at the beginning, and it will work fine) and launder as usual.
For more tips on using baking soda at home, check out: 12 Uses For Sodium Bicarbonate (Baking Soda)
4. Organic Essential Oils For A Non-Toxic, Laundry-Fresh Scent
If you're hesitant to give up fabric softener because you love the scent, consider combining organic essential oils with wool dryer balls or another of these all-natural fabric softeners.
Just add 5-10 drops of your favorite oil to add a lovely, non-toxic scent to your laundry. 
When choosing essential oils, be sure to look for organic and/or wildcrafted 100% pure essential oils that have been steam-distilled or extracted without the use of chemical solvents.
5. Soap Nuts
Soap nuts are a great choice because their natural saponins clean clothes and act as a fabric softener. 
To use, place 4-5 soap nuts in a cotton bag and launder as usual.
Related: 6 Non-Toxic Laundry Room Essentials: A Complete Checklist
6. Epsom Salts + Baking Soda
Epsom salts aren't just great for detox baths, muscle strains, and relaxing in the tub, they also work great as a fabric softener.
To use, combine 2 cups Epsom salts with 1/2 a cup baking soda and add to your wash.
Consider purchasing Epsom salts and baking soda in bulk from your favorite price club to save money.
7. Vegetable Glycerin
This is a great tip for skin care DIYers and soap makers who have vegetable glycerin handy.
To use as a fabric softener, mix 1 gallon of water with 1/2 a cup glycerin (add essential oils if desired) and add 1/2 a cup to the rinse cycle, fabric softener dispenser, or use a fabric softener ball.
Tossing the Toxins is Easier Than You Think
We hope this article has inspired you to ditch your chemical fabric softener and try some natural alternatives. You can even do laundry without any fabric softener (using a non-toxic laundry soap, of course) and see how it goes. 
At Branch Basics, we've created a simple laundry system that allows you to wash, deodorize, and de-stain your clothes with just 1 Concentrate, water, and a reusable laundry bottle.
We also offer a 100% non-toxic Oxygen Boost for tougher stains and brightening power.
And eco-friendly Wool Dryer Balls to naturally soften and de-wrinkle clothing while cutting down on energy use and drying time.
See our Laundry Kit (available in plastic or glass) to learn more.
For more tips on detoxing your laundry room and clothing, check out: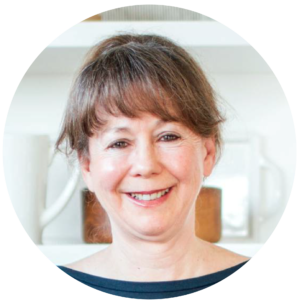 Marilee Nelson
Marilee Nelson is an Environmental Toxins expert who has spent nearly 30 years advocating for the chemically-sensitive and chronically-ill. She is a Board Certified Nutritionist, Certified Bau-Biologist and Bau-Biology Inspector and specializes in Food As Medicine. She has helped thousands of families and individuals identify, heal and recover from toxic exposures and is on a mission to revolutionize the way American families view their health.