How to Dispose Cleaning Products Safely (And Legally)

Does this sound like you? After reading up on how harmful most conventional cleaning products are and learning about #TossTheToxins, you've decided to give them up and switch to safer options (like Branch Basics, naturally). You know what to get rid of, what to replace it with, and you're jazzed to start creating a healthier home. There's just one thing standing in your way: what to do with all those toxic cleaning and laundry products?! On the one hand, it can seem a shame to waste them, on the other hand, once you know how harmful they are it's tough to justify continued use or giving them away. Plus, most conventional cleaners are considered hazardous substances, which means they can't just be put out with the trash or dumped down the sink. This is ironic considering that's where most cleaning products wind up when used for cleaning!
How NOT to dispose of toxic household products
To solve this issue, people typically do one of three things: they either store these hazardous household chemicals in their homes and try to forget about them, wind up putting them in the trash with a guilty conscience, or donate them. Unfortunately, all these scenarios have major drawbacks: #1 cleaning and laundry products continue off-gassing from under sinks, in cabinets, etc.
even if they are unopened
, which will largely negate your efforts to reduce chemical exposure and improve indoor air quality. #2: most chemical-based cleaning products are considered hazardous substances by the EPA, thus putting them in the trash is not only terrible for the environment, but it's also against the law. #3: while donating items may seem helpful, keeping this stuff in circulation doesn't do anyone any favors health or environmental-wise.
Fortunately, there are practical solutions to help you ditch the toxins safely and efficiently.
The easy way to dispose of harmful cleaning products
The best resource to help you properly recycle household products is
Earth911
's
iRecycle® app
or on their
webpage.
This free service provides information on over 1,600,000 ways to recycle over 350 materials in the United States, including toxic household products. Just type in your ZIP code, and you'll get a list of local facilities that will recycle your unwanted products. A win-win for the planet and your personal environment.
If your ZIP code doesn't have proper recycling facilities then check with your local department of works for more options.
Need help figuring out what to throw away and what to keep?
Ridding your home of toxic products can be overwhelming, which is why we launched our #TossTheToxins campaign and our Cleaning Products Guide. Once you've REMOVED the toxic products from your household, you can dig deeper with our #TossTheToxin
online course. This compilation of video and articles provides step-by-step instructions on exactly where to start purging products and creating a healthier home.
Having trouble letting go?
If you just can't let go of your beloved cleaning products yet, you're short on time, or your replacements have not arrived, there is another temporary solution. Gather everything up, place it in an airtight, preferably plasticizer, biocide, and BPA-free
plastic bin
, store it in a child-proof/pet-proof place outside of your home like in a garage or shed, and do not open the bin until you're ready to properly dispose of these items.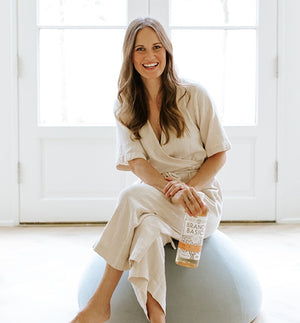 Kelly Love
Kelly is proof that switching to a pure, natural lifestyle is powerful even for those who consider themselves healthy. She's experienced how much our everyday choices impact our quality of life and is passionate about helping others see and feel the connection. She lives in Jackson, Mississippi with her husband and two daughters.