11 Tips to Stay Healthy During the Holidays
Whether you're newly health-conscious or you've been doing this for decades, we all know there's nothing quite like the holidays to derail our best efforts! Does this mean we miss out and avoid certain festivities and cheer? No! In fact, we embrace the holidays as a cherished time of celebration, feasting on good food, generosity, festivals, and indulging a little more than we do the rest of year.
What we don't do is let ourselves get carried away with every opportunity or excuse to derail our healthy lifestyles. We'll eat our favorite foods and bring along some healthier fare to balance things out - but we won't be burning artificially scented Christmas candles in our homes! We'll probably be running around planning dinners, shopping for gifts, and decorating, but we won't be giving up our stress-relieving rituals either.
The point is, if we plan ahead to mitigate some of the holiday excess, we can have our cake/mulled wine/parties... and eat it too! Here are some of the ways you can keep up a healthy lifestyle during the holidays.
#1: Get Enough Sleep
Getting enough sleep not only makes you feel alert and focused, but it also helps us avoid some of the biggest holiday pitfalls: immune dips, cravings and stress.
Sleep helps modulate your adaptive immune system and enhances immune memory. It helps with food cravings by balancing the hormones ghrelin and leptin, which are associated with hunger and cravings for sweet and salty foods (which may help you avoid binging on peppermint bark or holiday cookies). Finally, sleep is also the ultimate stress reliever as it naturally lowers cortisol levels, relaxes all our muscles, and allows our glymphatic system to do a deep clean of the brain which removes toxins and enhances cognitive function.
Related Reading: 10 Tips for Healthier Sleep
#2: Stay Extra Hydrated
Between central heating, salty treats, alcohol, traveling and running around the holiday season is a dehydrating time. Dehydration is not only bad for our skin but it's a drain on brain power.
Drinking enough water is most important, but you can also help boost hydration by eating water-containing foods like fresh melons, grapes, bell peppers, cucumbers and citrus fruits, eating soups, drinking herbal teas, adding fresh lemon or lime to your water and adding in an extra glass of water for every cup of coffee or alcoholic beverage.
#3: If You Drink, Give Your Liver Extra Support
Indulging in mulled wine, champagne and other holiday libations is usually fine in moderation (depending on your health). However, although there are many studies showing that drinking small-moderate amounts of red wine can benefit your health, we also know alcohol in any form is hard on the liver. That's especially true for alcohol that contains artificial colors, sweeteners, dyes, preservatives, sulfites and innumerable other additives.
To help offset this, we either opt for non-alcoholic drinks or "healthier" libations like:
Organic/biodynamic low-sulfite/sulfite-free wines

Champagnes
We also avoid mixers, flavored beers and wine coolers. We don't drink if we're pregnant (naturally), breastfeeding or in the process of healing.
And when we do drink, liver supportive teas such as dandelion and ginger and lemon water are helpful.
#4: Make Extra Time For Self-Care
The holidays can be stressful, which is why you need to take extra good care of yourself.
Detox baths, earthing, relaxation techniques, prayer, and exercise are all excellent ways to accomplish this. Just make sure you make the time! And if you miss a day (or two, or three), just get back to it ASAP.
#5: Plan Ahead To Avoid Avoidable Stress
There's a saying: "The holidays happen at the same time every year." Which means, there's (usually) no reason to leave things until the last minute.
Here are some tips to help you avoid stressful situations and stay ahead of the game this year:
Plan your holiday menus well in advance, write everything down that you'll need, and order specialty items in advance.

Pay extra for gift wrap if it's available and you are able.

If you're having guests for an extended period of time, be clear about your house rules and expectations. This can be really helpful with in-laws and grandparents! Saying things like, "it's important that the children not be given too much sugar", or "we don't allow video games in the house" upfront can help. Open and honest communication can save a ton of misunderstandings! The best you can do is set expectations up front.

Remember, just because you're hosting a party doesn't mean you have to cook everything! As long as you give at least 2 weeks notice, it's perfectly fine to do a holiday potluck-style meal.

Speaking of cooking, many holiday favorites like casseroles, muffins, breads, desserts, cookies can be thrown together in advance, frozen and reheated on the big day.

Make a plan for the children during their time off. Arrange a babysitter, make a list of ways they can help you, or plan playdates. Don't get caught at the last minute with no structure for them and no support for you!
#6: Wash Your Hands Often
Of course you already know this, but it's so effective in stopping the spread of germs bears repeating. Our one caveat is you opt for plain old natural soap and water (like our Foaming Wash) versus antibacterial soaps or sanitizers. The main reason being, soap and water remove germs versus killing them and leaving them in place like sanitizers, which prevents the proliferation of superbugs. Read more in Does Branch Basics Kill Germs?
When out and about or traveling, take along a travel size of Foaming Wash or All Purpose in your bag. Squirt or spray on your hands, rub in and rinse.
Related Reading: Essential Cleaning Tools for a Happy Healthy Home
#7: Take Extra Precautions When Traveling
If you're planning to travel this year, there is plenty you can do to prevent sickness and optimize health! We dig in more in Our Healthy Travel Guide, but here are a few highlights:
Prepare healthy snacks for your trip. Organic nuts and dried fruit, hummus with Mary's Gone Crackers or Epic bars are all nourishing and filling when on-the-go.

We also recommend avoiding avoidable radiation by opting out of airport scanners. Sure, a pat-down takes a little bit longer, but it's worth it to reduce radiation exposure.

Finally, be sure to pack as many non-toxic personal care products as space allows. Our

travel kits

make this easy as Foaming Wash can be used to wash your hands, your face, remove makeup, and wash dishes, while All Purpose can take care of cleaning off surfaces, shoes, stain removal, etc.
#8: When Planning A Feast, Pepper In Some Lighter Fare
There is no law stating that every side dish at a holiday dinner need be casseroled, laden with sugar, or smothered in a rich sauce! Dishes like roasted vegetables, homemade pickles and ferments, and fresh salads have become trendy holiday fare.
Some of our favorite lighter dishes to serve are roasted Brussels sprouts and butternut squash with olive oil, sea salt, and maple syrup topped, homemade cranberry sauce (which we sweeten with raw honey and orange juice), homemade pickled vegetables like asparagus, green beans, and carrots, and a fresh arugula or mixed greens salad with segmented grapefruit, goat or feta cheese, and walnuts candied with pure maple syrup.
Get more healthy recipes ideas in: Our Go-To Holiday Recipes
#9: Don't Skimp On Raw Foods, Cultured Foods And Bitter Foods
Holiday feasting is a once-a-year pleasure to be savored, appreciated and enjoyed! But it can do a number on our digestion, especially if we're not used to eating a lot of rich food. To help mitigate this, be sure to eat plenty of digestion-supportive foods such as raw fruit and veggies (if tolerated) which supply live enzymes; cultured foods like real pickles, sauerkraut, and kefir - which supply gut-friendly pre and probiotics; and bitter foods such as artichokes, leafy greens, grapefruit and Brussels sprouts which help support digestion and stimulate bile flow.
#10: Know That It's Perfectly Okay To Say No
You do not have to accept all holiday-related invitations or commitments or honor all requests coming your way this time of year. The hard truth is, most holiday stress is self-imposed and comes from over-committing. This could mean scheduling too many parties, going overboard on your decorating vision board or being unrealistic about how many handmade gifts you can actually make.
The great news is you're in good company, and most people will understand if you need to turn down an invitation or dial-back your usual holiday festivities. We'd also add that it is okay to say no to foods or drinks that aren't in alignment with your health goals or that you have a sensitivity to. Junk food pressure can be real at functions, and though we're all about balance there are ways to say no gracefully or avoid the issue altogether. Allison shared how to handle this in 8 Tricks For Clean Eating At Holiday Parties.
#11: Practice Gratitude In All You Do
The holidays are meant to be a time for giving, selflessness, joy, magic and love. Don't let those attributes get buried in the general stress and business of the season. If you find yourself starting to slide down that slippery slope (as we all do at some point!), stop, take a breath, and give thanks.
Better yet, write down your gratitudes daily, no matter what's going on. Did you know writing down what you're thankful for actually helps reprogram your brain to a state of optimism versus pessimism? There's research to back this up, so why not spend 5-15 minutes each day expressing appreciation for your many blessings? If everyone committed to doing this, I bet we'd all have a much happier, healthy, and more authentic holiday experience.
From our families to yours, we wish you abundant health and happiness this holiday season! At Branch Basics, we're committed to creating human-first products that help you create a healthier home, especially during the holidays. Want to see if Branch Basics is a fit? Try out our trial kit today!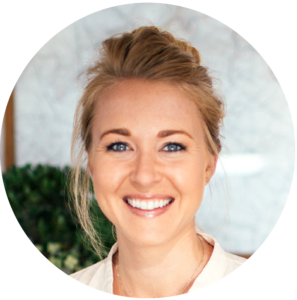 Allison Evans
Allison has dedicated herself to helping others reap the benefits of clean living. She, along with her husband and two daughters left Houston for the country life as she heals from a recent mold exposure and diagnosis of chronic Lyme disease. Follow her story on our Instagram and read more about her Journey to Fertility.