Our Makeup Routine
We get the question "What makeup do you use?" very often, so we've finally sat down and compiled a beauty product list! Our clean living mission started after we healed our bodies and removed toxic chemicals from our homes. While our products focus on cleaning, we are passionate about every product we bring into our homes. Along the way we found some amazing resources, like the EWG SkinDeep Database, the Think Dirty app, and this great resource from Beauty Heroes.
After a lot of R&D, these are the clean beauty products that we love. Use them every day for a fresh-faced look or for that much-needed date night away from the kids—and look good without having to worry about what you're putting on your skin. Below are our favorite clean beauty products.
Complexion Enhancers: Foundations and Tinted Moisturizers
Concealers
Powders
Blushes
Bronzers
Eye Shadow
Eye Liner
Eyebrows
Eyebrow Shaping Gel - combine w brows
Highlighters
Mascara
Lips
Brushes
Need to clean your brushes? Branch Basics works like a charm for cutting through grease and grime loaded into makeup brushes. For the tough jobs, we recommend wetting your brush and using a few squirts of straight Concentrate, then rubbing in and rinsing with warm water until the water runs clear. For regular maintenance, wet your brush and work through the Foaming Wash and rinse with warm water until the water runs clear. Always dry your brushes laying down. We have a great How-To on our Instagram if you'd like to see this in action!
While we recommend always trying to find products with all ingredients rated 1 or 2 in EWG's Skindeep database, we have found this difficult for some product categories. A few products on this list have ingredients that are rated 3 on EWG's Skindeep database. We have called those out with an asterisk.
Do you have a favorite makeup product that you use? Let us know in the comments below!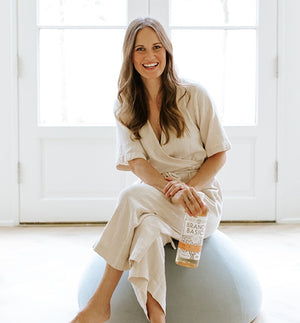 Kelly Love
Kelly is proof that switching to a pure, natural lifestyle is powerful even for those who consider themselves healthy. She's experienced how much our everyday choices impact our quality of life and is passionate about helping others see and feel the connection. She lives in Jackson, Mississippi with her husband and two daughters.