How to Choose the Best Cloth Face Mask (and keep it clean)

It looks like face masks are here to stay until coronavirus gets under control. While their use/overuse is controversial in terms of effectiveness and we do not recommend wearing them for extended periods of time in most circumstances, we know they are sometimes necessary and often required during this time. Given that many states, counties, and cities are mandating their use it's best to be prepared with the safest, most non-toxic, and breathable mask you can find.
If you hadn't thought about the safety of face masks from a toxicity standpoint before, you're not alone. When the CDC's recommendation changed, many people were scrambling to find anything to wear as a face cover. So, we all got busy watching YouTube tutorials on how to use a bandana, old t-shirt, headband, curtain, sheets, etc. to create a homemade mask...and, to be fair, many of these ideas are ingenious! However, the sad irony is most fabrics are chock-full of toxic textile chemicals that we're strapping directly up against our breathing pathways, while we're trying to protect ourselves from a lung-attacking virus. Fortunately, we have some safer face mask options that are widely available and appropriate for adults and children.
Here's what to look for in a safer face mask fabric
Overall, avoid making a mask out of curtains, sheets, or (most) old clothing and stick to buying appropriate fabrics. We recommend
avoiding
the following:
Synthetic fabrics:

Make sure you know your source, as many masks are made from poly-cotton blends.

This is why we don't recommend using scarves or t-shirts, for example, as many are not made from 100% natural fibers.

Wrinkle-resistant, wash and wear, easy-care fabric: These are treated with a chemical process that contains highly carcinogenic formaldehyde12. Many sheets, curtains, and blouses or men's dress shirts, for example, are made with treated fabric even if they are 100% cotton. So please do not use these items to make your mask.
Non-organic cotton

: Cotton is a highly-sprayed crop, and while this may not be of huge concern for fabric intended for pants or shirts, we want the purest possible fabric for face masks.
The best and safest fabrics for protective face masks: Untreated, 100% organic cotton, linen, silk, or hemp---preferably undyed (unless the manufacturer uses natural dyes). Now, if you just LIVE for color and patterns and/or it helps make mask-wearing easier on your children or teens, go ahead and get a pretty pattern, just know that undyed fabric is typically the most non-toxic. These natural fabrics are tightly woven, free of chemicals, pesticides, herbicides, and flame retardants.They are super-breathable, cool, and can be worn safely over your face.
Where to get a non-toxic cloth face mask
Buy local: In response to the pandemic, many individuals have set up shop making protective cloth masks. And since our local economies could all use extra support right now, buying your masks locally is a wonderful way to help your neighbors. Simply inquire if you can have your preferred fabric shipped directly to them for your custom mask order.
Buy online: There are a few companies selling organic fabric masks online, either via Etsy, Amazon, or their own independent site. Some companies are even specializing in children's masks. Before you order, just make sure their product has no added antimicrobial treatments and is made from organic cotton, silk, linen, or hemp. Note: Some masks are naturally antibacterial due to the fabrics chosen - for example this linen mask.
Make your own: There are endless DIY-mask tutorials available on YouTube, Instagram, and on news sites. Whether you choose to go all-out and use a sewing machine and pattern, or make a simpler, no-sew version just use those recommended fabrics, wash them at least twice to remove any factory dust, etc., and you'll be all set. *Note, per the CDC cloth face masks are not appropriate for everyone including children under the age of 2, and anyone who has difficulty breathing. Click here for a full list of recommendations.
How to keep your face masks clean (without harmful chemicals)
The CDC recommends washing your cloth mask after each use to prevent the spread of disease. Remember, the best way to protect yourself from germs without creating an environment for stronger germs is to remove them instead of killing them, and for coronavirus non-antibacterial soap is considered the most effective cleanser5.
Thus, we recommend washing your cloth masks using Branch Basics Laundry Solution. If you buy a premade mask, wash per manufacturer's instructions, and for homemade you can either wash them on a gentle cycle or hand wash using just a few drops of Concentrate in a large basin of water. It's up to you whether you line-dry or use the dryer, but if you want extra germ protection the dryer is your best friend (as heat kills germs naturally). You can use Oxygen Boost if you wish for extra brightening power, but the Laundry Solution is all that's necessary to clean and remove germs.
IMPORTANT: If you're making your own mask or using a premade mask, be sure to first sun the fabric for a few hours to help outgas any chemicals that might have been picked up in shipping, during storage, and manufacture. Wash the fabric 2-3 times in hot water with Laundry Solution to pre-shrink and further clean the fabric before making your mask.
What about disposable face masks?
Disposable, medical-grade face masks certainly have their place, and we have recommended them for travel. However, since they are made with synthetic materials and plastics which could contain VOCs, BPA, BPB, PCBs, and phthalates, we do not recommend wearing them on a daily basis...especially for children! As always, use commonsense. If you're a healthcare provider working in a high-risk environment, or traveling during the pandemic, the benefits of wearing a disposable, medical-grade mask would outweigh the risks. But, for the rest of us we highly recommend sticking to the natural fabric masks for regular use.
How to get your children to wear a mask
The CDC advises that children three and older wear a mask when social distancing is not possible. Since it is very important that we do not create unnecessary anxiety and fear in our children, negotiating the hurdle of getting them to wear something constrictive on their face is a challenge. Jacqueline Jones, a pediatric ENT specialist in New York has some great suggestions and ideas in this Vogue article on how to make this a positive experience for a child. Psychologist Dr. Ron Stolberg, co-author of the book Teaching Kids to Think, also has some great tips in this Forbes article.
If you've been wearing a less-than-optimal mask up to this point, don't despair! With what you've learned today you can easily switch to a healthier mask until they're no longer required.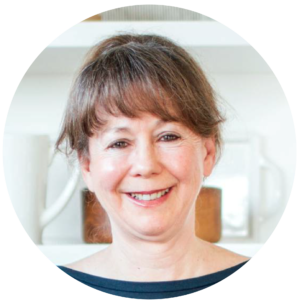 Marilee Nelson
Marilee Nelson is an Environmental Toxins expert who has spent nearly 30 years advocating for the chemically-sensitive and chronically-ill. She is a Board Certified Nutritionist, Certified Bau-Biologist and Bau-Biology Inspector and specializes in Food As Medicine. She has helped thousands of families and individuals identify, heal and recover from toxic exposures and is on a mission to revolutionize the way American families view their health.