How To Eat Clean On A Budget
Eating real food without harmful chemicals that undermine health is one of the most important things you can do to nourish and protect your family. Eating organic, whole, unprocessed foods really pays off! It may seem more expensive but what is truly costly is the price we pay for doctor's visits, sick days and resulting suffering. Here are 5 tips to help keep your food budgets reasonable, without sacrificing quality.
#1: Plan your meals wisely
Meal planning is one of the most effective ways to reduce food costs. Plus, by taking a little time to plan on a weekend, you'll save yourself a ton of time and brain space during the week (because who really wants to think about "what's for dinner" at 5 o'clock on a Monday?
The easiest, screen-free way we've found to do this is to download and print out a free meal planner (like
this one from Kitchn
), fill it in with your family's favorites, add in any do-ahead-prep on the side, make your grocery list, shop, and you're done. And if you want to get really organized, you can do 4 weeks of menus at once and just keep recycling them.
#2: Shop price clubs that cater to organic, real food
The higher-end natural food stores tend to be expensive. Instead, try doing the majority of your shopping at price clubs that specialize in organics. Our favorite brick-and-mortar is
Costco
, who's now replaced Whole Foods as the largest US retailer of organics
https://www.seattletimes.com/business/retail/costco-becomes-largest-organic-grocer-analysts-say/
, and
Thrive Market
—an online natural food price club. We tend to use price clubs for frozen items, some dairy, and dry goods. You can save over 30% with this tip alone, and because you're buying in bulk you won't have to run to the store as often, which will save you tons of time.
#3: Buy direct from local farmers
Supporting the local economy by buying from local farmers is a win for everyone. You can save loads of money on animal foods by ordering a whole, half, or quarter of an organic cow, lamb, etc. Many communities have farmers that provide organic raw milk and dairy, and fresh seasonal organic vegetables. Plus, these days you may not have to drive out to the farm to get your goods. Some areas even have a CSA
(community supported agriculture)
program that delivers right to your door! You can also use this site to locate items at local farmers markets. We also love organizations like Imperfect Produce that provide organic produce with a mission to reduce food waste!
#4: Use these food storage tricks to reduce waste
Store food in jars. This is an economic game-changer. Not only is it healthier than using plastic storage containers, but it makes it easier to see dry goods and leftovers so nothing gets wasted.

Line your crispers with paper towels to absorb moisture and prevent veggies from spoiling.

Stop fruit flies from ruining your fruit by keeping a small jar of vinegar with a few drops of dish soap on the counter. The flies are attracted to the vinegar and will drown.

Store onions and potatoes in paper bags to prevent sprouting.

If you buy carrots in bulk, you can store them in a bin of sand to keep them fresh for weeks.

Remove produce from plastic, this prevents the natural gasses from over-ripening and spoiling your food.

Store raw nuts and nut flours in the fridge or freezer to prevent spoilage.

Store fresh herbs upright in water, like flowers, to keep them from getting slimy.

Get familiar with what can be frozen. For example, did you know you can freeze milk for future use in smoothies and sauces? And cheese and cottage cheese can be frozen as well.

Keep all your citrus in the fridge.

Revitalize limp veggies, like lettuce, celery, and carrots, by placing them in cold water.
#5: Buy 100% organic whenever possible
Buying organic is the best way to reduce dietary exposure to pesticides. Pesticides interfere with your nervous system, hormones, microbiome/immune system, and increase your risk of cancer. According to the
American Academy of Pediatrics,
this is absolutely critical for children as "epidemiologic evidence demonstrates associations
between early-life exposure to pesticides and pediatric cancers, decreased cognitive function, and behavioral problems."
Studies of both
children
and
adults
show that switching from conventional to organic for just a few days dramatically reduces the amount of pesticides circulating in the body!
Here's how we prioritize what we buy organic and what we're more flexible on:
Buy local and organic if possible, but always make organic priority.

Use the Clean 15

: This is a list of fruits and vegetables that typically are not a heavily sprayed with pesticides. Use this list to help you choose when organic is not available and to help determine what to order in a restaurant when organic isn't an option.

Meat and poultry

should be organic, grass-fed, ideally grass finished, and/or certified naturally-grown*. This is due to the sheer amount of harmful toxins in conventional meats, including hormones, antibiotics and other drugs, genetically-modified feed such as corn, soy, and alfalfa, pesticides, plus the risk of foodborne illness from factory farming.

*Many small farms cannot afford the "certified organic" label, so they use the "certified naturally grown" label, which essentially means the same thing minus the big price tag. Talk to your local farmer to find out their practices.

Dairy

for the same reasons as meat.

Coffee

is a heavily sprayed crop. Always buy organic.

Avoid the dirty dozen fruit and vegetables.

Get this year's shopper's guides here.

Avoid GMOs:

this isn't as hard as it sounds, it just means avoiding soy, canola, corn, papaya (there are exceptions,

learn more here

), non-organic zucchini and yellow squash, non-organic sugar, cottonseed, Arctic apples, and looking for the "Non-GMO Project Verified" symbol on dry goods.

Check out this awesome video from the Non-GMO project for a quick 1-minute tutorial.
What are your tips for eating healthy while maintaining a budget? Share in the comments below!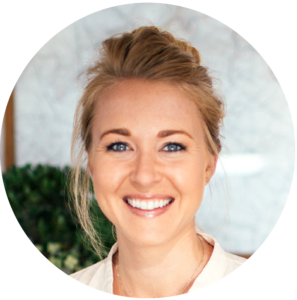 Allison Evans
Allison has dedicated herself to helping others reap the benefits of clean living. She, along with her husband and two daughters left Houston for the country life as she heals from a recent mold exposure and diagnosis of chronic Lyme disease. Follow her story on our Instagram and read more about her Journey to Fertility.