Best Non-Toxic Kitchen Cleaning Tips for 2023

In our homes, the kitchen is the most popular, most used and highest traffic area. That's why they call it the heart of the home! Of course, that means that the kitchen comes with the many  glorious messes that accompany good cooking. 
Here's a list of all the ways to clean your kitchen with our favorite non-toxic cleaning products of 2023 at Branch Basics. We've broken the list down section-by-section so that you can use it as a quick-tips guide, or you can tackle the entire kitchen at once for some serious cleaning. Let's get into it.
How to Clean Your Fridge the Non-Toxic Way
Cleaning the Exterior of Your Fridge
For stainless steel refrigerators, use a non-toxic all purpose cleaner, like Branch Basics' the Concentrate, diluted with distilled water (no streaks!). If this is too concentrated, try using the Streak-Free Bottle with a microfiber cloth. For other finishes, you can use Streak Free Bottle or the All Purpose Bottle depending on how soiled the area.
For the top  of your fridge, use a HEPA vacuum and wipe down with an all purpose cleaner
Tip: When you use the Concentrate in your kitchen, spray it with the

All Purpose Bottle

so that you know which cleaner you are using.
Next, remember to clean the fridge grate along the bottom of the refrigerator. This part of your fridge can get clogged with dust, pet hair, and debris. First, get your HEPA vacuum in place. Pull off the grate and spray front and back with the non-toxic all purpose cleaner. While that sits, use the HEPA vacuum on the floor behind the grate. Scrub the grate with a brush. Rinse clean and replace.
Wondering why we suggest that you use a HEPA vacuum? Good question. Check out our article on the benefits of using a HEPA vacuum to learn more.
Cleaning the Interior of Your Fridge
To clean your fridge's shelving, walls, and crispers, wipe them clean with the all purpose cleaner. For stuck-on food, allow dwell time of 3-5 minutes and add some Oxygen Boost for a gentle abrasive.
Bonus tip: line your crisper drawers once a week with fresh natural paper towels to absorb moisture and odors and prevent stains.
Non-Toxic Kitchen Cabinets
How to Clean the Exterior of Your Kitchen Cabinets
Painted cabinets can typically be cleaned with non-toxic all purpose cleaners; however, since all paints are different, we recommend spraying a small area first to test. If everything looks good, spray and wipe with a microfiber or cotton cloth. 
For cabinets that are stained and clear sealed, dilute 2 tablespoons of Branch Basics Concentrate in a gallon of water or ¾ teaspoon per 2 cups of water. Lightly wipe with a microfiber or cloth dampened and wrung out with solution. Follow with dry cloth.
Non-Toxic Cleaning for the Interior of Your Kitchen Cabinets and Drawers
First, pull everything out and HEPA vacuum, spray down with all purpose cleaners if needed.
To clean the cabinet tops and drawers, clean with a HEPA vacuum to remove dust, pet hair, etc.
Don't forget to clean your cutlery organizers! These can be wiped down with all purpose cleaners or washed like dishes, with 1 teaspoon Concentrate in a big sink of hot water.
How to Clean Out Your Garbage Disposal
Step-By-Step Guide on Cleaning Your Garbage Disposal Toxin-Free
Add ½ cup baking soda and then one cup white vinegar to the disposal. Let this sit for 15 minutes.

During that time, spray all purpose cleaner  on the rubber flaps along the neck of the disposal. Let it sit for 5 minutes, then scrub with a toothbrush.

Pour hot water into the disposal while running to clean and deodorize.

You can also routinely run lemon rinds through to keep your disposal smelling fresh.
How to Clean Your Stove Top
Use the All Purpose Bottle or the Bathroom Bottle depending on how big the mess. Spray and allow dwell time for stubborn, cooked-on spills. You can also use Oxygen Boost if an extra soak is needed.
Implements, grates, gas burners, etc. can be soaked in 1 teaspoon Concentrate and hot water to loosen cooked-on food and grime.
Related Read: Why We Don't Use Microwaves
How to Clean Your Stove's Exhaust Hood & Filters with Non-Toxic Products
Cleaning the Exhaust Hood of Your Stove
Dust first and then spray all purpose cleaner liberally. Let dwell for 5 minutes to break down grease and grime. Wipe clean with a microfiber cloth.
Remember: do not spray light bulbs or any other electrical components.
How to Wash Your Stove Filters
First, remove the filters for cleaning or replacement.
If you have metal filters, remove and wash in warm water and one teaspoon Concentrate. Some are dishwasher safe. Charcoal filters can't be washed, but they can be dusted or vacuumed.
Note: Replace stove filters every six months to a year, depending on usage.
Disinfect Your Cutting Boards the Non-Toxic Way
First, wash off your cutting board with water. Spray stained areas with the Bathroom Bottle, and let the cleaner dwell for 5-15 minutes. Rinse.
If the stain is still there, repeat and add a sprinkle of Oxygen Boost, let it dwell for up to 30 minutes. Rinse.
For a more detailed guide, check out How to Clean & Disinfect a Wood Cutting Board.
Cleaning Your Burnt Pots & Pans
To clean your pots and pans with Branch Basics, spray the pot or pan with  Concentrate. Then sprinkle half a scoop of Oxygen Boost around the burnt bits.
Fill the pot or pan with warm water and let it soak for at least 15 minutes (or overnight). Scrub and rinse away!
Non-Toxic Cleaning Methods for Your Kitchen Floor
This method can be used on hard floors (tile, hardwood – test first! – vinyl, etc.) when you don't have time to do the whole mop and bucket thing.
Sweep or HEPA vacuum any debris – make sure to pull out large appliances where dust can seriously build up!

Fill a spray bottle with 2 cups water and 3/4 teaspoon Concentrate.*

Spray and mop clean. We also love

microfiber spray mops

!
*Note: You can always use a more dilute or concentrated solution to clean floors, as long as it is tested for compatibility.
Hardwood floors with a natural oil or wax finish should only be cleaned with the manufacturer's recommended cleaner. Branch Basics is likely to remove natural finishes. Our non-toxic products work well on most urethane/acrylic /polyurethane/UV cured synthetic floor finishes. In fact, some are so durable that even the Branch Basics Concentrate  works fine on them.
Learn More: Branch Basics Ultimate Guide to Nontoxic Floor Cleaning: It's Easier Than You Think!
General Tips for Cleaning Kitchen Appliances
For All Kitchen Appliances:
Always work from top to bottom – dust the top, back, front and sides (in that order).

Clean the inside and the outside of the appliance with Concentrate and a damp microfiber cloth.
For Stained Appliances (Vitamix, Blender, etc.):
Spray sides with Concentrate.

Add a scoop of Oxygen Boost and fill with water.

Let it sit and soak for a few hours (you could also briefly blend before soaking).
Read Also: How to Deep Clean Your Dishwasher
Kitchen Cleaning FAQ
Have questions? We've got answers. 
How do I sanitize my kitchen naturally? 
While it may be tempting to sanitize with bleach in the kitchen, bleach should actually be avoided in a healthy home because it is a toxic, poisonous, and hazardous chemical. Use the Branch Basics All Purpose spray as an all natural cleaner. Or, opt for a DIY solution like a vinegar and water mixture, or baking soda.
To find more ways to sanitize your kitchen naturally, visit our blog The Most Effective Kitchen Cleaners Without Bleach.
Can you use Branch Basics to clean dishes? 
You sure can! Our All-Purpose does the trick, and will leave your dishes looking spotless. To find more dish soap alternatives, check out our blog 8 Effective Natural Alternatives to Dish Soap.
What is the hardest thing to clean in the kitchen? 
The oven is often one of the hardest appliances to clean in the kitchen. Food can get cooked to the interior, making it a pesky mess to deal with. Follow our natural oven cleaning guide in this blog: Non Toxic Oven Cleaning: How to Clean Ovens & Stove Tops.
Keep Your Kitchen Clean and Toxin-Free with Branch Basics 
You don't have to live in a home that's filled with toxic cleaning products, especially in 2023 – there are so many safe alternatives.
To maintain a healthy living space, check out the Premium Starter Kit, which includes all of the Branch Basics products mentioned in this article. If you'd rather start small, begin your non-toxic journey today with the Branch Basics Trial Kit!
Want to learn more cleaning tips from Branch Basics? Check out Our Spring Cleaning Guide for checklists, places you may have forgotten to clean, how-tos, and our deep cleaning method!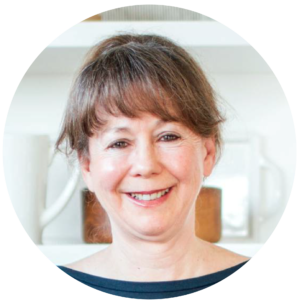 Marilee Nelson
Marilee Nelson is an Environmental Toxins expert who has spent nearly 30 years advocating for the chemically-sensitive and chronically-ill. She is a Board Certified Nutritionist, Certified Bau-Biologist and Bau-Biology Inspector and specializes in Food As Medicine. She has helped thousands of families and individuals identify, heal and recover from toxic exposures and is on a mission to revolutionize the way American families view their health.