The Best Non-Toxic Cleaning Products for Your Car

In the busyness of life, our cars can be the last thing we remember to clean. However, the feeling of getting into a tidy, clean car is unmatched! We spend a lot of time in our cars, and when they are washed or scented with harsh chemicals it can be detrimental to our health. Branch Basics to the rescue! Here are our tips for washing, deodorizing and keeping your car clean year-round.
What you'll need:
Vacuum Cleaner

BB All-Purpose

BB Streak-Free

Oxygen Boost

Distilled water: Hard or tap water can be heavy in minerals, which can sometimes leave streaking on windows and mineral rings on fabric.

Well or tap water (for exterior)

Cloths - Microfibers work great!

Scrub brush
Car Interior
There's a lot to clean inside your car. First things first, we recommend vacuuming all of it! The floors, the seats, cup holders, the crevices - all of it.
Floor mats
After floor mats are vacuumed, if they still have stains or tough spots:
Remove from car

Spray with All-Purpose

Let sit for 30 seconds

Scrub with scrub brush

Place in the sun to dry
Dashboards and other hard surfaces
Spray BB All-Purpose and let it sit for a few minutes, allowing grime and dust to begin breaking down

Wipe down with microfiber cloth

Use a small brush or toothbrush for hard-to reach crevices like cup holders and slots
Leather and fabric seats
If you have leather seats, spray a small inconspicuous area with All-Purpose first and let dry to see how the material responds. If compatible, spray and wipe.

For cloth seats, test as above. Spray All-Purpose onto fabric , and let sit for a few minutes.

Wipe down with microfiber cloth or scrub with scrub brush
*Note: To prevent any potential mineral rings on the interior fabric, use distilled water.
Car seats
We all know how dirty car seats can get! With babies and toddlers eating, drinking, and just being kids, a mess is likely to happen. We've found it works best to take the car seat completely out of the car first. Then,
Vacuum the car seat

Spray down with All-Purpose

Let it sit for 30 seconds

Wipe down with a cloth or scrub brush, if necessary.

For stainsand stuck-on messes, spot spray with All-Purpose and agitate with a brush.

For more pesky stains, rub in some Oxygen Boost (don't forget to test fabric first). Let it sit for a few minutes, then scrub!
Car Exterior
The exterior of your car is bound to be dirty! It's best to clean in the shade so the surface of your car is cool while you are washing it.
Hose down or pour a few buckets of water on the exterior of the car to wet the surface.

Fill a bucket with water and add ¼ - ½ cup of the All-Purpose solution.

Get a sponge or rag wet with the solution, and begin wiping down all areas of the exterior

Rinse clean!

To spot clean bugs, bird droppings, tree sap, tar and more, treat with the All-Purpose, wait 30 seconds to help break down, scrub and rinse clean.
*Note: Branch Basics emulsifies wax, so rinse immediately to avoid stripping waxed surfaces.
Windows:
Spray with BB Streak-Free and wipe clean!
Tips to Keep Your Car Clean and Smelling Fresh
Put rosemary, mint or other herbs in your center console or under the seat car for a fresh smell. It's non-toxic and works great! Replace every few weeks.

Place a few

activated charcoal bags

around the car to deodorize. Make sure to place charcoal bags on your dash in full sun every few weeks to reactivate!

Roll your windows down when you can! Ventilating the inside of your carreleases trapped odors.

Clean up messes right when they happen! Keep our

mini All-Purpose

on you so you can clean up an accidental spill.

Wipe down the interior of your car if you have a few minutes waiting in a parking lot or before going into a meeting. The more you keep up with it, the less dust, dirt and grime it will accumulate.
Happy driving!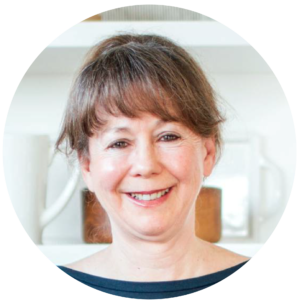 Marilee Nelson
Marilee Nelson is an Environmental Toxins expert who has spent nearly 30 years advocating for the chemically-sensitive and chronically-ill. She is a Board Certified Nutritionist, Certified Bau-Biologist and Bau-Biology Inspector and specializes in Food As Medicine. She has helped thousands of families and individuals identify, heal and recover from toxic exposures and is on a mission to revolutionize the way American families view their health.