How to Clean a Glass Stovetop Naturally

Glass stovetops have become a popular sleek fixture in the modern home. They are also high on the list of  healthy home advocates! Why?
They look good, are easier to clean than gas or coil stovetops, are affordable, cook evenly, and don't emit potentially harmful fumes (like natural gas).
The only potential downsides of glass stovetops is serious chefs mostly prefer gas cooking, and they can't  be scoured like a metal cooktop and therefore require more careful cleaning.
This leads many people to believe that only harsh chemical based glass stovetop-specific cleaners are  effective.
However, if using toxicchemicals in the same place you cook your food gives you pause, we have some great alternatives!
In this article, you'll learn the most effective ways to clean your glass stovetop using only non-toxic cleaning products and everyday household goods.
Why Is It Important To Keep Glass Stovetops Clean? 
The flat surface of glass stovetops makes them easier to clean than gas or coils, provided messes are cleaned up promptly.
For example, failure to wipe up a spillover from a soup or stew could result in a stubborn cooked-on mess.
Plus, since glass stovetops are more prone to scratching than metal, heavy-duty scouring or scraping is not an option.
Fortunately, there are natural ways to clean up even the biggest burned on food stains  from your glass stovetop without scratching or staining.
Products To Avoid On Glass Stovetops 
A good quality glass cooktop will be tough enough to stand up to everyday cooking spillovers  and wear and tear. 
However, there are some products you should not use on glass stovetops, including:
Glass Cleaner (Ammonia-based):

Aside from being

extremely toxic to the lungswipe-down small amounts

, ammonia-based glass cleaners are too harsh for glass stovetops and can cause streaking or permanent damage. 

Abrasive cleaners:

Even natural abrasive cleaners can quickly scratch and wear down your cooktop. Instead, opt for natural, non-abrasive, or mildly-abrasive cleaners (which we'll discuss in the next section).

Heavy Kitchenware:

Although you can use

cast iron and ceramic cast iron on most glass cooktops (which we do

every day), it's best not to overload your cooktop with more than 50 pounds at a time. A heavy-duty canning apparatus, for example, may exceed this weight limit.

Additionally, do not slide, drag, or drop your heavier pots and pans to avoid scratches and other damage.

Coarse Sponges & Cloths:

These can scratch glass cooktops leading to unsightly damage. Instead, opt for non-abrasive options such as

natural fiber brushes

, non-scratch sponges, cooktop pads, and microfiber cloths.
To learn more about our favorite non-toxic pots and pans, check out: Our Take on the Safest Non-toxic Cookware.
How to Clean a Glass Stovetop: Daily & Deep Clean Methods
We've already emphasized the importance of regular cleaning to maintain your glass stovetop. 
But what about those days when you didn't quite get to cleaning it up? Can you still use natural products, or do you have to resort to the heavy-duty stuff?
In this section, you'll learn the best non-toxic methods for daily and deep cleaning of your glass stovetop.
Daily Glass Stovetop Cleaning Tips 
As previously emphasized, the key to keeping your glass stovetop looking like new is to clean it frequently.
That means wiping it up after cooking as soon as the stovetop has cooled. 
If you try to clean it while hot or warm, the cleaner could cook-on to the stove, resulting in a bigger mess than you started with!
Here are some effective, non-toxic options for everyday glass stovetop cleaning.
1. Wipe Down With Microfiber or Paper Towel 
For non-messy meals, a simple wipe-down with a damp microfiber cloth or paper towel should be sufficient to clean your glass stovetop.
Some brands even offer cooktop pads for this very purpose.
2. Use a Drop of Vinegar for Stubborn Spills
When dealing with a cooked-on mess or stubborn spills, turn to distilled white vinegar.
A drop or small spray with a few minutes of "dwell time" will usually be enough to loosen the spill for easy wiping.
To learn more about the many uses of vinegar, see: 12 Ways to Use Vinegar in Your Home.
3. Use Branch Basics All-Purpose Spray 
Branch Basics All-Purpose is a kitchen staple because it works on everything-kitchen (from countertops and dishes to oven cleaning and as a produce wash), is non-toxic, non-abrasive, unscented, and is appropriate for all types of stovetops.
To use on glass stovetops, let the area cool, spray on All-Purpose, allow a bit of dwell time for bigger messes, and wipe clean.
Deep Cleaning Glass Stovetops 
Has your glass stovetop seen better days? Unless you're the world's cleanest and most efficient cook, chances are you've faced this problem.
Before you reach for a heavy-duty chemical cleaner, try these tried-and-true non-toxic deep cleaning methods.
These techniques can be used as stand-alone methods or combined to tackle really tough, cooked-on messes. 
Since they're all non-toxic, there's no risk of creating harmful fumes or causing damage when combining methods.
1. Razor Blade Method 
This may sound scary, but the razor blade method can be very effective in removing stubborn cooked-on food and stains from your glass stovetop. 
And if you do it right, it won't scratch (just like shaving).
Here's how to use the razor blade method on your stovetop.
Drip a microfiber cloth in hot water and apply to the area.

Let dwell for 15 minutes.

Using a

mini scraper,

safety razor blade, or stiff plastic scraper, gently and slowly scrape away the cooked-on food in thin layers.

Slow and gentle is the key here; if you go too fast or deep, you risk scratching the stovetop. Better to work in layers than try to get it off all at once.

Wipe with a cloth and repeat the soaking and gentle scraping as needed.
2. Baking Soda Method
Harsh abrasive cleaners can damage glass stovetops. 
However, mild abrasive cleaners, like a simple baking soda paste, can work wonders on cooked-on food.
There are a couple of different ways to use baking soda on your glass cooktop.
#1: Make a gentle scouring paste
Mix baking soda with just enough water to make a paste. 

Using a non-abrasive sponge, scrub the paste on your cooktop to remove burnt-on food.

Wipe with a microfiber cloth, and repeat as needed.
#2: Combine vinegar with baking soda
Spray the area with distilled white vinegar; you can use plain vinegar or a 50:50 mix with water.

Next, sprinkle baking soda directly onto the vinegar mixture.

Dip a cloth in hot water and apply on top of the baking soda.

Let dwell for 15-20 minutes.

Remove the cloth, and scour using a non-abrasive sponge.

Wipe clean with a fresh cloth and survey your progress.

Repeat if needed.
Discover more ways to use Baking Soda in: 12 Uses for Sodium Bicarbonate (Baking Soda) Around The House.
3. Branch Basics Method
Branch Basics works wonders on removing cooked-on food and deep cleaning your glass stovetop.
Here's how to do it:
Spray All-Purpose on stuck-on food or marks and let sit a few minutes.

Sprinkle a small amount of

Oxygen Boost

on top (this mild abrasive won't scratch your cooktop if scrubbed gently). 

Spray All-Purpose again to wet the area. 

Let sit for 5-10 minutes. Scrub gently with a non-scratch sponge or microfiber.

Wipe clean.
If that doesn't do the trick, apply a hot wet cloth on top of the Oxygen Boost/All-Purpose paste and let dwell for 15-20 minutes.
Wipe clean.
Get Started With a Branch Basics Trial Kit 
Maintaining a clean, scratch-free glass stovetop doesn't have to be complicated or require harmful (and expensive) chemical cleaners.
Using the methods you've just learned, you have all the knowledge you need for safe everyday cleaning, tackling cooked-on messes, or even reviving a neglected glass cooktop.
Interested in trying what you've learned today?
Check out Branch Basics Starter Kits for everything you need to clean your stovetop, countertops, bathrooms, playrooms, surfaces, windows, car, pets, dishes, clothes, kids, hands, floors, walls, produce, oven, fridge, face…you get the idea!
Our Premium Starter Kits are available in Glass or Plastic and contain: 
Our signature Branch Basics Concentrate, which mixes with plain water to create endless custom cleaners and laundry products.

Refillable bottles to make plenty of All-Purpose, Bathroom, Streak-Free, Foaming Wash, and Laundry.

Oxygen Boost for extra non-toxic cleaning power.
For more non-toxic kitchen cleaning tips, check out: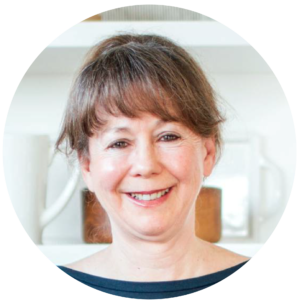 Marilee Nelson
Marilee Nelson is an Environmental Toxins expert who has spent nearly 30 years advocating for the chemically-sensitive and chronically-ill. She is a Board Certified Nutritionist, Certified Bau-Biologist and Bau-Biology Inspector and specializes in Food As Medicine. She has helped thousands of families and individuals identify, heal and recover from toxic exposures and is on a mission to revolutionize the way American families view their health.