How to Choose the Best Cutting Board

We get a surprising number of inquiries on how to choose a quality, non-toxic cutting board
and
keep it clean and sanitized without harmful chemicals. And considering we all use cutting boards to prepare food every single day, this is an important issue to address when creating a healthy home.
Choosing The Best Cutting Board
Select Your Material
The best materials hands-down for any cutting board is either FSC-certified Solid Hardwood or Organic Bamboo. So, which should you choose? Bamboo is attractive, affordable, easy to clean, widely available, sustainable, and naturally antibacterial. However, its natural hardness can dull your knives and often many pieces are glued together, so you'll want to inquire about the types of glues used (more on this below).
Hardwood cutting boards are also attractive, come in a variety of colors, grains and patterns, are easier on your knives than bamboo and tend to "recover" better from knife scratches, making it more durable. On the con side, a quality solid hardwood board is typically more expensive than bamboo and requires a bit more maintenance. And unless you can find a board made of one solid piece of wood, glues are also a consideration, especially in end grain vs. edge grain cutting boards.
Four Reasons to avoid plastic cutting boards
They degrade overtime due to cutting and washing, which leaves grooves for germs and bacteria to hide out https://news.ncsu.edu/2014/09/cutting-boards-food-safety/.
Small pieces of plastic can creep into your food as the plastic is cut and degrades.
They leach harmful chemicals, like BPA, BFA, etc. into your food, especially if hot food is placed on the board.
When you know how to clean and sanitize a wood board properly, there's no need to resort to plastic.
Watch out for Glues
As mentioned above, ideally you want a solid wood cutting board with no glues. Option 2 would be to make sure the glues used are verified non-toxic, formaldehyde-free and made of food-grade adhesives.
Select Non-toxic Finish
Choose only finishes you could eat off of, such as:
Beeswax
Carnauba Wax
Coconut Oil
MCT Oil
Linseed Oil (from flaxseeds)*
Walnut Oil
No Lacquers
No Petroleum-Based Mineral Oil—even if food grade
If you have sensitivities to nuts or seeds, avoid linseed, or walnut oil. Some cutting boards are made with no finishes, which is perfectly acceptable. You can finish yourself!
Say No to Antibacterial Cutting Boards or Odor-Control Treatments
Believe it or not, you can now purchase antibacterial/odor-control cutting boards…but please don't! As we've discussed in previous posts, antibacterial chemicals such as triclosan, marketed now as Microban, fuel the proliferation of superbugs2 and are not good for your body's microbiome. Fortunately, wood and bamboo cutting boards have natural antibacterial properties which keeps germs from building up.
Recommended Cutting Boards
Who knew there was so much to consider when choosing a cutting board? Fortunately, there are some wonderful companies who make this process easy. Our favorite brands are Greener Chef, Canaryware, Treeboard, and Our Place.
How Many Cutting Boards Do You Need?
Nearly every food-safety expert and organization out there recommend you keep at least two cutting boards: one to be used exclusively for fruits and vegetables and one to be used exclusively for raw meats, fish, and seafood. Due to the dangers of cross-contamination during food prep, we highly recommend following this advice. Wondering how to safely disinfect your cutting boards without harmful bleach or harsh chemicals? Read more here.
References: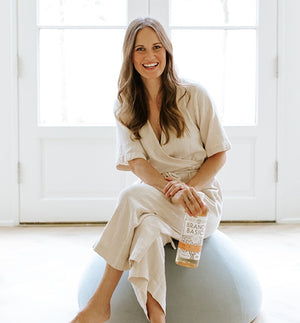 Kelly Love
Kelly is proof that switching to a pure, natural lifestyle is powerful even for those who consider themselves healthy. She's experienced how much our everyday choices impact our quality of life and is passionate about helping others see and feel the connection. She lives in Jackson, Mississippi with her husband and two daughters.