Non-Toxic Ways to Hand Wash Dishes, Clean Your Sink & Dishwasher

Did you know that standard dishwasher detergents are the #1 cause of childhood poisonings, and can leave caustic chemical residues on your dishes and silverware? These products are full of harmful ingredients that can leave residue behind. Why would we ever want them lathered onto our dishes?
When it comes to hand washing, prepping your dishes for the dishwasher, and actual dishwashing, Branch Basics has you covered. Our products are human-safe, effective and good for the planet. Yes... they will even remove those lipstick stains on wine glasses!!
Hand Washing
Spray dirty, greasy dishes with a standard All-Purpose solution, scrub as needed, and rinse under warm water. For tougher grease or cooked-on messes, try using the Bathroom spray instead, which is a stronger dilution. You can also use the Foaming Soap bottle and squirt the soap onto a sponge or brush if you prefer to see more foaming action (from the mechanical foaming pump - not synthetic foaming agents). Either of these methods works well for cleaning your dishes.
Tip: We don't recommend using Teflon or other nonstick cookware for cooking. Read Our Take On The Safest, Non-Toxic Cookware to really dig in. For a quick synopsis, Teflon is often easier to clean but it contains harmful chemicals that offgas as you cook. If you are wary of converting to traditional cookware (like ceramic, glass, stainless steel, or cast iron), particularly for foods like eggs, we assure you that Branch Basics soap can make clean-up a breeze on these non-toxic cookware. When in doubt, spray the pan and let it soak. Then wipe, scrub, or brush clean.
Related Reading: 5 Best Natural (& Effective) Toilet Bowl Cleaners
Sink Washing
If you're used to spraying or pouring a conventional dishwashing gel soap into a sink full of water and dirty dishes, you can just replace with Branch Basics Concentrate! Just a capful (yes - not much is needed, as the formula is very powerful) of Concentrate in a sink full of water will do the trick.
Our Concentrate doesn't contain the toxic ingredients that cause significant sudsing action, so don't worry when you don't see the bubbles. Leave the dishes to soak. Then, rinse clean. Because our products are biodegradable, this also works if you're in nature or camping - and the dishpan of dishes and water can be safely dumped nearby.
Related Reading: How to Clean Your Kitchen With Non-Toxic Products
Dishwashing
For your dishwasher, Branch Basics Dishwasher Tablets are the best way to get sparkling clean dishes, without compromising safety. They're bare tablets (no plastic wrap or coating), so it's as simple as removing from their pouch, placing in your dishwasher and running your normal cycle.
If you do want to try to use our Concentrate and Oxygen Boost in the dishwasher, it's a bit more complicated - but it can work! We suggest filling your dishwasher dispenser with 1-2 teaspoons of Concentrate and Oxygen Boost, and running your normal cycle.
If you prefer, you can experiment with mixing the soap with a little water first and tossing the soapy water over the top rack (similar to the way you mix with water when washing clothes in an HE washing machine). We've also heard of customers simply toss the Concentrate onto the top rack of dishes, unmixed, however this can have mixed results. All dishwasher appliances are a bit different, so you may have to test out different methods.
Related Reading: Best Natural Cleaning Products Without Bleach
NOTE: We've found that your homes' water type, specifically the hardness/softness of your water also plays a key factor in dishwashing. If you think you have hard water, we recommend reading more about how to best use Branch Basics cleaning soap with hard water in our User Guide. If you have really hard water, you can also add a ½ - 1 cup vinegar to a glass in the upper level of the dishwasher or in the rinse aid compartment as a natural softener. If you still see food stuff after you run a cycle, add more Concentrate. If you see streaks, try using less Concentrate next time.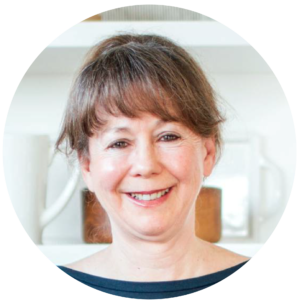 Marilee Nelson
Marilee Nelson is an Environmental Toxins expert who has spent nearly 30 years advocating for the chemically-sensitive and chronically-ill. She is a Board Certified Nutritionist, Certified Bau-Biologist and Bau-Biology Inspector and specializes in Food As Medicine. She has helped thousands of families and individuals identify, heal and recover from toxic exposures and is on a mission to revolutionize the way American families view their health.